Purdue Pharma, maker of the highly addictive drug OxyContin has agreed to a $600 million settlement with more than 2,000 state and local governments. This deal is one in a string of settlements for companies that were involved in fraudulent marketing practices for their drugs.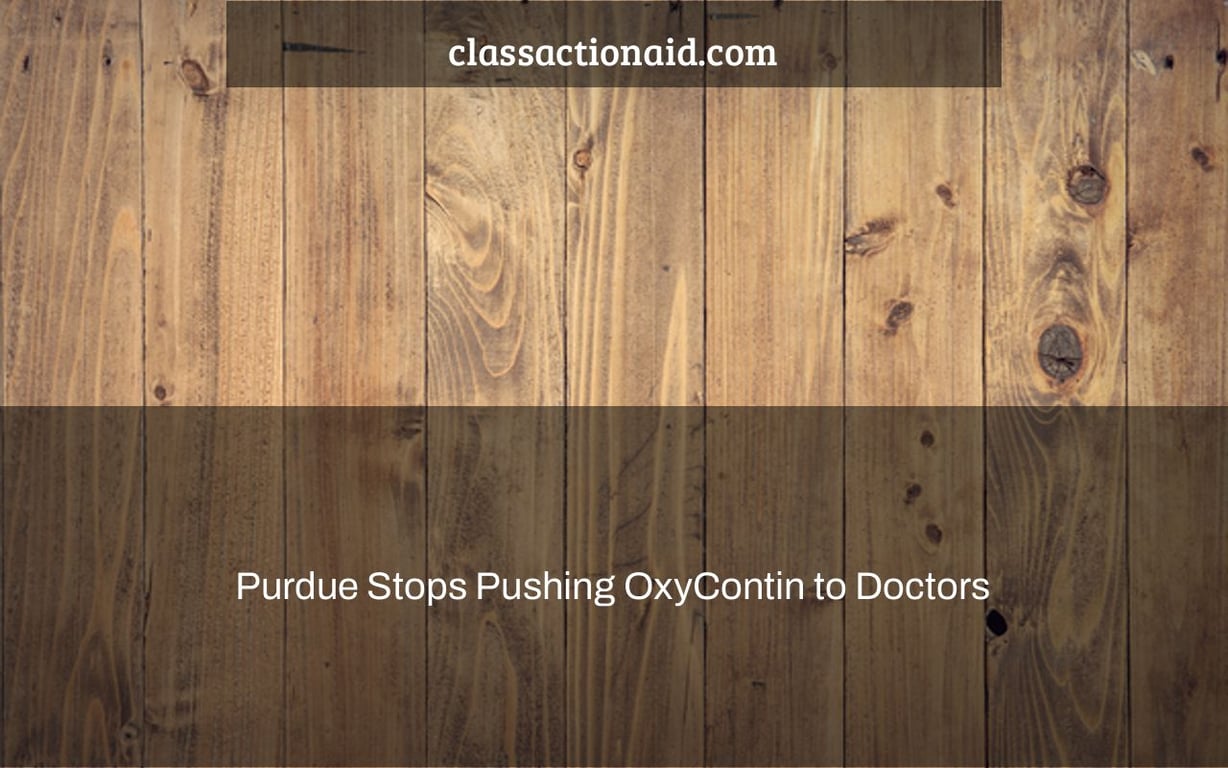 Purdue Pharma has ceased distributing OxyContin, the world's most popular painkiller, directly to physicians as of February 11.
In 2016, there were 215 million opioid prescriptions in the United States alone, a frightening amount given that over 100 people die in the United States every day from opioid overdoses.
The opioid problem is exacerbated by overprescription. Pharmaceutical firms contributed to the issue by exaggerating the advantages of opioids while downplaying the hazards for years, misinforming healthcare providers about their safety.
States and municipal governments in the United States are now suing opioid producers and distributors for their participation in the issue. Some pharmaceutical corporations are financing dependence prevention programs and altering how highly addictive painkillers are supplied and promoted in response to lawsuit pressure.
Purdue Pharma said on February 11 that it will no longer sell OxyContin, the world's most popular painkiller, directly to physicians. The firm revealed in a statement that it would halve its sales force, leaving roughly 200 sales people. Instead, Purdue's sales staff will concentrate on Symproic, an opioid-induced constipation treatment.
Purdue spent millions of dollars selling OxyContin to doctors.
From 2013 to 2015, opioid makers paid healthcare practitioners $46 million.
Purdue has extensively promoted OxyContin to prescribers since its licensure in 1996. They maintained for years that since OxyContin was meant to function in 12-hour intervals, it was less addictive than fast-acting opioids like Vicodin.
Purdue was accused with false branding by the Department of Justice in 2007. The corporation and three officials, including the president, pleaded guilty and agreed to a settlement for $634.5 million.
Purdue spent millions of dollars deceiving doctors in order for OxyContin to become one of the most widely prescribed medications. Purdue spent $2.9 million directly promoting OxyContin to physicians from August 2013 through December 2015.
From 2013 to 2015, opioid makers paid healthcare practitioners $46 million. Companies spent more time and money selling opioids than they did medications that were less addictive.
Purdue's "Changed Paradigm for Opioid Use" marketing strategy
A pharma firm selling painkillers paid one out of every twelve physicians.
One in every 12 physicians got money from a pharma firm selling opioids, according to a research published in the American Journal of Public Health. Speaking fees accounted for two-thirds of the total. Payments to prescribers often include consultancy costs, travel expenses, free lunches, and other benefits.
Physicians who received industry incentives were two to three times more likely than doctors who did not receive payments to prescribe brand name medications at high doses, according to the same research.
In 2016, Chicago stated that pharmaceutical sales agents will be forced to get a license in order to curb their influence. Licensed sales agents must complete ethical, marketing rules, and relevant legislation training. Salespeople must also report whose physicians they talk with and how many times they visit them, as well as any gifts or other materials they present to healthcare professionals, in order to maintain their license.
Purdue's decision to cease promoting OxyContin to physicians, according to Lev Facher of PBS Newshour, represents a huge shift for the business.
"By aggressively marketing opioids to prescribers in the 1990s, this business dramatically shifted the paradigm for opioid usage." "Flecher said. "Purdue's decision to stop going into physicians' offices and pushing this medicine is emblematic of where the nation is now in terms of seeing the opioid epidemic as a public health concern and recognizing the potentially hazardous qualities of pharmaceuticals like OxyContin."
Hundreds of lawsuits are being filed to force the opioid industry to reform.
Hundreds of lawsuits have been filed against opioid makers and distributors by cities and states, saying that their marketing strategies contributed to the problem.
Rural America has been disproportionately impacted by the opioid problem. In litigation against opioid makers, distributors, and other parties who may have contributed to cause or worsen the drug epidemic, Morgan & Morgan's Government Action Group is representing the state of Kentucky and municipal governments in West Virginia. Opioid distributors McKesson and Cardinal Health are among the defendants.
Purdue alone is facing lawsuits from almost 400 towns and 14 states claiming that it misrepresented the hazards of OxyContin in its marketing.
In addition to lawsuits, OxyContin sales have been falling year after year. Prescriptions have decreased by 17% since 2012, and as of this year, Cigna will no longer cover OxyContin as part of a 25 percent reduction in patient opioid usage by 2019.
Purdue's decision to stop marketing to prescribers was most likely influenced by these cases and financial losses.
Pharma is now attempting to resolve the issue that it helped to create.
Purdue isn't the only corporation backing away from efforts to address the drug issue.
In Pennsylvania, McKesson's Allied Against Opioid Abuse initiative supplied 300,000 medication deactivation pouches, which are intended to securely dispose of unwanted opioids.
Cardinal Health distributes Narcan, an opiate antidote, free of charge to the Kentucky State Police and community initiatives in West Virginia, such as the Great Rivers Harm Reduction Coalition, via their Opioid Action Program. A Narcan package with only one or two doses can cost between $130 and $140, thus this is a significant financial reduction. In addition, the organization hosts anonymous opioid drop-off activities.
"These are the most forward-thinking attempts by any of the defendants to address this situation that our organization has seen."
Through a collaboration with the Ohio State University College of Pharmacy, Cardinal also promotes opioid addiction prevention education. Their GenerationRx program provides free educational materials about the dangers of prescription drug addiction to a variety of audiences, including students and patients.
Attorney Sarah Foster of Morgan & Morgan's Government Action Organization, which represents Kentucky and local governments in West Virginia against opioid makers and distributors, stated, "These are the most advanced actions our group has seen by any of the defendants to address this issue."
"Perhaps most crucially, there are admissions in GenerationRx's literature of the drawbacks of prescription pharmaceuticals in less technical language than that included in the makers' black box warnings. "We hope that this consumer-focused strategy will be helpful for our clients," Attorney Foster stated.
Without the assistance of pharmaceutical firms, the opioid issue will continue to worsen. These teaching efforts, as well as marketing and distribution improvements, may have only occurred as a result of low sales and legal pressure, but they are still taking place.
Frequently Asked Questions
Is OxyContin still prescribed?
A: OxyContin is still prescribed, so long as the patient has a legitimate need for it.
Did Purdue Pharma break the law?
A: The company has not been found guilty of breaking any laws.