A new study published by the National Bureau of Economic Research found that, between 1997 and 2007, increases in no-poach agreements led to a significant drop in wages. The report's findings show how companies can resort to unfair tactics when faced with low-wage workers.
The "no-poach antitrust cases" is a lawsuit filed by the United States Department of Justice and 19 states against five companies that it alleges have violated the Sherman Antitrust Act. The lawsuit seeks to stop these companies from using no-poaching agreements, which prevent employers from hiring each other's employees.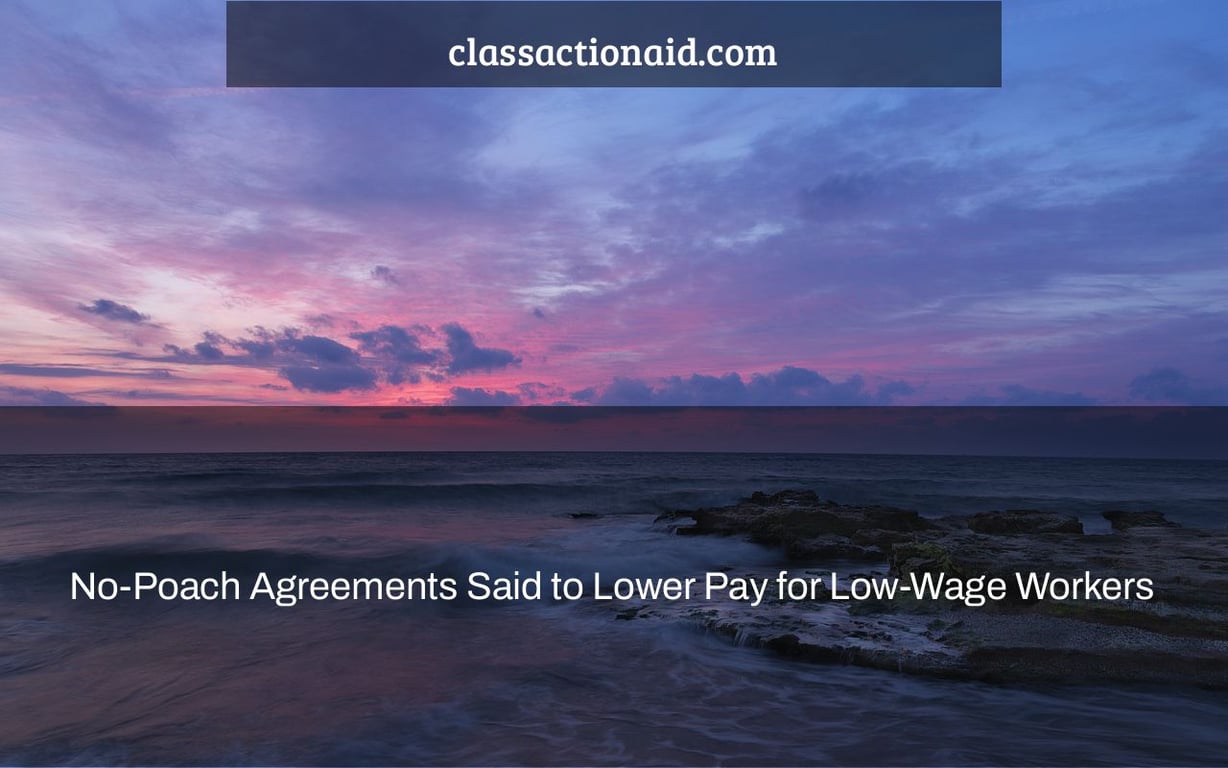 Let's imagine you work at a Jiffy Lube or a McDonald's and want to move on to a new Jiffy Lube or McDonald's where you can get a promotion and make more money. Perhaps the new employment is just closer to home or your children's school. Alternatively, maybe your present employment is a toxic atmosphere that you'd want to leave and you'd like to use your abilities somewhere else without having to deal with problematic colleagues.
But what if you couldn't move up or out of your current position? Because the owners of your Jiffy Lube franchise store and other Jiffy Lube franchise locations signed a contract with the corporate office vowing not to recruit each other's employees. You are bound by a "anti-poaching agreement" that you were unaware of, and it will very certainly prohibit you from receiving a raise or promotion from your present job.
According to a New York Times report from August, a Princeton University research calculated that anti-poaching rules impacted 70,000 individual eateries in the United States, or approximately a fifth of all fast-food sites in the nation. The economists Alan Krueger and Orley Ashenfelter examined 40 franchise agreements and found that there seemed to be no other justification for the agreements except to restrict competition and turnover.
To put it another way, the agreements are meant to keep you in your position while paying you less than you might if you and other competent employees were able to work in other places.
Wage suppression is alleged in anti-poaching lawsuits.
"If Jiffy Lube store owners had to choose between paying and promoting excellent staff or losing them to competing sites, they would be obliged to pay competitive salaries and provide competitive advancement chances."
Anti-poaching agreements may trap employees, who are frequently unaware that they are bound by them until they attempt to relocate. Anti-poaching agreements are often the subject of employment disputes alleging that they improperly depress earnings. Consider the instance of a former Jiffy Lube employee who recently launched a class action lawsuit against the company.
Independently-owned Jiffy Lube locations allegedly had a condition in their franchise agreements barring them from recruiting any employees who had previously worked for another Jiffy Lube franchise within the previous six months, according to the worker. The complaint claims that this prevented retailers from competing for the best staff while keeping salaries low.
"If Jiffy Lube shop owners had to either pay and promote good employees, or lose them to competitor locations, they would be forced to pay competitive wages and provide competitive promotion opportunities," says a complaint filed by a team of attorneys led by Morgan & Morgan's John Yanchunis.
"Franchisees do not compete with each other, and they do not have to compete with non-Jiffy Lube businesses for their employees, except for entry-level positions," the complaint continues, "because of the no-poach clause — and because their workers' levels of education, training, and experience within Jiffy Lube shops are unique and not easily transferable to other shops."
Some businesses are changing their tune as a result of government action.
Several fast-food corporations decided to drop their anti-poaching agreements this year after being pressured by state attorneys general. Following deals with Washington State Attorney General Bob Ferguson, Applebee's, Church's Chicken, Five Guys, IHOP, Jamba Juice, Little Caesars, Panera Bread, and Sonic agreed to drop their no-poach provisions in August, according to the New York Times.
The corporations together represent more than 15,000 sites throughout the country, thus their pledge to no longer enforce anti-poaching measures was a significant step forward for employees.
According to a July New York Times report, Ferguson's office forced Arby's, Carl's Jr., McDonald's, Jimmy John's, Buffalo Wild Wings, Auntie Anne's, and Cinnabon to eliminate their own no-poach provisions and no longer enforce them worldwide.  
This is excellent news for the future, but what about the people who suffered for years as a result of the provisions' implementation?
What if you're not earning as much as you should be?
An anti-poaching agreement might have kept you from earning greater income or gaining the promotion or higher-paying job you deserve at another site. You may believe that this is the way things are, but you do not have to accept it. We're here to support you in your battle against anti-competitive agreements.
Our class action lawyers have years of expertise taking on large organizations that exploit their workers, customers, and anyone who lack the financial means to oppose their possibly unlawful actions. Contact our labor and employment class-action lawyers immediately for a free, no-risk case review if you've been a victim of an anti-poaching agreement. It's possible that you're entitled to compensation. 
Watch This Video-
Frequently Asked Questions
What are no-poach agreements?
A: No-poach agreements are contracts between two companies that make similar products. This agreement is so one company does not encroach on the others territory by poaching their employees, which would result in a decrease of quality and loss of profits for both sides.
Are non poaching agreements legal?
A: Non-poaching agreements are legal and the only way to protect your companys products from being copied by competitors.
Are no-poaching agreements legal UK?
A: Yes.
Related Tags
can companies agree not to hire each other employees
doj non solicitation
employee poaching cases
non compete agreement by state
anti competitive hiring