LG Electronics is refusing to recall refrigerators despite a lawsuit alleging that they are defective. In this case, the company argues that their decision comes from following safety regulations as opposed to risk-aversion.
The "LG Refrigerator Recall List 2020" is a list of refrigerators that are being recalled due to defects. The list was created by the law firm, Hagens Berman Sobol Shapiro LLP.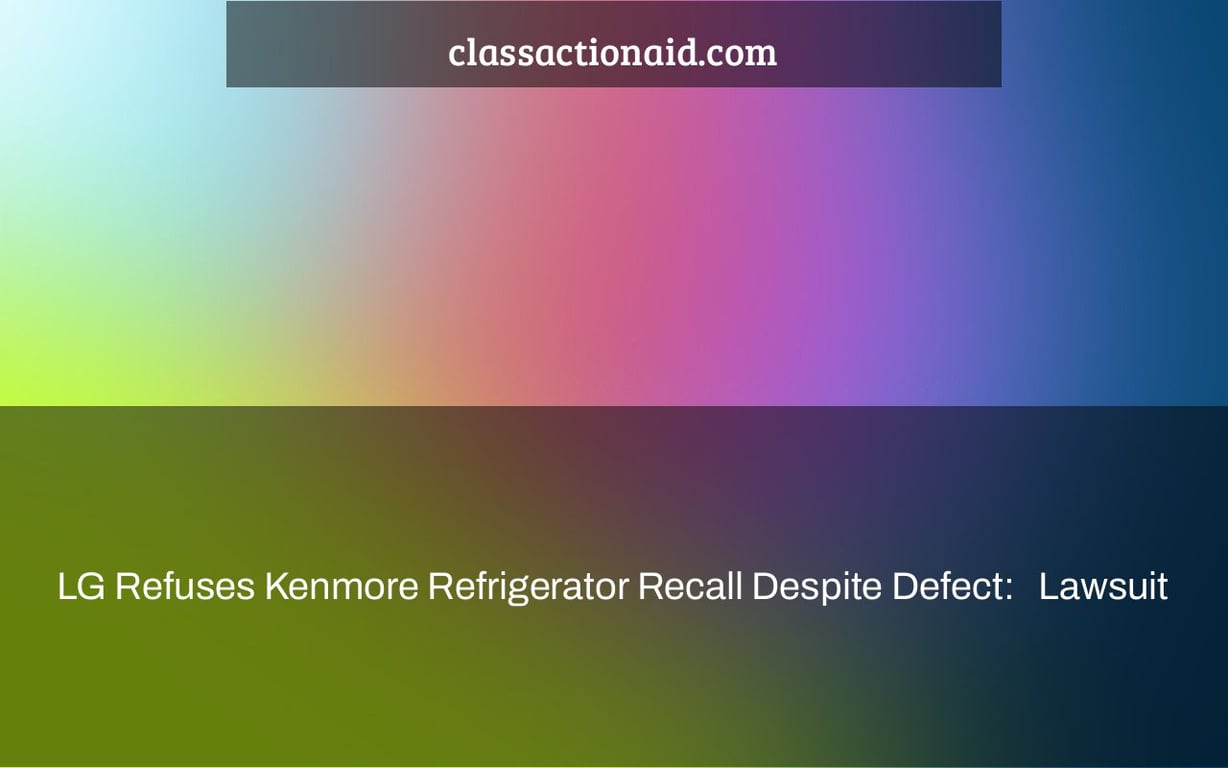 Plaintiffs have filed a class action lawsuit against the manufacturers of Kenmore refrigerators, alleging that the device was intentionally marketed with a flaw that causes failures only years after purchase.
According to the class action complaint, LG puts a particular kind of compressor inside their Kenmore refrigerators that is built from components that don't last and are ultimately repaired with the same parts, which doesn't address the original issue.
Shannon Marriot and Michael Wasle, both plaintiffs, purchased Kenmore Elite refrigerators in 2016. According to the filing, they ceased working after three years.
They claim that LG's Kenmore refrigerators have a history of failures, and that "LG's compressors have caused customers issues for many years."
The lawsuit explains how faulty compressors lead Kenmore refrigerators to fail. According to the plaintiffs, the compressor includes a plastic valve that may fail and induce systemic failure of the appliance.
They go on to say that Kenmore refrigerators have an evaporator that has tubing that develops pinholes and causes air leakage. These leaks "create excessive pressure," which "stresses the compressor," contaminating the lubricant and "infecting the whole sealed system."
Because the problem was with the faulty compressor that LG produced and installed, the plaintiffs' compressor problems continued even after technicians were sent to fix their Kenmore refrigerators.
The plaintiffs claim that "even if a repair is done, [the Kenmore refrigerator]… is virtually likely to fail within two to three years since LG and its authorized technicians utilize the same faulty components as replacements."
According to the complaint, LG "attempted fruitless repairs or replaced faulty compressors with additional defective compressors" instead of issuing reimbursements.
They also mention that LG has resolved two class action cases involving Kenmore refrigerators.
By concentrating on its Smart Cooling System, Clark v. LG Electronics U.S.A. "put LG on notice of the faulty nature" of its compressors in 2013. Despite the settlement, the complaint alleges that LG continued to market Kenmore refrigerators.
Kenmore refrigerators were sued again six years later in Bentley v. LG Electronics U.S.A. Inc., although a tentative settlement was recently agreed.
The compressors named in this new class action complaint, however, are not included in that settlement, according to plaintiffs.
In addition to prior instances, the plaintiffs in this class action lawsuit detail hundreds of complaints from consumers who purchased Kenmore refrigerators, as well as "overwhelmed" repair technicians who were sent to service them.
According to the lawsuit, LG "has had unique and direct knowledge of the scope of the compressor issues through its contacts with its authorized service staff, who have been besieged with repair requests for years."
According to the class action complaint, customers who purchased these Kenmore refrigerators reported dissatisfaction with having to make these repairs so soon after purchase, despite the fact that such machines are supposed to last 13 years on average.
One consumer recounts how one repairman remained prepared by storing extra Kenmore refrigerator compressors in his vehicle after "he had previously replaced 7 in July," according to one online complaint referenced in the class action lawsuit.
Plaintiffs also cite significant media coverage of the faulty Kenmore refrigerators, including five articles from network broadcast stations throughout the nation.
Interviews with disgruntled Kenmore refrigerator customers and technicians coping with defective compressors aired on news stations from San Diego to Connecticut.
According to the complaint, a maintenance technician was reported stating in one of those articles that Kenmore refrigerators "are failing pretty pandemically." "This is a national issue."
The plaintiffs accuse LG and its Kenmore refrigerators of breach of warranty, breaches of the Magnuson-Moss Warranty Act and the New Jersey Consumer Fraud Act, as well as fraud by concealment.
Have you bought a Kenmore fridge with an LG compressor? Is it new or has it been repaired? Please let us know in the comments section below.
Olimpio Lee Squitieri of Squitieri & Fearon LLP is representing the plaintiffs in the Kenmore refrigerator class action case.
Marriott, et al. v. LG Electronics U.S.A. Inc., Case No. 2:20-cv-14514, is the Kenmore Refrigerators Class Action Lawsuit filed in the United States District Court for the District of New Jersey.
Watch This Video-
LG has refused to recall their Kenmore Refrigerator despite the fact that it is defective. There are currently three lawsuits filed against LG for not recalling their product. Reference: are there any recalls on lg refrigerators.
Frequently Asked Questions
Are Kenmore refrigerators covered in the LG class action lawsuit?
A: This is a difficult question to answer. I am not sure if LG official has ever stated that their refrigerators are covered in the lawsuit, but the class action lawsuit involves Kenmore and Bosch products.
How do I join a class action lawsuit against LG refrigerator?
A: The best way to join a class action lawsuit is by contacting the company directly. LG has an official website called LG Refrigerator Complaints. It states that if you are unsatisfied with your product, you can submit them online so they can be reviewed and taken care of as soon as possible for all customers.
Will LG buy back my refrigerator?
A: I dont know how to answer that question. Its a complicated one, and it would be best for you to ask your neighbor or maybe somebody from the city council.
Related Tags
lg refrigerator recall model numbers
lg refrigerator recall list 2021
kenmore elite refrigerator recall list
kenmore refrigerator model 795 recall
sears kenmore refrigerator class action lawsuit