SiriusXM is paying $96 million to end their lifetime subscription in favor of a pay-as-you-go plan. The company has seen revenue decline over the past few years, with subscriptions down 26% since 2016. While it sounds like Sirius' business model needs an overhaul, this move will allow them to expand into new markets and introduce more targeted advertising opportunities for advertisers.:
SiriusXM has agreed to pay $96 million to end its lifetime subscription. The company will also be required to provide a free trial period of at least three months before customers can start paying for their subscriptions.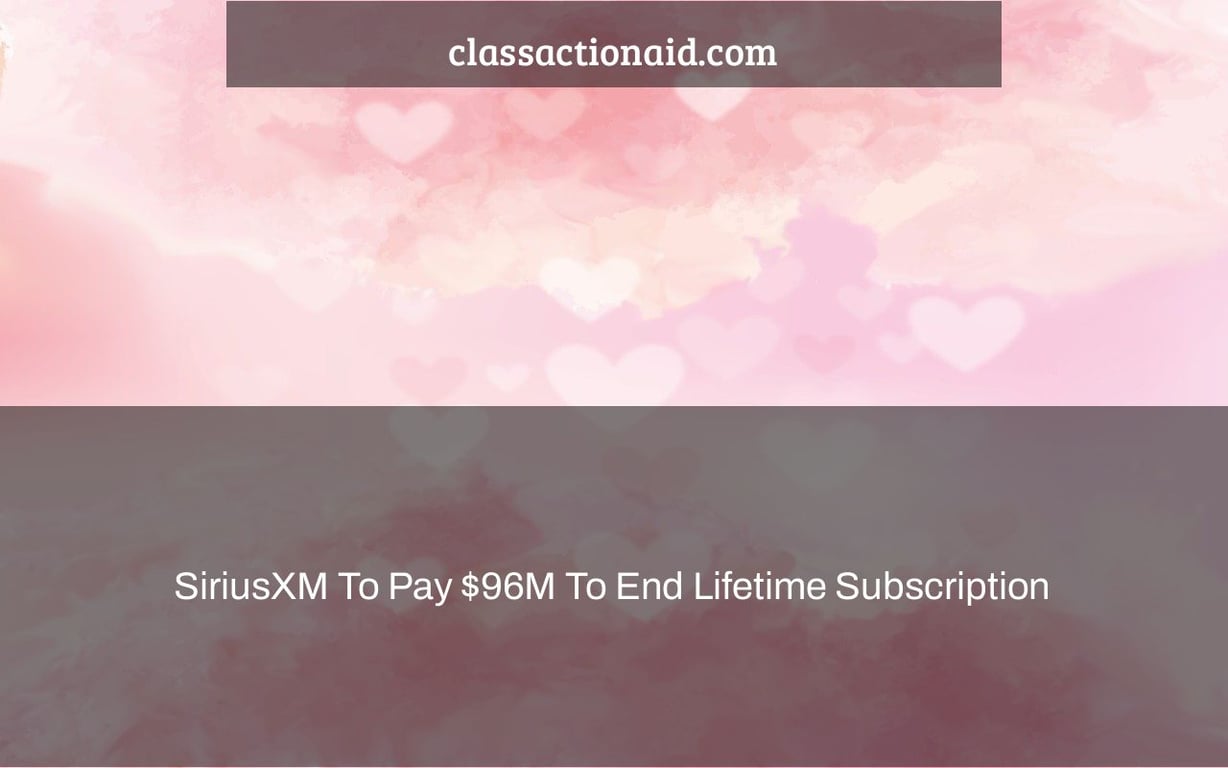 UPDATE: The SiriusXM lifetime memberships class action settlement is now available until October 2020. To submit a claim, go here.
---
The satellite radio company SiriusXM has agreed to a proposed $96 million class action settlement to resolve allegations that it did not honor lifetime subscriptions.
Plaintiffs Philip Alvarez, Randall Bettison, Marc Kelleher, and Darlene Vaugh allege that they bought SiriusXM lifetime subscriptions only to discover that the subscriptions only lasted the lifetime of the device the customer initially used to access the service, not the customer's.
According to the settlement, SiriusXM offered lifetime memberships for $357.54 to $755. The membership was valid for up to three additional devices after that, with a $75 transfer charge for each. According to the SiriusXM class action, SiriusXM claims that this strategy was in line with its marketing.
Instead of a limit of four devices, the proposed settlement would enable lifelong members in the Class to keep their subscriptions for the rest of their lives.
At a discounted rate of $35, Class Members will be able to transfer their lifetime memberships to an unlimited number of devices.
According to the SiriusXM class action settlement, if a Class Member no longer has an active lifetime membership, they will be able to renew it for free or get $100 in cash.
SiriusXM will also enable dormant lifetime customers who select the reactivation option to stream their service online for no extra costs as part of the settlement.
SiriusXM also agreed to cover the costs of the settlement notice and administration, up to $3.5 million in court-approved lawyers' fees and expenses, and $5,000 in service payments to each named plaintiff and Paul Wright.
Active members will get the benefits immediately, while inactive subscribers would need to fill out a claim form.
The claim forms may be sent or filed via the settlement website.
If an inactive subscriber fails to submit a claim form and does not opt out, they will be subject to the settlement's releases.
There are presently 964,000 individuals in the Class.
Around 838,000 lifetime memberships were active as of the settlement's execution date, while 126,000 lifetime subscriptions were dormant.
A feature on the settlement website will allow Class Members to verify whether their lifetime membership is active or inactive as of the settlement date.
According to Christian Tregillis, a plaintiffs' expert, the settlement benefits are worth $96.4 million.
The settlement agreement states, "The terms of this Settlement are not only fair, reasonable, and adequate, as required for approval under the Federal Rules, but also represent an achievement that is most likely better than any result Plaintiffs could hope for through continued litigation of these actions, were they to certify a class and bring it to trial before a court." "This is no small achievement, especially considering that this Court previously ordered the earliest filed of these cases to be arbitrated individually under the provisions of Defendant's purported subscriber agreement."
On September 12, 2016, Wright filed the first action in this lawsuit. SiriusXM filed a request to dismiss the lawsuit and send it to arbitration in November 2016. On June 1, 2017, the Court approved the application, dismissing Wright's claims without prejudice. Wright's request for permission to add more Class representatives to his lawsuit was similarly rejected by the Court.
Three other lifetime subscribers then filed class action lawsuits of their own. Wright appealed the decision allowing SiriusXM's request to dismiss and compel arbitration of his claims on June 28, 2017, just before Alvarez, Bettison, and Vaugh filed their suits. According to the settlement, the parties then submitted their opening, response, and reply papers in the appeal.
The parties met for mediation on November 29, 2018, but no agreement was reached. The parties were able to reach a deal on Dec. 5, 2018, shortly before oral arguments, after extensive discussions.
As a consequence, during oral argument, Wright sought to dismiss his appeal, and the Ninth Circuit did not decide on it. After then, the parties went through months of talks to reach an agreement. On June 13, the plaintiffs requested approval of the settlement and certification of the Class.
Do you have a SiriusXM membership that lasts a lifetime? What are your thoughts on this agreement? Please let us know in the comments section.
As new information about this class action settlement becomes available, Top Class Actions will update this page. Keep an eye on TopClassActions.com for the most up-to-date information, or sign up for our free newsletter. Using your free Top Class Actions account and selecting the "Follow Content" button at the top of the post, you can also get alerts when this article is updated.
Robert Ahdoot, Tina Wolfson, and Theodore Maya of Ahdoot & Wolfson PC; Cornelius P. Dukelow of Abington Cole + Ellery; and Keith S. Dubanevich of Stoll Stoll Berne Lokting & Shlachter PC are representing the plaintiffs.
Philip Alvarez, et al. v. Sirius XM Radio Inc., Case No. 2:18-cv-08605-JVS-SS, is the SiriusXM Lifetime Subscription Class Action Settlement filed in the United States District Court for the Central District of California.
Watch This Video-
SiriusXM announced that they will be ending their lifetime subscription service. The company will be paying $96M to end the lifetime subscription. Reference: sirius xm free forever.
Frequently Asked Questions
Can you still get lifetime Sirius subscription?
A: Unfortunately, lifetime Sirius subscription is not available any more.
How much is a lifetime membership for SiriusXM?
A: SiriusXM gives a lifetime subscription for $399.
Can I cancel my SiriusXM subscription anytime?
A: Yes, you can cancel your SiriusXM subscription anytime and it wont affect any of the services or credits that youve already received.
Related Tags
sirius lifetime subscription lawsuit
sirius lifetime subscription cancelled
sirius lifetime subscription transfer
siriusxm 12 months for $60
sirius lifetime subscription reddit