The FDA has been monitoring adverse event reports with Essure since it was approved in 2002. This year, they have seen a dramatic increase and are now investigating the possible connection between these events and potentially defective product design.,
The "why was essure taken off the market" is a question that has been asked for many years. The Essure Adverse Event Reports Doubled Last Year.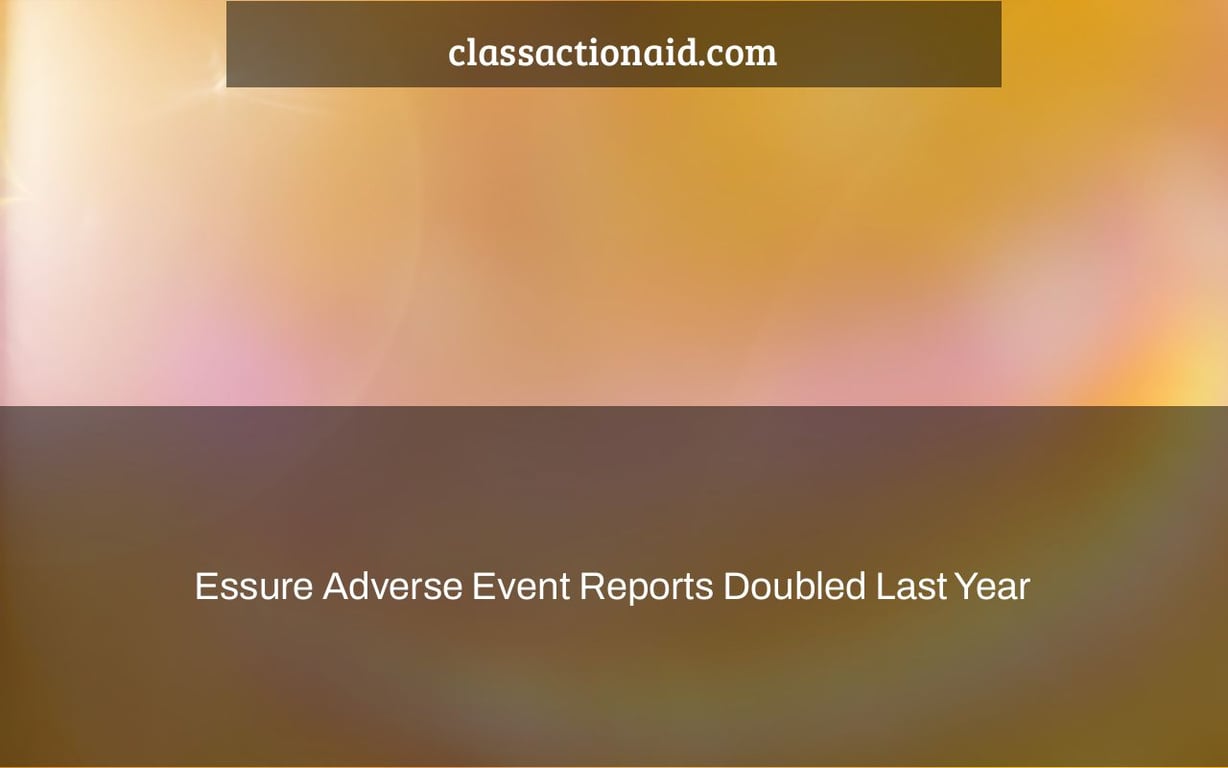 The FDA received 11,854 Essure adverse event reports in 2017. 
Thousands of women have filed complaints, filed lawsuits, and even met with politicians and the FDA in Washington, D.C. to demand that a common kind of permanent birth control be banned.
Essure, a non-surgical alternative to tubal ligation (tying one's tubes), is manufactured by Bayer. Two nickel-based coils are put into the fallopian tubes, causing scar tissue to form, inhibiting egg fertilization.
Thousands of women have reported persistent pain after getting Essure since 2002, including painful intercourse, painful menstruation, pelvic discomfort, and back pain. Unwanted pregnancies, pregnancy losses, and shattered and migrating coils have also been reported by women. The FDA issued a black box warning for the device in 2016, which is the highest degree of warning it can give for the gadget's most serious side effects and problems.
Despite increased knowledge of possible Essure side effects, Essure complaints continue to rise year after year while the birth control stays on the market in the United States.
The majority of injury reports mention the removal of the device.
The FDA received 11,854 Essure adverse event reports in 2017. In 2016, they received less than half that: 5,019 reports. To date, more than 25,000 women have complained about the birth control device.
"The increase in reported adverse events no doubt reflects a greater awareness by doctors, as well as by patients—primarily through social media and litigation—of the widespread problems caused by this dangerous medical device," said attorney Michael Goetz, head of the Mass Tort Section of the Morgan & Morgan Complex Litigation Group.
According to the FDA, the great majority of complaints filed in 2017 (92.7 percent) included device removal.
Because the coils may break into several pieces, wander away from their initial placement, and even implant in the fallopian tubes, uterus, and other organs, removing Essure can be difficult. In order to get rid of the device, some women need hysterectomies.  
According to a research published in the British Medical Journal, women who get Essure are more likely to require surgery thereafter than those who have tubal ligation. Only 0.2 percent of Essure patients needed follow-up surgery after a year, compared to 2.4 percent of tubal ligation patients.
Bayer has halted sales outside of the United States.
"The fact that Bayer has stopped selling Essure in all nations save the United States says all you need to know about Bayer's contempt for women's safety in this country."
Essure is now exclusively available in the United States.
Bayer issued a recall in Brazil in February 2017 and a recall in Australia in August of the same year. They stated in September that they will discontinue selling Essure outside of the United States.
Bayer said the move was a "commercial choice," not a result of escalating lawsuits or safety concerns. Despite claiming that their choice was based solely on statistics, Bayer advised the NHS in the United Kingdom not to utilize remaining stock of the device. If safety issues were not a problem, as they stated, it seems like an unusual command.
"The fact that Bayer has stopped selling Essure in all countries except the United States says everything you need to know about the device and Bayer's disregard for the safety of women in this country—women who trusted the Bayer name and now face unanticipated surgeries and other medical problems," Michael Goetz said.
Women Tell Their Stories to FDA Commissioner
Despite the fact that Essure sales continue in the United States, the birth control device's future does not seem bright—at least not when thousands of American women urge that the FDA prohibit the device.
Five members of the Facebook group Essure Problems met with FDA Commissioner Scott Gottlieb in February. In order to push for Essure's temporary withdrawal from the market, they brought poll findings, photos, and tales from its members.
Gottlieb delivered a public statement on Essure shortly after their meeting. He described the actions the FDA is taking to review Essure's safety, including requiring Bayer to perform a 522 Postmarket Surveillance (PS) Study to analyze the device's safety among existing Essure users. The data from 2,800 women will be included in the postmarketing research, although the findings will not be accessible until 2023.
"While the FDA continues to think that Essure may be acceptable for certain women based on current knowledge, the agency also recognizes that it has been linked to substantial issues," Gottlieb stated.  
One of the ladies that visited with Gottlieb was Angie Firmalino, the creator of Essure Problems. We chatted with her about the group's meeting objectives and whether or not the FDA achieved them.
Firmalino said, "Our purpose for the discussion with FDA commissioner Scott Gottlieb was to argue for the suspension of Essure until the newly authorized postmarket clinical investigations are completed." "After the commissioner's most recent public remark, we believe he has decided to keep the gadget on the market, despite the fact that we supplied him with further proof and information."
The FDA Displays a "Façade of Concern"
"The FDA has decided whose side they want to defend. Regrettably, industry is on that side."
Essure Problems, a social media community that works on behalf of women whose lives have been affected by the device, is one of the few medical technologies that has spurred the establishment of patient advocacy organizations. Thousands of women are voicing their voices, but the FDA does not seem to be paying attention.
"I believe our social media presence and campaigning drove the FDA to publicly recognize us and our concerns," Firmalino told us. "They're putting up a show that they care, that they're listening, and that they're looking into the real-world harm this technology has caused."
"This gadget would have been pulled off the market years ago if they were actually doing their duties to safeguard American people." The FDA has decided which position they want to defend. Unfortunately, industry is on that side."
Thousands of lawsuits have been filed against Bayer.
The number of cases filed against Bayer is keeping up with the number of adverse event reports. As of October 2017, Bayer has been sued by 10,600 women over Essure.
Essure is a class III medical device, which means it is protected against lawsuits alleging faulty or hazardous manufacture and design by the federal government. Women have worked with legislators to find a way around this, most recently by drafting proposals like the Medical Device Safety Act of 2017, which would eliminate immunity for class III devices.
Despite this, several cases have been successful in overcoming federal preemption. According to the claims, Bayer neglected to submit thousands of complaints to the FDA and provided inadequate training to physicians on how to implant the device.
If Essure caused you or a loved one harm, you may be able to file a lawsuit. For a free, no-obligation legal consultation, contact our lawyers.
Essure, a permanent birth control implant, has been on the market for over 10 years. The device is designed to be inserted into a woman's fallopian tube and cause scar tissue to block sperm from reaching the egg. However, in recent years reports of adverse events have doubled. Reference: history of essure.
Frequently Asked Questions
What adverse events have patients reported for Essure?
A: In the FDA adverse event reports, there are a total of 1864 patients reported. There have been 1 death and 12 cases of uterine perforations from Essure in these patient reports. I cannot comment on any more specific information regarding this device as it is not my area of expertise.
Can I still file a lawsuit against Essure?
A: You can still file a lawsuit against Essure. There have been many lawsuits filed already and the number is constantly increasing. Many people are now filing for compensation because of health problems that they are experiencing as a result of their use of the product, including infertility or birth defects in children conceived after their use was discontinued.
What adverse effects are associated with Essure use?
A: One of the most common adverse effects associated with Essure use is that perforations may develop in and around your fallopian tubes, ovaries, uterus or bladder. There are also possible side effects such as severe cramps before getting pregnant or heavy menstrual bleeding during pregnancy.
Related Tags
essure liver damage
essure and cancer
how many essure cases are there
essure death
essure lot number lookup