More than 1,000 lawsuits have been filed against Bayer Healthcare in the last few years. The company is being sued for women who developed severe pain and other Essure side effects after undergoing permanent sterilization procedures with the product.
Bayer has lost $413M for the Essure device, which is a permanent birth control implant. The lawsuits are piling up as the FDA has issued a warning about the device's safety.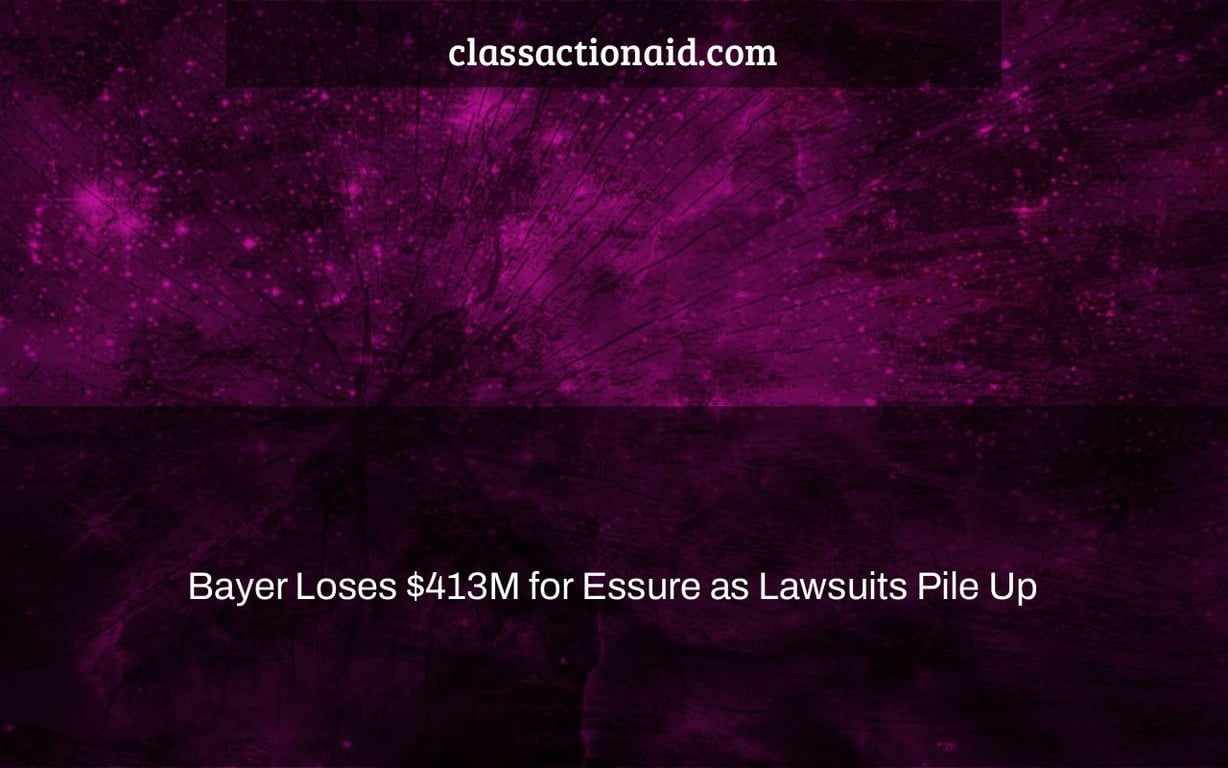 Essure problems have resulted in 3,700 lawsuits against Bayer. Women who have been injured, doctors, and politicians are pleading with Congress to remove the gadget off the market.
Essure, a long-acting birth control pill, has been linked to approximately 15,000 adverse events and 30 fatalities. The FDA received 5,016 event reports for the device in 2016.
The FDA issued a black box warning for Essure in November of last year, the highest degree of caution for a pharmaceutical or medical device, due to the high number of Essure-related problems.
Essure is a device that consists of two nickel-based coils placed into the fallopian tubes. The coils form a layer of scar tissue that is designed to inhibit egg fertilization over the course of three months.
The coils may corrode, travel through the fallopian tubes, perforate the uterus and other organs, and cause pelvic discomfort, irregular bleeding, allergic responses, and other significant adverse effects. Essure has a 9.6% failure rate.
Thousands of lawsuits have been filed against Essure's maker, Bayer, as damaged women, doctors, and politicians petition Congress to remove the device off the market.
A Doctor Issues a "Call to Arms" to the Public
Despite the fact that the device is supposed to be permanent, some women have had to have it removed due to terrible discomfort and problems. According to Yale University study, women who utilize Essure are ten times more likely than women who have their tubes sealed to need revision surgery.
We reached out to Dr. Julio Novoa, an OBGYN that performs Essure removal surgeries and " target="_blank" rel="noopener">advocates on behalf of injured women, about the unique risks of Essure. He assured us that the device, which often necessitates a hysterectomy to remove, is not the simple outpatient procedure Bayer made it out to be.
"Prior to 2017, Bayer promoted Essure as a non-surgical procedure, which perplexed many patients who thought it was a safer alternative to tubal ligation, which has always been appropriately labeled as a surgical procedure. Bayer might have done more by openly stating that the implantation of Essure is more than a simple operation; it is a surgery with all the dangers that comes with surgery, including the patient's mortality "He went on to add.
"When seeking to promote their goods to physicians, product device salesmen exaggerate the benefits of their medical gadgets while downplaying the drawbacks."
And Bayer isn't the only company that has misled patients. Dr. Novoa believes that physicians should be more proactive in their studies of the gadget. 
"When seeking to promote their goods to physicians, product device salesmen exaggerate the benefits of their medical gadgets while downplaying the drawbacks. "The ordinary doctor doesn't have the time or motivation to study anything a medical representative says about the product they're offering," Dr. Novoa said.
"I am afraid that only via litigation and multimillion-dollar judgment awards against Bayer and the surgeons who implant Essure will the medical community and Bayer do the right thing by their patients and remove Essure from the market."  
Bayer suffers a $413 million loss and is facing thousands of lawsuits.
Despite the fact that no settlements or judgments for Essure victims have yet been reached, Bayer has already suffered financial losses as a result of the risky birth control device.
Bayer announced a $413 million loss for Essure in their 2016 financial report, and stated that as of January 2017, they were facing litigation from 3,700 individuals due to Essure issues.
However, since Essure is a Class III medical device, it is among the most dangerous and requires the most stringent FDA pre-market authorization. This makes it more difficult for patients to hold Bayer responsible for their injuries. Class III medical devices are immune from lawsuits alleging faulty or hazardous manufacture and design, according to the FDA.
In court, FDA immunities and rules supersede state legislation. Suits must depend on parallel state legislation that do not impose harsher criteria than federal law in order to continue.
So far, lawsuits claiming Bayer is accountable for poor device design and failing to provide adequate medical training on Essure implantation have been rejected, the most recent of which was dismissed in February by Pennsylvania Judge Padova.
However, since the claims depend on a California legislation that does not supersede federal law, a court in California authorized 14 women to sue Bayer for failure to warn—the lawsuits say that Bayer failed to disclose more than 32,000 complaints to the FDA. Federal preemption has also stood in the way of lawsuits claiming breach of warranty, fraud, and careless representation in advertising and promotion.
Women who have been injured in accidents are lobbying Congress to change FDA regulations.
The "E-Sisters" Facebook group organized a nonprofit to petition Congress to take Essure off the market and rescind its pre-market clearance.
Over 30,000 women who have been hurt have banded together on Facebook to exchange resources and fight for justice. The foundation ASHES—Advocating Safety in Healthcare E-Sisters was founded by a Facebook community for wounded victims called "E-Sisters." The organization is urging Congress to take Essure off the market and withdraw its pre-market clearance, which would empower women to sue.
According to ASHES, they will present the Medical Device Safety Act of 2017 with Congressman Brian Fitzpatrick (R-PA) and Congresswoman Louise Slaughter (D-NY) next week. According to ASHES, if enacted, all FDA class III medical devices, including Essure, would lose federal protection, making it simpler for victims to hold makers responsible. 
In 2015, Congressman Fitzpatrick's brother, Mike Fitzpatrick (R-PA), presented the "E-Free Act" (H.R. 3920), which attempted to withdraw the FDA's approval of Essure. A committee suggested it, but it was never voted on.
The E-Sisters aren't the first group to take things into their own hands to press the FDA to act. Thousands more women in their Facebook group were also educated about the necessity of submitting adverse event reports.
The FDA was obliged to investigate Essure's safety after a surge in reported Essure injuries. Last year, the FDA ordered Bayer to perform a 1,400-woman study to better understand Essure's long-term risks.
Did Essure cause you or a loved one any problems?
Bayer should not be allowed to walk away from the tens of thousands of women who claim to have been damaged by Essure. Our lawyers want to hear from you if the Essure device caused medical difficulties for you or a loved one.  
Our team will help you determine if you are eligible for a lawsuit during a free, no-obligation case review. 
Frequently Asked Questions
How much is people getting for Essure lawsuits?
A: They are usually between $1,000 and $10,000.
Has anyone won an Essure lawsuit?
How do I join the Essure lawsuit?
A: You can either file a claim with the court, or contact the lawyers directly. Please see this link for more information on suing Essure for damages: https://www.essentialhopeandjusticeforall.org/
Related Tag