The United States Department of Justice (DOJ) announced on December 14, 2016 that it reached a settlement with the pharmaceutical company Eli Lilly and Company in connection to its off-label marketing of Byetta.
The "medication lawsuit list" is a list of medication lawsuits that have been settled. The settlements are for the amount of $1,000,000 or more.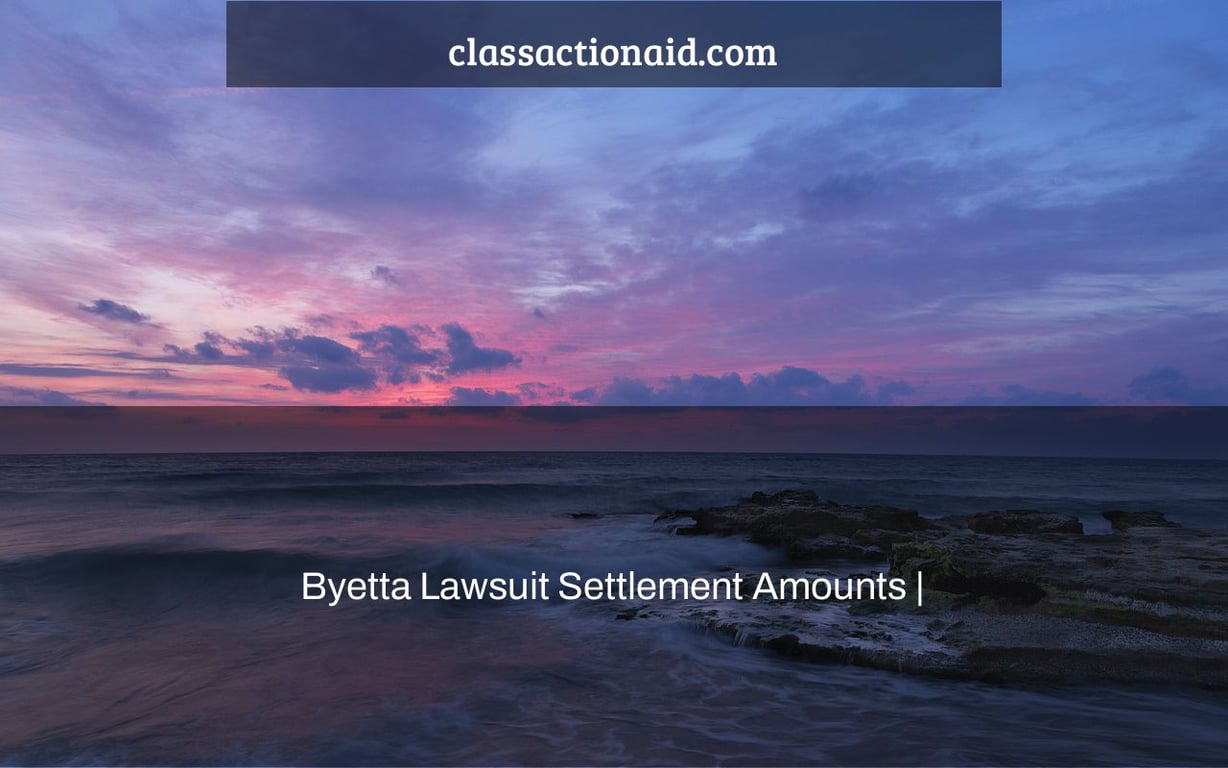 Byetta (exenatide) was the first of a new family of type 2 diabetes medications called GLP-1 receptor agonists. GLP-1 medicines, also known as incretin mimetics, had a minimal risk of hypoglycemia and helped people lose weight. They sparked initial excitement, but indications that Byetta and comparable medications were a probable risk factor for pancreatitis and pancreatic cancer dampened that enthusiasm.
Hundreds of Byetta claims have been consolidated in a federal court in California, claiming that the medicine causes pancreatic cancer.
Hundreds of pancreatic cancer cases have been filed against the makers of Byetta, Victoza, Janument, and Januvia by 2013. In the Southern District of California, these cases were consolidated into a multidistrict lawsuit (MDL). The MDL's caseload increased to hundreds of cases in only two years. While a 2015 legal verdict seemed to put a stop to the proceedings, plaintiffs' claims have been renewed by a subsequent court decision in their favor.
Our lawyers are assisting in the formation of a multidistrict litigation (MDL) against Eli Lilly, Amylin Pharmaceuticals, and other pharmaceutical firms. Please contact us for a free case review if you or a loved one took Byetta and got pancreatic cancer.
What claims have been made against Eli Lilly by plaintiffs?
Multidistrict litigation is a judicial procedure that combines many cases with comparable legal claims against similar defendants into a single court.
Hundreds of plaintiffs allege that Eli Lilly and Amylin Pharmaceuticals (which co-sold Byetta until 2011), Novo Nordisk Inc. (manufacturer of Victoza), and Merck & Co. (Januvia and Janumet) marketed GLP-1 diabetic medicines that induce pancreatic cancer in the incretin memetics MDL in Southern California.
The following are some of the particular accusations made against Eli Lilly/Amylin and other pharmaceutical companies:
Failure to warn: The producers of Byetta and other GLP-1s are accused of failing to offer proper warnings regarding the dangers of pancreatic cancer.
Byetta and comparable medications are said to have a faulty formulation and are hence unnecessarily harmful.
Negligence: The defendants were allegedly aware of, or should have been aware of, the medications' substantial risk of pancreatic cancer.
"As a result of the defective nature of the [incretin mimetic] Drugs, persons who were prescribed and ingested the Drugs, even for a brief period of time, including Plaintiffs, were at increased risk of developing life-threatening pancreatic cancer," according to the master complaint filed in the MDL.
According to the lawsuit, once the disease has spread, a patient has a 1.8 percent probability of living for more than five years.
Is Byetta linked to pancreatic cancer?
Plaintiff assertions that Byetta causes pancreatic cancer are supported by a number of scientific research.
"There is a realistic danger that long-term beneficiaries of GLP-1-based treatment may develop asymptomatic pancreatitis," researchers stated in the journal Diabetes Care in 2010. Worse, a small percentage of people who use this class of medications acquire pancreatic cancer."
Patients on Byetta had a reported event risk for pancreatic cancer that was 2.9 times higher than those taking other diabetic drugs, according to a study published in the journal Gastroenterology in 2011.
According to statistics from the German Medical Association's Drug Commission, Byetta is linked to an extremely high rate of pancreatic cancer. The results indicated that it took an average of 12.2 months from the commencement of Byetta therapy to a diagnosis of pancreatic cancer.
In 2013, a case-control epidemiological investigation on the effects of GLP-1 medications on the pancreas published in JAMA indicated that a link between GLP-1s and pancreatitis "may be causative." Because antecedent pancreatitis is the most prevalent risk factor for eventual pancreatic cancer, this is noteworthy.
Some research, on the other hand, have shown no relationship between GLP-1s and pancreatic cancer. Contradictory safety data will undoubtedly be a source of dispute in the Byetta lawsuit between claimants and defendants.
What About Preemption by the Federal Government?
The drug makers petitioned the court early in the MDL proceedings to reject plaintiffs' pancreatic cancer claims based on federal preemption (the concept that federal law trumps state law).
In December 2017, a court panel ruled in favor of the Byetta claimants, resuming the cases.
The drug makers asserted that the FDA would not have amended the medicine labels on Byetta, Victoza, Januvia, and Janumet to warn about the risk of pancreatic cancer based on the current data. As a result, they said, drugmakers could not be held accountable for failing to warn about pancreatic cancer under state laws.
The federal court in charge of the incretin mimetics MDL in California agreed with the defendants' reasoning and issued a decision in November 2015 essentially dismissing plaintiffs' claims.
However, in December 2017, a court panel ruled in favor of the plaintiffs and overturned the prior decision. As a consequence, plaintiffs in GLP-1 pancreatic cancer cases are on pace to get their day in court.
Who Can File a Lawsuit Against Byetta?
You may be qualified for a Byetta pancreatic cancer lawsuit if you match the following criteria:
You were given Byetta to treat type 2 diabetes and followed the instructions to the letter.
After commencing Byetta treatment, you got pancreatic cancer.
You were harmed as a result of pancreatic cancer (such as medical expenses and loss of income)
Plaintiffs may also pursue claims for the wrongful death of a loved one who was given Byetta and died of pancreatic cancer as a result of the drug.
What Is the Process for Filing a Byetta Lawsuit?
Attorney Michael Goetz was nominated to the plaintiffs' steering committee, giving us a leading position in the California incretin mimetics MDL. Mr. Goetz is on the front lines of this legal battle and will act in the plaintiffs' best interests.
Against Big Pharma and other big businesses, our lawyers have a proven track record of victory. If you're thinking of filing a lawsuit against Eli Lilly/Amylin or another medication company, the first thing you should do is consult with an attorney.
During a free case review, learn about your legal rights and choices.
Have you found what you're looking for?
YES NO
Watch This Video-
A "klonopin class action lawsuit" has been filed against the makers of Byetta, a diabetes drug. The amount of settlement will be determined by how many people join the case.
Related Tags
pharmaceutical class action
drug recall lawsuit
vimpat lawsuit