A recent study found that Byetta users are experiencing serious side effects, including heart attacks and strokes. Manufacturers of the drug have been accused of hiding these risks.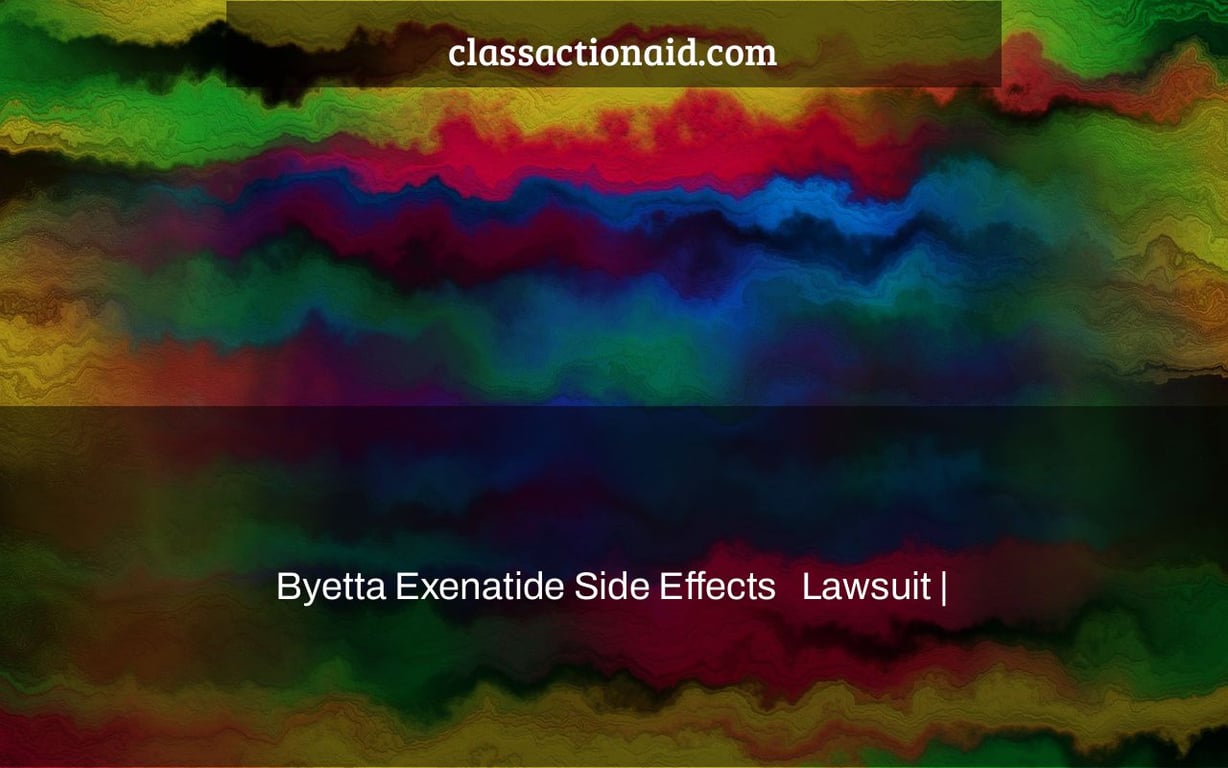 Doctors and millions of diabetic patients reacted positively to the introduction of the glucagon-like peptide 1 (GLP-1) receptor agonist family of type 2 diabetes medications (also known as incretin mimetics). Byetta (exenatide) was the first medicine in its class to get FDA approval and be given to diabetics.
Byetta has been linked to an increased risk of pancreatic cancer, prompting litigation against the drug's makers.
However, studies soon after Byetta's approval in 2005 prompted concerns that GLP-1 medicines might increase the risk of pancreatic cancer. Byetta's creators, Amylin Pharmaceuticals and Eli Lilly, were accused of concealing this danger from patients and physicians based on this study.
Byetta actions, as well as similar claims against the producers of incretin mimetics Januvia, Janumet, and Victoza, gained momentum and were merged in a multidistrict litigation in California federal court (MDL). A judge's decision in favor of pharma corporations in 2015 looked to put a stop to the litigation, but a fresh verdict in December 2017 has given them new life.
You may have a claim against Eli Lilly/Amylin if you or a loved one acquired pancreatic cancer after taking Byetta. During a free consultation, we can explain your rights to you.
What Is GLP-1 and How Does It Work?
Diabetes affects more than 30 million people in the United States. Type 2 diabetes is responsible for 90-95 percent of all diabetes occurrences.
Because insulin deficiency prevents blood sugar from entering cells, diabetics have high blood sugar levels (hyperglycemia). The buildup of glucose in the blood (rather than in the cells) results in a hazardous short-term loss in energy and long-term harm to the organism.
Byetta is made from a chemical discovered in the saliva of Gila monsters.
Diabetes is not curable, but it may be controlled with medicine, a healthy diet, and regular exercise. Diabetes is treated with at least a dozen different types of medicines. Depending on the patient and their symptoms, they may be taken alone or in conjunction with other diabetic medications.
GLP-1 (glucagon-like peptide 1) imitates the activities of one of the body's naturally occurring incretin chemicals, which are produced during digestion from the stomach. GLP-1 decreases blood glucose levels and enables the body to utilise its own insulin to its full potential. This class of drugs also has the advantage of having a minimal risk of hypoglycemia and aiding weight reduction.
Byetta is a drug that is created from a chemical discovered in Gila monster saliva and is taken twice a day. Byetta was the first GLP-1 diabetes medicine to get FDA clearance in 2005, thanks to a cooperation between Amylin Pharmaceuticals and Eli Lilly. Amylin and Eli Lilly's collaboration concluded in 2011. Amylin paid Lilly to acquire Byetta's rights.
What Are the Pancreatic Side Effects of Byetta?
Pharmaceutical firms invest millions of dollars and years to bring innovative treatments to market. They extensively promote these treatments and aim to influence physicians' prescription practices in order to secure a return on investment. However, when new drugs—particularly new families of drugs—are introduced, their long-term effects are often unknown.
With the publishing of an FDA notice tying Byetta to acute pancreatitis in 2007, data linking Byetta to pancreatic adverse effects attracted public attention. Thirty post-marketing reports of severe pancreatitis in individuals receiving the medication prompted the warning. It advised doctors to stop using the medicine if they detected pancreatitis. As a consequence of the alert, the product warning label concerning the risk of pancreatitis has been revised.
A probable relationship between Byetta and pancreatic cancer has been discovered in many research.
GLP-1 medicines have been linked to not just pancreatitis but also pancreatic cancer, according to research published in 2009. In a study published in the journal Diabetes, UCLA researchers discovered that another GLP-1 medicine, sitagliptin (Januvia), induces pancreatic abnormalities that are known to be risk factors for pancreatic cancer. The authors of the research speculated that the association between GLP-1 medications and pancreatic side effects could be related to the pace of cell development in the pancreatic ducts.
GLP-1 medications may increase pancreatic cancer in the long run, according to a 2011 research published in Gastroenterology. A 2012 research published in Diabetes, as well as a 2013 JAMA article, revealed more concerns regarding GLP-1 therapy's effects on the pancreas.
GLP-1s have not been linked to pancreatic cancer in subsequent studies. In the Byetta lawsuit, contradictory facts concerning this side effect is expected to be extensively debated.
What are the allegations in the Byetta lawsuits?
Hundreds of cases have been brought against Byetta, Januvia, Janumet, and Victoza, the producers of GLP-1s. In multidistrict litigation (MDL), a sort of mass tort, the cases are concentrated in the United States District Court for the Southern District of California. MDLs group together a number of comparable claims in order to make discovery and other pre-trial procedures easier (the gathering and sharing of evidence and other case documents).
Patients who used GLP-1s developed pancreatic cancer, which caused personal damage and, in some instances, death, according to lawsuits filed against Merck, Novo, Amylin, and Eli Lilly.
The plaintiffs were not informed at the time they were provided the medications that taking them included a risk of pancreatic cancer, according to a master complaint filed on behalf of all claimants against the defendants. The plaintiffs claim they would not have used GLP-1 medications if they had known about the danger of pancreatic cancer.
Plaintiffs claim that GLP-1 medications are excessively harmful and that drugmakers failed to adequately communicate the risks of pancreatic cancer connected with their usage.
For a Free Consultation, please contact us.
Our lawyers have taken on and defeated some of the world's largest pharmaceutical firms. We've helped plaintiffs collect billions of dollars, and we're ready to fight for you if you've been harmed by a harmful medicine. Michael Goetz has even been selected to manage the incretin mimetics MDL on behalf of all plaintiffs.
Patients who suffered pancreatic cancer after taking Byetta can contact us for a free legal consultation.
Watch This Video-
Frequently Asked Questions
What happened to Byetta?
A: Byetta is an incretin mimetic peptide medication used to treat type 2 diabetes. It was withdrawn from the market in 2011 due to negative side effects, but it still had a lot of patients who were on their last remaining doses and they needed something else. So they came up with Victoza which has been around since 2012 and its sales have grown year after year until now its one of the most common medications out there for people with Type II Diabetes.
Is Byetta safe?
A: Byetta is a prescription medication that has been used for years to treat type 2 diabetes. It can help lower your blood sugar and keep it from going too high or too low, which may decrease the risk of complications from uncontrolled diabetes such as heart disease, stroke, kidney damage and blindness.
When should I stop taking Byetta?
A: You should stop taking Byetta if your weight is steady for a week and you are no longer having any blood sugar readings above 200.