Babyganics, a leading natural and organic brand of baby products, is expanding its line with "Tear-Free" bath time. The product prevents all the nasty scrubbing, scraping and painful tears caused by traditional soaps.
Babyganics is a brand that offers "Tear-Free" child bath products. The company has been around since 2003, and they have always offered high quality products.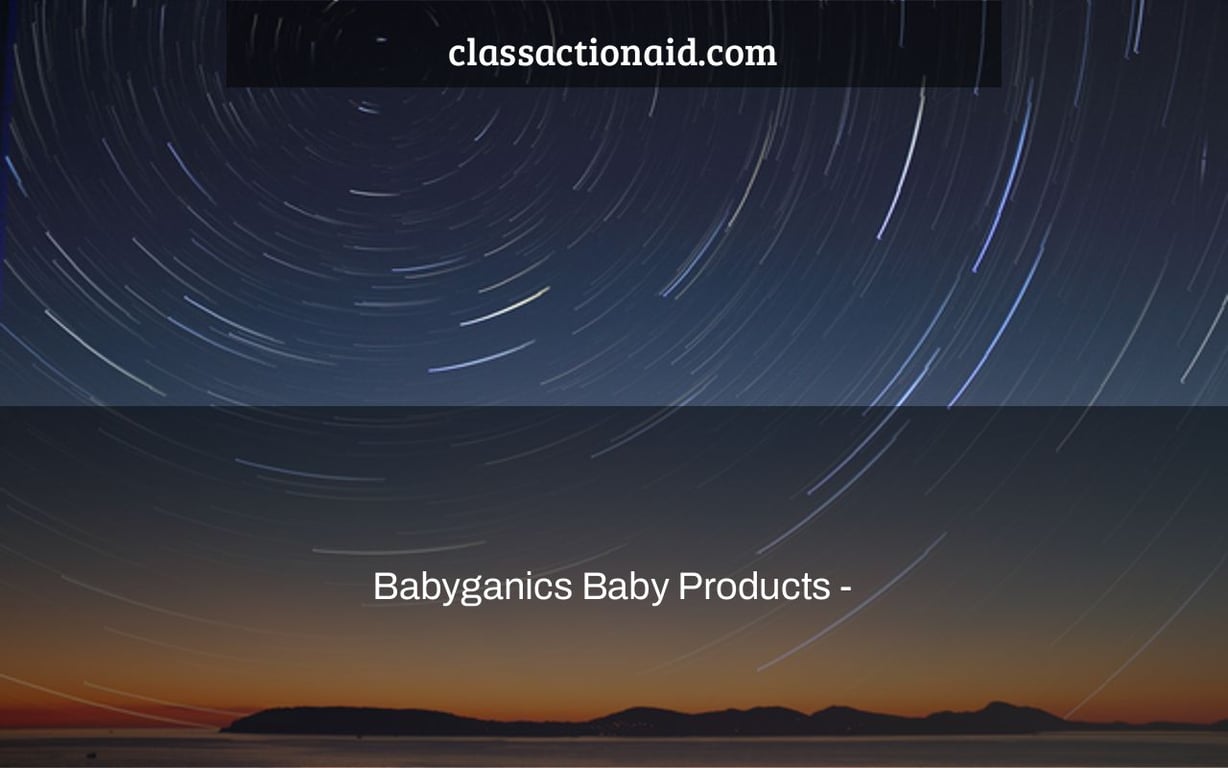 Kevin Schwartz (CEO) and Keith Garber (President) created Babyganics in Westbury, New York in 2002. "To raise the next generation of healthy, happy infants," says the Babyganics mission statement. The firm takes pleasure in creating organic cleaning products, shampoos, and suntan creams that are suitable for children.
In terms of revenue, value, and quantity of items, the firm has expanded at an exponential rate during the last 15 years. Unfortunately, Babyganics' primary beliefs may have been compromised as a result of its fast expansion.
According to Babyganics, it meticulously vets its components and "test[s] the crap out of everything," including pH, odor, and color. However, environmentalists and disgruntled parents argue that this isn't the case.
Several lawsuits have been filed against Babyganics due to the possibly dangerous nature of its contents. A class action lawsuit filed by ClassAction.com is the most noteworthy example.
S.C. Johnson buys the company due to its rapid growth.
Babyganics almost quadrupled its revenue between 2011 and 2013. (277 percent ). The firm was named to the Inc. 5000 list for the first time in 2012, coming in at #613 on the list of the country's fastest-growing private enterprises. (It appeared on the list again in 2014, at #1540.)
Babyganics claimed a gross revenue of $30 million in 2013.
Mr. Schwartz and Mr. Garber, the company's co-founders, released BabySafe in Seven Steps: The Babyganics Guide to Smart and Effective Solutions for a Healthy Home in April 2014. Six months later, the firm was recognized to Crain's New York Business' Fast 50 list, which honors the city's 50 fastest-growing businesses.
Despite its rapid expansion, Babyganics maintained its image as a wholesome mom-and-pop company, with two intrepid fathers (Mr. Schwartz and Mr. Garber) "very hands on with new product creation and development."
However, Babyganics was not owned by its co-founders; instead, company was controlled by VMG Partners, a private equity firm located in San Francisco. Justin's, Kind, Natural Balance Pet Foods, Quest, Spindrift, and Pirate's Booty are some of VMG's most well-known brands.)
Babyganics claimed a gross revenue of $30 million in 2013.
SC Johnson, a worldwide corporation with yearly revenues of over $10 billion, bought Babyganics from VMG Partners in July 2016.
"Continue developing baby goods that employ the safest ingredients available, products that are achievable for every mom and dad, and products that function amazingly well," according to Babyganics' mission statement. However, it's difficult to conceive that being controlled by a private equity company and subsequently a multinational conglomerate would have had no effect on those principles.
Babyganics currently has over 80 "baby-safe" and "organic" personal care and housekeeping goods to choose from. Major merchants like as Target, Amazon, and Babies "R" Us sell these items.
However, they may not be as safe or environmentally responsible as they claim to be.
Babyganics receives a failing grade from an environmental group.
Babyganics ranks badly on the Environmental Working Group's (EWG) numerous recommendations, which is surprising for a firm that prides itself on being socially responsible and health-conscious. The Environmental Working Group's Healthy Cleaning Guide
…is an online hazard reference for home cleaning products that was developed in 2012 to assist users in finding products that fully declare their contents and have fewer hazardous or untested substances. Product component lists obtained from product labels, corporate websites, and worker safety manuals are combined with data from more than 16 standard toxicity databases and exhaustive searches of peer-reviewed scientific literature in the database.
One would think that a firm like Babyganics would do well under such scrutiny, but this is far from the truth.
Only three of the 23 Babyganics cleaning products that the EWG has assessed get an A. None of the students received a B. Six of the students received a C. Fourteen of the twenty-three goods received a D or F. Babyganics Fragrance-Free Laundry Detergent, for example, received a "High Concern" rating for developmental and reproductive toxicity.
The Environmental Working Group gave 14 of the 23 goods a D or F grade (EWG).
In the EWG's Skin Deep Cosmetics Database, Babyganics fared better, but some of these products received a 4, 5, or even a 6 out of 10, indicating a Moderate hazard risk. Furthermore, Coumarin (a hazard risk of 7 out of 10) is present in five Babyganics products, while Fragrance (a danger risk of 8) is present in five, and Octinoxate is present in two (which scores 6).
The dubious nature of Babyganics' components has not only garnered the firm negative scores from environmentalists, but it has also resulted in litigation.
ClassAction.com Lawsuit Fueled by Ingredients
A complaint has been filed against Babyganics by ClassAction.com, alleging that various Babyganics bath products include eye irritants and are not as "tear-free," "safe," or "gentle" as claimed.
Our lawyers want to hold Babyganics responsible for the allegedly deceptive labeling of various Babyganics bath products that claim to be "tear-free," "gentle," "non-allergenic," and "safe for newborns." According to the complaint, the following nine goods (mentioned below) include chemicals and other elements that irritate the eyes:
Shampoo and Body Wash with Chamomile Verbena Chamomile Verbena Shampoo & Body Wash Chamomile Verbena Shampoo &
Chamomile Verbena Shampoo & Body Wash
Bubble Bath with Chamomile and Verbena
Conditioning Shampoo & Body Wash with No Fragrance
Shampoo and Body Wash with No Fragrance
Bubble Bath with No Fragrance
Moisturizing Therapy Cream Wash with No Fragrance
Night Time Orange Blossom Shampoo & Body Wash
Nighttime Bubble Bath with Orange Blossoms
We are seeking monetary compensation for plaintiffs who bought these goods, as well as a cease-and-desist order from Babyganics to discontinue deceptively selling these products.
Other Lawsuits Against Babyganics
A complaint was filed against Babyganics in the autumn of 2016, stating that their "tear-free" shampoo had burnt a boy's eyes, perhaps permanently scarring them. Theresa Jones stated her infant boy Hunter had corneal burns on 90% of his corneas, which doctors blamed on the chemicals in the Babyganics shampoo, and that Hunter might have vision difficulties for the rest of his life.
Ms. Jones claimed she discovered a slew of internet complaints from mothers whose children had been harmed by Babyganics products.
In May 2017, a rough rash on the face of Ms. Christensen's five-week-old baby Leif was blamed on Babyganics Face, Hand, and Baby Wipes, according to an Oregon lady named Jade Christensen. She saw black stains on the wipes, implying that mold was growing on them, and discovered other customers' concerns about the product online.
In response to Ms. Christensen's ordeal, Babyganics promised to replace any wipes with black spots and assured parents that the wipes had been thoroughly tested and were not harmful to their health.
See our Babyganics Lawsuit page for additional information on lawsuits and lawsuit eligibility.
Babyganics is a company that makes "Tear-Free" child bath products. Babyganics reviews give you information about the product, including how well it cleans and if it has any harmful ingredients. Reference: babyganics reviews.
Frequently Asked Questions
Whats wrong with Babyganics?
A: Babyganics has been discontinued.
Can you use Babyganics on newborn?
A: This is a tricky one. If you are using the Babyganics on your newborn, then it should be okay to use them on babies or younger children as long as they have no known allergies. If youre not sure if your baby has any food allergies or sensitivities, I would suggest just enjoying the experience of being a parent for now and purchasing something else later when everything is more clear.
How good is Babyganics?
A: There are a lot of people who love Babyganics. Some say that it is one of the best baby formulas available on the market and was able to provide them with their childs healthiest start in life.
Related Tags
babyganics shampoo
babyganics hand sanitizer
babyganics floor cleaner
babyganics bubble bath
babyganics ingredients