The Saudi Arabian government has been sued over its alleged involvement in the 9/11 terror attacks. The lawsuit is based on two claims: first, that Osama bin Laden and some of his family members had ties to the royal family; second, that high-ranking officials within Saudi Arabia were aware of future terrorist plans and may have even known about al Qaeda's plan to use planes as weapons but failed to alert authorities.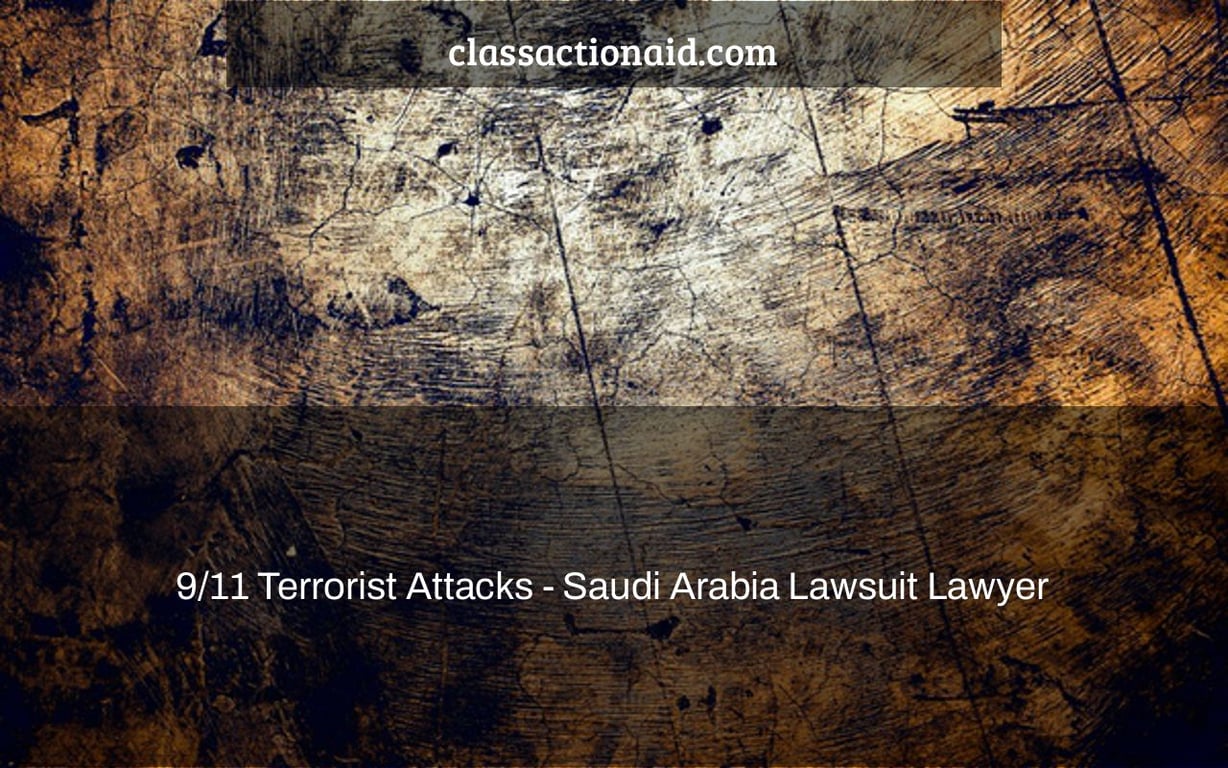 (This litigation is no longer taking new clients.) If you lived, worked, or studied south of Canal Street in Manhattan between September 11, 2001 and May 31, 2002, and were diagnosed with a respiratory disease or cancer, you may be eligible for compensation via the Compensation Fund for 9/11 Victims.)
9/11 Victims Compensation Fund
In September 2016, Congress overrode Obama's veto to pass the Justice Against Sponsors of Terrorism Act (JASTA), paving the way for victims of terrorist attacks on American territory to sue foreign governments. The statute overturns decades of doctrine on foreign sovereign immunity.
JASTA's opponents believe that it exposes the United States to foreign retribution and lawsuits. However, since Saudi Arabia is the primary target of 9/11 lawsuit (because 15 of the 19 terrorists were Saudis), there are financial worries. Companies like GE and Chevron opposed the law because they were concerned about the security of their assets overseas, and Saudi Arabia made hollow threats that if JASTA passed, they would remove their assets from the United States.
"The Saudis should not be concerned about this law if they have done nothing illegal."
JASTA advocates emphasize the need of extending the courts of justice to victims above economic and foreign policy considerations. "If the Saudis did nothing illegal, they should not be afraid of this legislation," stated Senator Charles Schumer (D-NY).
To reduce the number of lawsuits, the US government established compensation funds.
The 9/11 Victim Compensation Fund was formed by the US government shortly after 9/11, providing $7 billion to victims and their relatives. After the initial fund was closed, it was reactivated in 2010 as the Zadroga Act to help victims who had health problems.
These payments were one-of-a-kind; victims of earlier terrorist assaults, such as the Oklahoma City bombing, did not get government compensation. However, the unusual act was not wholly unselfish. Victims had to promise not to sue airlines for the assault in order to get these payouts, which helped keep the airline industry solvent at a critical moment.
Hundreds of millions of dollars were paid out in 9/11 lawsuits by airlines.
The Victim Compensation Fund helped to reduce 9/11 litigation against airlines, but it didn't completely eliminate it. Individual complaints were filed by certain families. On behalf of the killed and wounded victims, about 100 lawsuits have been filed.
Following the accident, property developer Larry Silverstein won one of the highest settlements: $4.1 billion from property insurance. He attempted to do so by suing the airlines, stating that the money would be used to construct the new World Trade Center, but this was denied in court.
Cantor Fitzgerald, on the other hand, was able to hold airlines liable for carelessness. American Airlines settled for $135 million in business and property losses with the financial services corporation in 2013. The incident claimed the lives of 658 of Cantor Fitzgerald's 960 Manhattan workers, who worked on the upper floors of One World Trade Center. (See ClassAction.com's infographic for more on 9/11's effect on companies.)
The First Lawsuit Against Saudi Arabia is Filed by a 9/11 Widow
9/11 lawsuit isn't anticipated to stop anytime soon now that JASTA empowers victims to sue Saudi Arabia. A 9/11 widow, Stephanie DeSimone, was the first to launch a lawsuit against Saudi Arabia. When her husband was killed in the 9/11 attacks, she was two months pregnant.
The complaint argues that the Kingdom was aware of al Qaeda's intentions and that the terrorist organisation would not have been able to carry out the September 11th attacks without its assistance. It mentions Omar Ahmad Mustafa Al-Baioomi and Osama Yousef Basnan, two Saudi government operatives who reportedly assisted in the relocation of two of the hijackers to San Diego. The complaint also describes instances in which Saudi government employees diverted funds from Saudi diplomatic accounts to organizations that supported al Qaeda militants.
The complaint asks for an unknown sum in compensation for the "serious and lasting personal harm" she and her daughter have sustained as a result of the assaults.
JASTA Approves a 14-Year-Old Class-Action Lawsuit
"We're not putting anybody in danger except those who need to be held responsible; they're the only ones."
Until JASTA was approved, a 14-year-old class action lawsuit launched by 9/11 victims' families against the 9/11 hijackers and others who supported them faced several obstacles. Plaintiffs like Alison Crowther in Burnett et al v. Islamic Republic of Iran et al are mainly concerned with justice and avoiding future acts of terror like those that killed their loved ones.
Mrs. Crowther's son, Welles Crowther, was killed in the assaults. Rather of rescuing himself, the volunteer firefighter/investment banker saved at least eight people before the twin buildings fell, killing him.
Mrs. Crowther, a supporter of JASTA, responded to criticism in a lohud interview, stating that the bill's reach is restricted enough to effect only the guilty.
"We're not putting anybody in danger except those who need to be held responsible; they're the only ones."
Victims and their families are bringing a class action lawsuit against Saudi Arabia.
On March 20, 2017, a class action lawsuit was launched against the Kingdom of Saudi Arabia by 1,500 wounded survivors and 850 family members of 9/11 fatalities.
Saudi Arabia is accused of deliberately providing material assistance to al Qaeda and facilitating the September 11th attacks, according to the lawsuit.
Saudi Arabia is accused of "knowingly providing material assistance and resources to the al Qaeda terrorist organization and aiding the September 11th Attacks," according to the lawsuit. It claims that the Kingdom gave this material mostly via state-run nonprofits that contributed heavily to al Qaeda. They're also suspected of sponsoring al Qaeda training camps in Afghanistan, where 9/11 hijackers acquired the tactics they utilized on 9/11.
Plaintiffs claim that Saudi Arabia knew many of its officials and workers were al Qaeda agents or supporters long before the attacks, and that they were also aware of al Qaeda's intentions to strike the United States.
Allegations in a Lawsuit
The following are the allegations made in the first lawsuits filed against Saudi Arabia:
For more than a decade leading up to September 11, 2001, Saudi Arabia freely gave material assistance to al Qaeda.
Al Qaeda's intention to utilize Saudi Arabia's assistance to carry out terrorist strikes against the United States was known to Saudi Arabia.
Al Qaeda would not have been able to conceive, plan, and carry out the September 11th attacks without Saudi Arabia's help.