The government announced that it will be settling the claims of the families who lost loved ones in the 9/11 attacks. The announcement was made on September 11th, 2017 and has been considered by some to be a sign of national healing after years of conflict.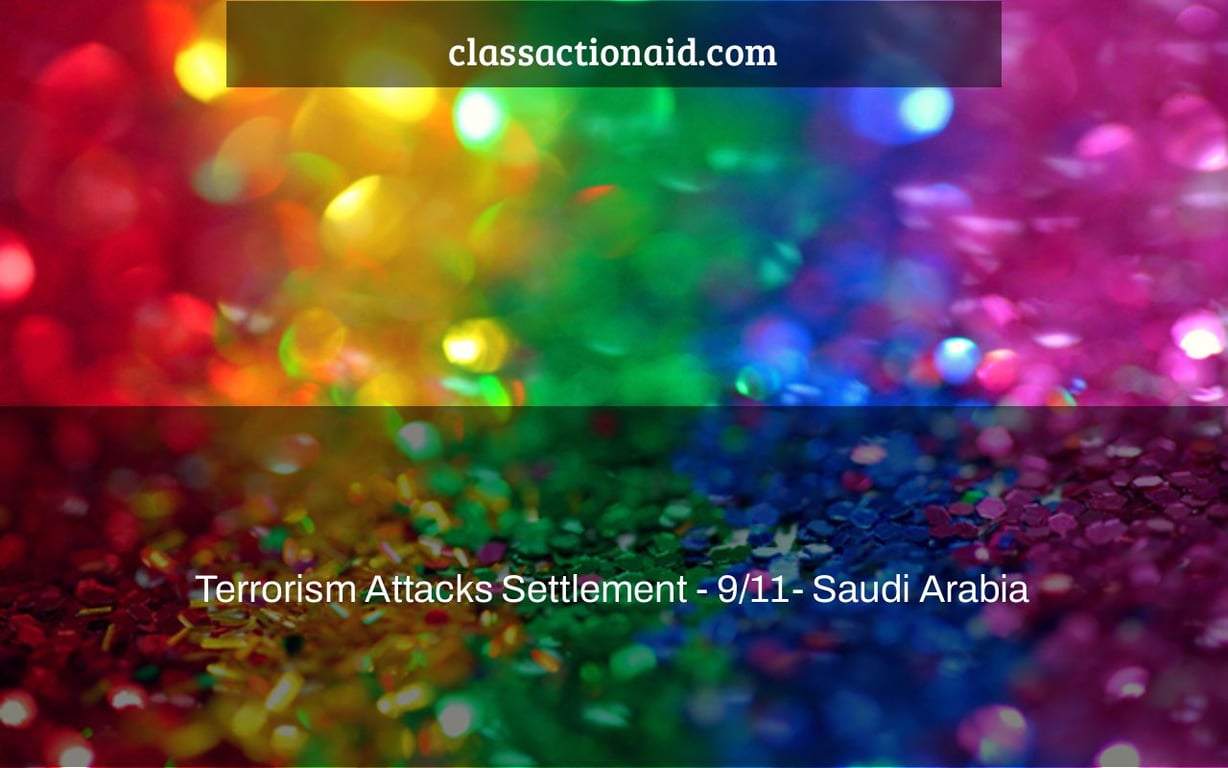 The Justice Against Sponsors of Terrorism Act (JASTA), which empowers victims to sue foreign terrorist sponsors, was just passed by Congress, overturning Obama's veto.
While the power to sue a US partner is new, the capacity to sue foreign governments for acts of terror is not. Individuals may sue US Department of State-designated terrorist sponsors under an exemption in the Foreign Sovereign Immunity Act. Iran, Syria, and Sudan are now on the list.
Since the 1990s, American courts have held governments accountable for funding terrorist activities, clearing the door for 9/11 victims to seek redress from Saudi Arabia. 9/11 victims may be entitled for compensation from government funding in addition to these legal options.
The JASTA lawsuit is no longer accepting new clients. You may be eligible for compensation under the Compensation Fund for 9/11 Victims if you lived, worked, or studied south of Manhattan's Canal Street from September 11, 2001 to May 31, 2002 and were diagnosed with a respiratory ailment or cancer.
9/11 Victims Compensation Fund
$4.6 billion 9/11 Victims Compensation Fund (ongoing)
The James Zadroga Health and Compensation Act was passed in 2010 to assist 9/11 survivors who have experienced injuries or diseases as a result of the attacks. The statute, which provided funding for the 9/11 Victims Compensation Fund, was set to expire in 2016. Congress, on the other hand, agreed on December 18, 2015, to extend the deadline until December 18, 2020.
The 9/11 Victims Compensation Fund may assist survivors in recovering compensation for medical expenditures, lost earnings, and pain and suffering as a result of their injuries. An extra $4.6 billion was recently authorized by Congress to further reimburse these claims.
You may be eligible for compensation if you lived or worked south of Manhattan's Canal Street from September 11, 2001 to May 2002 and got any kind of respiratory ailment or cancer between 2014 and 2020. For a free case evaluation, contact ClassAction.com.
Iran v. Flatow Family (1998) — $247 million
The lawsuit filed by the Flatow family against Iran revolutionized the way terror victims sought justice in court. Alisa Flatow, who was studying in Israel at the time, was murdered in 1995 when a vehicle loaded with explosives collided with the bus she was travelling.
Despite the fact that Iran was listed as a foreign state sponsor of terrorism, it remained unclear whether the exemption applied just to government officials and workers. The Flatow Amendment was enacted in response to this disparity, allowing victims' families and future victims to sue foreign governments that support terrorism.
Bombings on Ben Yehuda Street (2001) — $423.5 million
Three suicide bombers blew themselves up in Ben Yehuda, a pedestrian plaza in Jerusalem, on September 4, 1997. The assaults resulted in the deaths of five people and the injuries of approximately 200 more.
For their role in the bombings, the Iranian government was punished with a $71 million verdict in 2001. Iran disobeyed the judgement, resulting in a $423.5 million default judgment for the relatives of the victims in the United States.
$2.7 billion for the Pan Am Flight 103 explosion in 2006.
Pan Am Flight 103 was shot down over Lockerbie, Scotland, in 1988. All of the passengers and staff, including 188 Americans, were slain. Libya was the source of the assault.
Libya agreed to a $2.7 billion compensation with the relatives of the US fatalities in 2002. Libya's payment requirements, on the other hand, included the relaxation of UN sanctions, US economic restrictions, and the removal of Libya from the US Department of State's list of nations financing terrorism.
Libya publicly accepted "responsibility for the conduct of its authorities" in a letter to the UN in 2003, and paid 80% of the damages.
The remaining $540 million was postponed since the United States failed to remove Libya off the list of state sponsors of terrorism by the agreed-upon date. Libya, on the other hand, discharged this obligation when the United States reestablished democratic ties with the nation in 2006.
Bombings against the Khobar Towers in 2006 cost $254 million.
On June 25, 1996, members of the Iranian-backed terrorist organization Hezbollah Al-Hejaz exploded a vehicle bomb near the Coalition troops' headquarters in Saudi Arabia, the Khobar Towers. The assaults claimed the lives of 19 members of the United States Air Force.
Victims' relatives brought a lawsuit against Iran in 2002, which resulted in a $254 million judgement four years later.
$2.65 billion in damages from the 1983 Beirut bombings
Families of the 241 US peacekeepers killed in the Beirut Marines barracks bombings in 1983 sued Iran in 2001 for their claimed complicity. Judge Royce C. Lamberth found that Hezbollah, the terrorist organization responsible for the assaults, was directed by Iran, making Iran culpable.
Iran was hit with a $2.65 billion judgment in 2007. Iran was ordered to pay an extra $813 million in damages and interest by Judge Lamberth in 2012. Despite early difficulties in collecting payment from the government, the plaintiffs have continued to get full support from the United States courts and Congress, culminating in favorable rulings such as Bank Markazi v. Peterson (below), which assure that damages are paid.
The case of Carlos Acosta v. Islamic Republic of Iran was settled for $300 million in 2008.
Rabbi Meir Kahane was slain at a Marriott hotel in Manhattan by El Sayyid Nosair in 1990. He shot and wounded Irving Franklin and Carlos Acosta, a postal police officer who seized and apprehended Mr. Nosair, as he fled the scene. Mr. Nosair was subsequently determined to be a member of the Al-Gam'aa Islamiyah terrorist organisation, which is sponsored by Iran.
Mr. Acosta, Mr. Franklin, and Rabbi Meir Kahane's family sued Iran jointly for their role. Iran was fined $300 million in punitive penalties in 2008.
$413 million in the case of Gates v. Syrian Arab Republic (2011).
Al-Qaeda terrorists seized and beheaded two US military contractors, Jack Armstrong and Jack Hensley, in Iraq in 2004. Syria was hit with a $413 million judgment in 2011 for "material support" required to carry out the assaults.
$332 million in Wultz v. Islamic Republic of Iran and Syria (2012).
The Wultz family filed a lawsuit against Iran and Syria for a terrorist assault in Tel Aviv in 2006. Telly Wultz and his 16-year-old son Daniel were eating at a restaurant when a Palestinian suicide bomber struck, wounding Telly and murdering Daniel.
The family was awarded $332 million in damages by a jury.
Attacks on airports in Rome and Vienna in 2013 cost $25 billion.
Terrorists sponsored by Syria assaulted vacation tourists in Rome and Vienna airports in 1985, killing 16 people and wounding over 100 others. An worldwide group of attorneys joined together in 2006 to seek justice for Syria.
In 2013, Judge John M. Facciola awarded each victim $1 billion, totalling $25 billion. "The Rome and Vienna Airport assaults could not have taken place without Syria's direct help," he said, assigning blame to Syria.
$338 million in Mary Nell Wyatt v. Syrian Arab Republic
In 1991, archaeologists Marvin Wilson and Ronald Wyatt were abducted while supervising an excavation in Turkey. Their kidnappers, Kurdish Workers Party members, kept them captive for 21 days before allowing them to go. Mr. Wilson and Mr. Wyatt's family sued Syria for their role in the conflict, which resulted in a $338 million settlement.
$2 billion in Bank Markazi v. Peterson (2016)
Plaintiffs won a court order to ban Iran from moving cash from a Bank Markazi account in New York after Iran violated repeated default judgments for terrorist incidents they were allegedly linked to, including the Beirut Bombs and the Khobar Towers bombings. The Supreme Court ruled in 2016 that $2 billion of Iran's blocked assets should be distributed to the victims.
This judgment builds on the Victims of State Sponsors of Terrorism Fund, which was established by Congress to reward terror victims who had court judgements in their favor. The $3.8 billion in confiscated cash from BNP Paribas (a French bank that broke sanctions against Iran, Cuba, and Sudan) would be utilized only for the Victims of State Sponsors of Terrorism and 9/11 Victims Compensation Funds, according to this law.
Terrorist Attacks on September 11, 2001, and Iran (Ongoing)
In re Terrorist Attacks on September 11, 2001, a consolidated, multi-district litigation (MDL) action has more than 6,500 plaintiffs. Iran was found accountable for supplying "material assistance" to al-Qaeda by Judge George B. Daniels in 2011.
Default judgements against Iran have been entered in favor of victims' relatives and insurance companies after his verdict. Among them are a $6 billion judgment from 2012, a $10.5 billion judgment from March 2016, and a $1.8 billion judgment from October 31, 2016.
Frequently Asked Questions
What did Saudi Arabia have to do with 911?
A: Saudi Arabia had nothing to do with 911.
How many 9/11 hijackers were Saudis?
A: There have been many speculations about the number of 9/11 hijackers, but some reports indicate that there were five Saudi nationals. However, it is important to remember that out of all the people who hijacked planes on September 11th 2001, only one person was officially identified as a Saudi national.
Who did the victims of 9/11 Sue?
A: The victims of 9/11 sued the five countries that were responsible for the attack.