The largest-ever opioid crime sweep in the United States has led to charges against a number of individuals. What is next for law enforcement and those charged with crimes?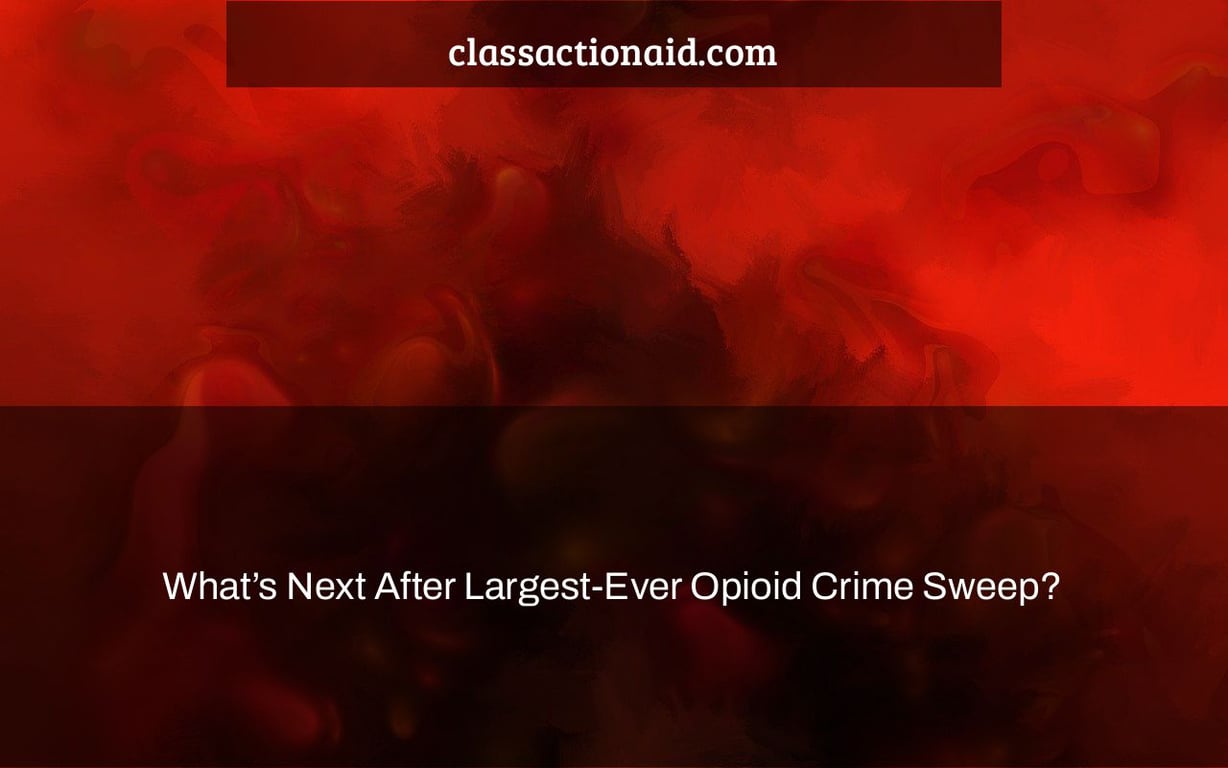 Last Monday, the Department of Justice announced the largest-ever healthcare fraud crackdown, with over 400 arrests. Fraudulent healthcare charges totalling more than $1.3 billion were investigated by the federal government.
Fraudulent insurance charges (billing Medicare and Medicaid for services and treatments that were never performed), illicit drug prescriptions (especially for opioids), and bribes for patient referrals and prescriptions were among the claims leveled against the defendants.
Attorney General Jeff Sessions said, "Too many trusted medical professionals, including as physicians, nurses, and pharmacists, have decided to break their oaths and put profits before of their patients." "Not only do their acts benefit them at the cost of taxpayers, but they also fuel addictions and encourage addictions to begin."
Opioid-Related Crimes Charged Against 120 Defendants
The latest crackdown by the Justice Department is the greatest federal operation to date in combating the opioid problem, with 120 people charged with opioid-related offenses. 
Fake recovery institutions were among the opioid-related offenses revealed by the DOJ. One Florida institution has been accused of cheating the government out of $58 million in rehabilitation services that were never delivered. Gift cards and strip club trips were reportedly used to entice individuals suffering from opiate addictions to the institution. 
Health care personnel who unlawfully dispensed opioids for money or other bribes were also targeted in the operation.
A Connecticut doctor has been charged with selling opioid prescriptions to drug traffickers, reportedly earning him $50,000 in a year. In exchange for monetary bribes, a Houston doctor reportedly wrote 12,000 prescriptions for 2 million opioid pills.
These crimes are about more than simply stealing money from the government. Patients who are administered opioids for pain management, such as oxycodone, hydrocodone, methadone, or fentanyl, are at risk of developing a drug habit. "Prescription opiates are as addictive as heroin," Tom Frieden, the director of the Centers for Disease Control, previously told the Washington Post.
While the DOJ's action is significant and a step forward in the fight against the opioid epidemic, the battle is far from done. Experts also fear that if there isn't a corresponding investment in rehabilitation, there may be an increase in drug overdoses.
Then there must be a rehabilitation investment.
Stopping their opioid prescription isn't an option for many long-term opioid addicts. Anxiety, vomiting, stomach discomfort, trouble sleeping, and drug cravings are all common withdrawal symptoms.
As a result, physicians must be cautious when administering these potent analgesics.
Dr. Michael Barnett, an associate professor at Harvard T. H. Chan School of Public Health, told us, "I believe physicians can play a vital role in tackling the opioid issue in numerous ways." "They're on the front lines of prescription, and they're in charge of prescribing opioids responsibly when the benefit (pain relief) exceeds the dangers (dependency and other adverse effects)."
In a study published in the New England Journal of Medicine, Dr. Barnett looked at the long-term impacts of opioid prescriptions.
One in every 48 Medicare individuals administered opioids in the emergency department became long-term users in that research (someone who uses opioids for 180 days or more within the first 12 months of an emergency room visit). Patients treated by "high-intensity prescribers"—those who prescribe opioids to 25% of their patients—were 30% more likely to take opioids in the long run than patients treated by "low-intensity" prescribers.
"Opioid prescription should be a culture of openness and accountability—we're all in this together."
However, as more healthcare professionals cut down on the amount of opioid prescriptions, some long-term opioid users may turn to alternative forms of comfort if their withdrawal symptoms aren't appropriately addressed. Some have shifted to illicit opioid providers such as drug traffickers or pill mills, while others have completely switched to harsher substances. Heroin, for example, has witnessed a rise in popularity since it has a comparable impact to opiates.
To combat the opioid issue, we need to take a two-pronged approach: we need to treat the consequences of addiction as well as reducing drug availability. Dr. Barnett believes that physicians can make a difference in this area as well.
"Doctors may play a critical role in safely transitioning long-term opioid users off of prescriptions and onto alternative treatments as soon as they are able, as well as promoting and prescribing medication-assisted therapy for people who are addicted," Dr. Barnett added. "Above all, we need a culture of openness and responsibility when it comes to opioid prescribing—we're all in this together."
Pharmaceutical Companies: Attacking the Roots of the Crisis
Without addressing the root of the problem: pharmaceutical firms, we won't be able to educate physicians and patients about the dangers of opioids.
"Drug businesses that make opioids, such as KVK-Tech, have a duty to verify that their product is not unlawfully diverted and is safe to consume," John Mack, the owner of Pharma Marketing News, told us.
"Drug firms that make opioids have a responsibility to guarantee that their products are not unlawfully diverted and are safe to consume." 
Companies like KVK-Tech, he added, are not only failing to do all they can to prevent misuse, but they may have even known that their opioids were flowing to illicit pill mills or pain clinics.
He cites an instance concerning Masters Pharmaceutical from the Drug Enforcement Administration in 2014. The "most of the oxycodone they created was marketed in Florida because to population demographics, prescription habits of Florida doctors, the existence of pain clinics, and legislation that [then] enabled physicians to administer restricted narcotics," according to KVK's officials. 
"This raises the possibility that some of its narcotics were diverted by unlawfully running pain clinics," Mack added. "Federal officials have long targeted Florida pain clinics as bad actors in this epidemic."
"Opioid-producing medication corporations should, in my view, subsidize local and national initiatives to prevent opioid addiction in addition to assuring the safe and legal use of these goods." For example, I've asked KVK-Tech to sponsor a 24-hour drug drop-off box in my neighborhood so that people may properly dispose of their leftover pharmaceuticals, including opioids."
The federal government, medical community, and pharmaceutical firms must continue to hold themselves responsible for their participation in the pandemic if we are to have any chance of combating America's opioid catastrophe.
Watch This Video-
Frequently Asked Questions
What happened to the Sacklers?
A: The Sacklers are a family of billionaires that have been accused of covering up the opioid crisis.
The family bought Purdue, who was responsible for OxyContins release in the United States and has since become one of Americas top healthcare companies.
Whats going on with the Purdue Pharma lawsuit?
A: Purdue Pharma is currently facing a lawsuit from the state of Ohio, which alleges that the drugmaker engaged in misleading advertising and violated the law by pushing its opioid painkiller OxyContin. The company has responded to these allegations with claims that it will defend itself against them.
What is Purdue Pharma called now?
A: Purdue Pharma created OxyContin and has been widely criticized for their marketing practices that led to addiction. In 2013, the company was renamed from Purdue Frederick Company to Acadia Pharmaceuticals after a settlement with the state of Kentucky in which they agreed to pay $270 million over 10 years on behalf of consumers who had become addicted or suffered financial hardships due to product selection.