Walmart has reported that some of the cards used in their stores have been compromised, adding to a growing list of retailers and card issuers who've had data breaches. Prepaid credit cards are becoming increasingly popular as they offer benefits such as lower fees than those with traditional payment methods. The Walmart breach is just one more example of how easy it can be for hackers to steal users' personal information.
Walmart is warning consumers that its prepaid card, the Green Dot Prepaid MasterCard, has been compromised. The company says it's possible the cards have been used for fraud.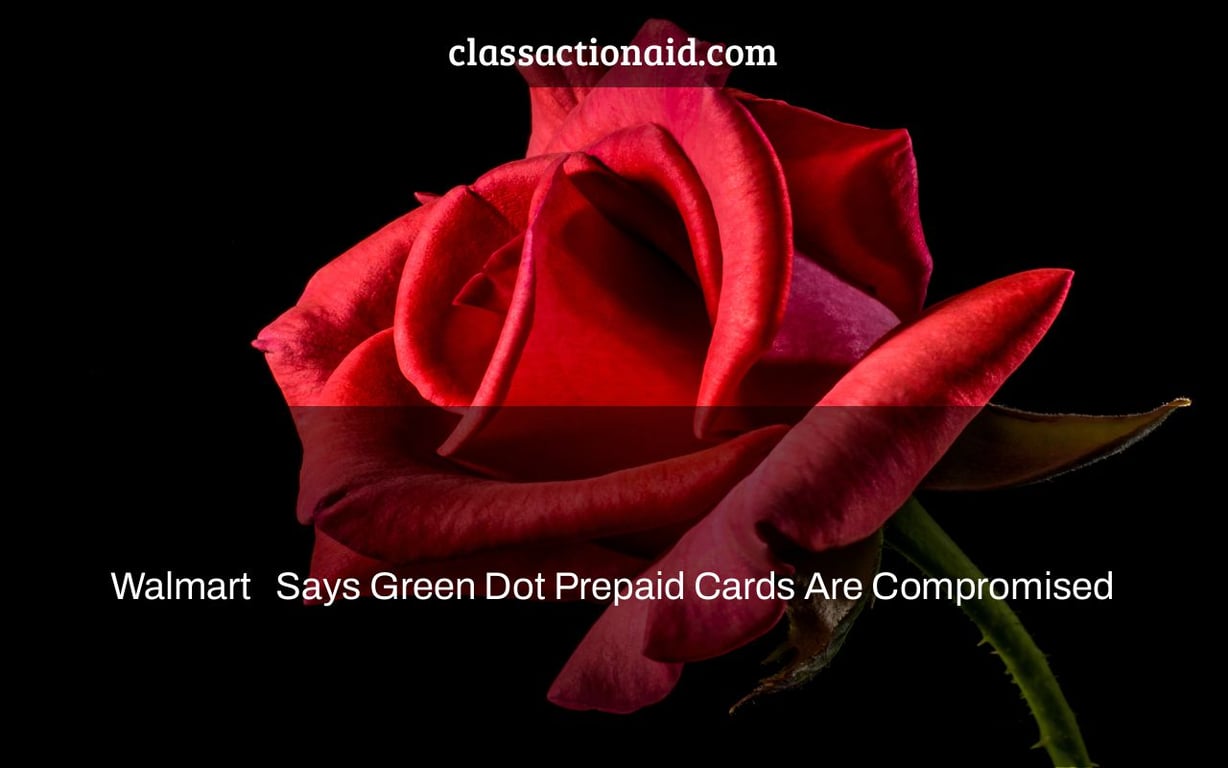 According to a new class action complaint, Walmart is responsible for allowing fraudsters to obtain Green Dot prepaid Visa card information.
Walmart sells a variety of prepaid Visa cards, including several from Green Dot Bank. These cards may be vulnerable to fraud, according to a recent Walmart Green Dot class action.
Guillermo Espinoza, the plaintiff, claims that in February 2019, he bought two $500 prepaid Green Dot Visa cards, which he planned to use to pay his rent in March.
Espinoza allegedly tried to pay his rent the day after purchasing the Green Dot cards, but was repeatedly rejected due to "insufficient money."
Espinoza reportedly returned to his local Walmart and sought advice from a clerk. The staffer allegedly advised him to try again later that day or the following day, "stating that she thought the cards would activate in a few days."
On the same day, Espinoza allegedly phoned the toll-free number on the back of the cards and was informed that his cards had an available balance of $499 and $500, respectively, according to the automated system.
On March 1, Espinoza allegedly repeated the procedure and discovered a $498.74 purchase on one of his cards at a Walmart in Hemet, California. His second card allegedly showed a $497.74 charge at the same Walmart that was "almost similar."
The Walmart, Green Dot class action alleges that "when Plaintiff saw the charges to his Greendot cards, Plaintiff was angry, bewildered, and worried because he needed the money to pay his rent."
Espinoza apparently tried to contest the bogus charges with Green Dot, but was referred to Walmart by the bank. He claims to have contacted the Hemet Walmart, where a floor manager informed him that similar "scams" had happened lately. According to reports, the information on the prepaid cards was "compromised." According to the Walmart Green Dot class action, the manager reportedly informed Espinoza, "…a hacker can sell the gift cards as soon as they are active."
Espinoza was reportedly sent to the corporate Walmart fraud hotline after this discussion. According to reports, he contacted the hotline and filed a police complaint. Espinoza was allegedly made to wait while the business investigated after submitting his information to the hotline on March 2. He reportedly phoned every three to four days to inquire about the status of his case, but received no response.
Espinoza allegedly checked on the inquiry again on March 15 and was informed that Walmart couldn't assist him because they were "not responsible for those Visa gift cards." Despite the fact that he had previously spoken with Green Dot Bank, he was sent back to them. Green Dot reportedly said that they were not responsible for the cards and that this kind of fraud was frequent.
Espinoza was informed that fraudsters acquire Green Dot card information before making real transactions, according to the Walmart Green Dot class action. Scammers are allegedly attempting $1 transactions after consumers buy the cards to check whether they are activated. Scammers are reportedly allowed to spend the remaining amount once the goods are activated.
Walmart and Green Dot Bank, according to Espinoza, do not adequately secure the information on pre-paid cards, leaving them vulnerable to scams and fraud.
The Walmart class action alleges that "Walmart chooses to offer its Greendot sponsored Visa Debit Cards in insecure packaging, where the identifying information is accessible to any third parties that come into touch with the Visa Debit Card prior to selling the cards to unwary consumers."
Espinoza is attempting to represent a class of California residents who bought Green Dot Visa prepaid cards with balances of more than $50 from Walmart.
Have you purchased Walmart Green Dot Visa cards only to have your money taken fraudulently? Please share your thoughts in the comments area below!
Ahren A. Tiller of BLC Law Center APC and Abbas Kazerounian of Kazerouni Law Group APC are representing Espinoza and the proposed Class.
Espinoza v. Walmart Inc., et al., Case No. 3:19-cv-01972-MMA-RBB, is a Walmart, Green Dot Prepaid Cards Class Action Lawsuit filed in the United States District Court for the Southern District of California.
The "green dot verification code" is a number that is used to verify the legitimacy of a prepaid card. Walmart says that these cards have been compromised, and they are urging customers to check their accounts for fraudulent charges.
Frequently Asked Questions
Can u get scammed on Green Dot card?
A: You can get scammed on Green Dot card, but there is no way to prevent that.
Why has my Green Dot account been blocked?
A: Your account may have been blocked for violating our terms and conditions. If this is the case, please contact support@greensquare.com to get your account unblocked or to find out more about why you were banned in the first place!
Why is my Walmart MoneyCard account blocked?
A: Many Walmart MoneyCard holders report that their account is blocked when they try to use the card at an ATM. The block may be due to a fraudulent transaction or if youre using your card overseas, its most likely because of international transactions not being allowed on this particular debit card.
Related Tags
types of green dot cards
is green dot legit
green dot dispute process
greendot method
walmart money card direct deposit problems