The opioid crisis was characterized by the rise of opioids like oxycodone and hydrocodone, which are now known as some of the most harmful drugs in human history. But unlike Big Tobacco, there is not one company that has taken full responsibility for this epidemic; instead, many people have filed lawsuits against pharmaceutical companies who created these prescription drugs. These accusations claim their medical intent to treat pain led to widespread addiction.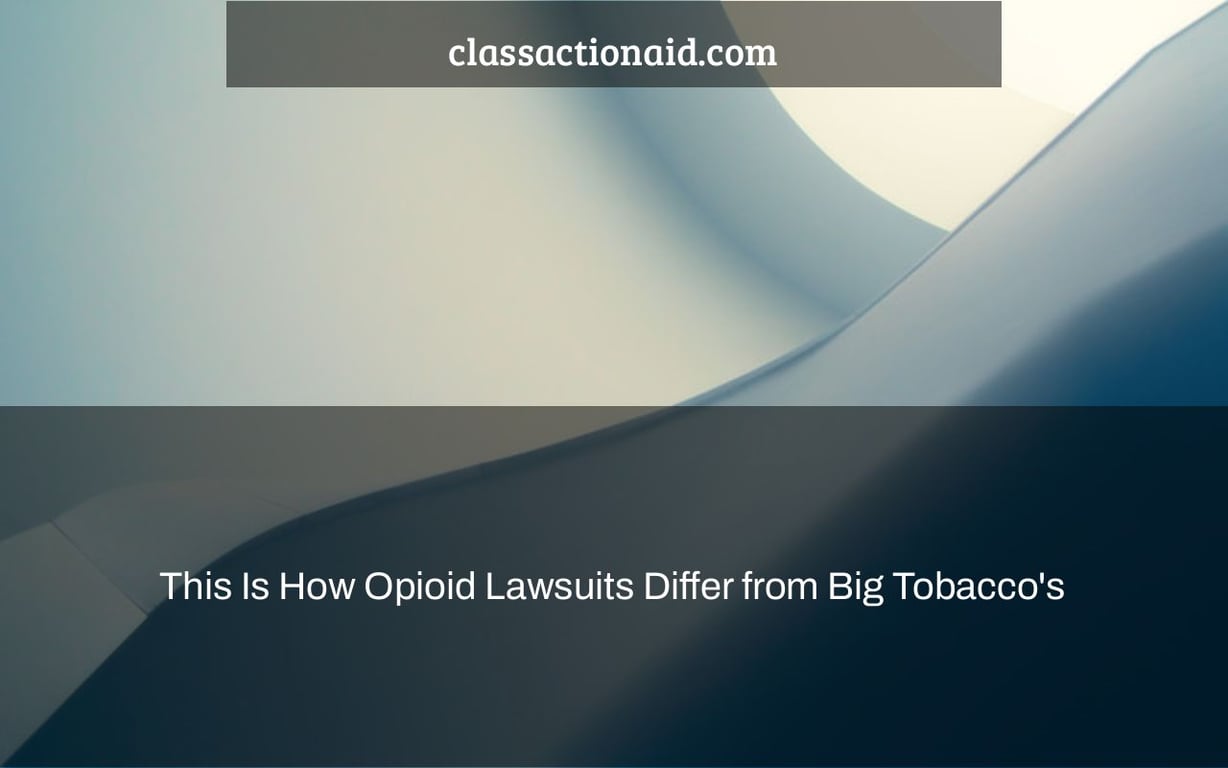 If 2017 was the year that the opioid epidemic was declared a public health emergency, 2018 might be the year that we start developing remedies.
To that aim, one of the most promising developments is the opioid litigation, which brings together more than 200 government cases against dozens of firms and people.
On January 9, the judge handling the federal opioid case said that he hoped to reach a broad settlement with "significant effect" before the end of the year.
There are obvious parallels between opioid and tobacco lawsuits, but there are also substantial distinctions.
In his Cleveland courtroom, U.S. District Judge Dan Polster stated, "We have to substantially lower the overall quantity of pills out there and make sure the medications that are out there are being utilized appropriately." The judge compared the opioid issue to the 1918 influenza outbreak, which killed hundreds of thousands of Americans, but noted that current epidemic is "100% man-made."
Litigation to address a public health issue has a long history. Opioid action is expected to result in a settlement similar to the 1998 Big Tobacco deal, which saw tobacco corporations pay billions of dollars to governments to offset the costs of smoking.
Attorneys from ClassAction.com, such as Keith Mitnik, were instrumental in the battle against cigarette firms, and they are also playing a key role in opioid claims. There are obvious parallels between opioid and tobacco lawsuits, but there are also substantial distinctions.
Now we'll go through the current wave of lawsuits, compare them to cigarette cases, and discuss how governments may utilize settlement money to combat the opioid issue.
Governments are suing to recoup the costs of opioid-related harms.
On November 6, 2017, Kentucky Attorney General Andy Beshear filed a lawsuit against Endo Pharmaceuticals (the maker of the opioid drug Opana ER) to "hold Endo accountable for unlawfully building a market for chronic opioid use in the name of increasing corporate profits, knowing all along the dangers of Opana ER that led to devastating effects on the Commonwealth."
Hundreds of local governments have filed lawsuits against the opioid business in an attempt to recoup expenditures associated with the epidemic.
Beshear, with the support of ClassAction.com lawyers like James Young, is seeking restitution for the Commonwealth's additional expenditures. ER visits, emergency overdose responses, the administration of the anti-overdose medicine Naloxene, Hepatitis C from intravenous opioid usage, drug-related crimes, and other damages are among them. Kentucky contends that Endo's allegedly misleading, aggressive, and unlawful opioid marketing caused these losses.
"This action seeks restitution for the Commonwealth's opioid spending, disgorgement of Endo's unjust profits, civil penalties for Endo's egregious violations of law, compensatory and punitive damages, injunctive relief, and abatement of the public nuisance Endo has helped create," according to the lawsuit.
Many Kentucky towns and counties have joined the Commonwealth of Kentucky in its legal effort to recuperate the expenses of the health disaster that has ravaged their communities.
Hundreds of states, towns, counties, and even Native American tribes throughout the US are suing the opioid industry for addiction expenses they claim the company is to blame for. Some, such as the Kentucky Attorney General's complaint, list just one defendant. Others list a dozen companies, ranging from manufacturers to distributors to physicians and clinics.
These complaints have been merged in a multidistrict litigation (MDL) before Judge Polster in federal court in Ohio. The opioid claims combined in the Northern District of Ohio, according to an order forming the MDL, comprise "common issues of fact," including:
Manufacturers of prescription opioids exaggerated the advantages while downplaying the hazards, and aggressively promoted the medications.
Suspicious orders of prescription opioid medications were not monitored, detected, investigated, or reported by distributors.
Because opioid producers and distributors are the most often named defendants in lawsuits, their claimed participation in the opioid epidemic should be investigated further.
Manufacturers of Opioids Face Lawsuits
Drug firms cited as defendants in opioid lawsuit include Purdue Pharma, Teva Pharmaceuticals, Johnson & Johnson, Janssen Pharmaceuticals, Endo Health Solutions, Allergan PLC, and Actavis, Inc.
The claims leveled against pharmaceutical firms are almost similar. A lawsuit filed by the state of Ohio, for example, makes the usual claims that manufacturers are to blame.
Engaged in a misleading marketing campaign to shift opioid prescription trends away from end-of-life care and toward "chronic pain." This dramatically expanded the number of people who may be administered opioids, resulting in a significant rise in income for opioid makers.
The hazards of addiction were downplayed, while the advantages of opiate medications were exaggerated.
Third parties, such as front organizations and prominent opinion leaders, were used to distribute their false information concerning opioids.
They prioritized profits above the health and well-being of their customers and the communities in which they reside, resulting in a public health catastrophe with far-reaching financial and social ramifications.
State, local, and county entities suffered significant financial losses.
Increased spending by the state's Medicaid department, workers' compensation bureau, drug treatment and counseling services, child protection agencies (due to parental drug addiction), emergency medical services, and law enforcement responding to a surge in drug abuse and crime are among the costs sought in the Ohio lawsuit.
Drug Distributors are being sued.
Drug producers are not allowed to offer their medicines to pharmacists directly. They must work with a distributor (wholesale) firm that acts as a link between the producer and the pharmacy.
According to lawsuits, distributors contributed to the opioid problem by failing to adequately supervise medication shipments.
AmerisourceBergen, Cardinal Health, and McKesson Corporation are the three largest opioid painkiller wholesalers. Because oxycodone and hydrocodone are prohibited medications, distributors are required under licensing laws to have adequate controls and processes to prevent opioid theft and diversion.
According to lawsuits, including one filed in New Mexico, these distributors played a critical part in exacerbating the opioid epidemic by violating their responsibilities and allowing opioid diversion to grow.
The state of New Mexico charges drug dealers of the following:
Selling large amounts of prescription opioids diverted from their intended medicinal use.
Infringing on their legal obligations to prevent diversion
Failure to disclose narcotics orders that are suspicious (orders of unusual size, orders of unusual frequency, and orders deviating substantially from a normal pattern)
Monitoring, detecting, halting, investigating, and refusing suspicious orders
Making false statements to the public regarding their compliance with licensing rules
State and municipal governments have suffered significant economic losses as a result of their failure to comply with legal obligations.
The action in New Mexico seeks monetary damages from drug distributor defendants to cover the expenses of previous—and ongoing—efforts to remove the risks of opioid proliferation to public health and safety, such as prescription opioid and heroin misuse, addiction, morbidity, and death.
Manufacturers and distributors are named as defendants, and the suit seeks for a "multifaceted, joint public health and law enforcement strategy" aimed at preventing new addiction cases and providing access to addiction treatment. "Budgetary restrictions at the state and federal levels" limit options, according to the lawsuit.
"Defendants should be made to accept responsibility for the financial burdens their action has caused," argues New Mexico, "having gained immensely via the aggressive marketing, deceptive advertising, and negligent distribution of opiates."
Comparing and Contrasting Opioid and Tobacco Lawsuits
The Attorneys General of 46 states, five US territories, and the District of Columbia agreed a $246 billion settlement with the five major cigarette corporations in the United States in November 1998. Tobacco corporations agreed to shift money to states and set limits on the sale and marketing of cigarettes for the next 25 years.
An inventive legal technique resulted in the historic settlement. Hundreds of cases were brought by dying smokers and their families against tobacco firms, but juries consistently determined that smokers were to blame.
Tobacco corporations and 46 states, five territories, and the District of Columbia achieved a $246 billion settlement.
To deny the tobacco industry its traditional defense, state attorneys decided to sue companies to recoup the costs of treating smoking-related illnesses (such as heart disease) for Medicaid programs, because treatments left many smokers penniless and these programs had to bear the remaining costs. On a contingency-fee basis, state lawyers recruited outside counsel to file claims on behalf of governments.
With opioid cases gathering traction, some analysts have speculated that the opioid industry's legal battles may be the second coming of tobacco litigation. On the surface, this analogy is correct: governments are engaging solicitors on a contingency-fee basis to sue private corporations and recuperate the expenses of a public health concern created by an addictive substance whose hazards companies are believed to have disguised.
However, a closer examination finds some fundamental distinctions between tobacco and opioid cases.
Opioid lawsuit has engulfed cities and counties.
Tobacco lawsuits have been filed on behalf of states in an attempt to collect Medicaid funds linked to smoking. States have brought opioid cases, but so have towns and counties, which have dealt with the expenses of opioid addiction on a non-Medicaid basis.
"A key contrast between this case and tobacco litigation is that local governments are serious actors in trying to recuperate their costs and gain assistance paying for the solutions in their communities," said James Young of ClassAction.com.
Because of the many categories of claimants and claimed injuries, opioid litigation is much more difficult than cigarette litigation. It might make it more difficult for plaintiffs to work together and reach an amicable settlement.
"This might be intriguing when it comes time to settle," James Young remarked, "since each community will have its own requirements and ideas." "The plaintiffs in tobacco were the state attorneys general, who were more united in their goals."
Numerous defendants are named in the opioid case.
Tobacco lawsuits centered on a small number of corporations who produced their own products and sold them to customers directly. There are opioid producers, firms that distribute opioids, clinics that sell them, and physicians that prescribe them in the case of opioids. This adds a level of complication to the case that wasn't there in tobacco instances.
Tobacco and opioid pain relievers are two very distinct goods.
Tobacco differs from opioids in that the former has no valid medicinal use. Opioids, on the other hand, are a common pain reliever for many individuals. Some patients who claim they need opioids and have taken them successfully for years report that they are suddenly unable to get them owing to government crackdowns. Reforms that arise from a deal might compound the situation.
Another significant concern is that, unlike cigarettes, opioid medicines were authorized by the US Food and Drug Administration (FDA) and come with a set of rules and warnings. As NPR's Ailsa Chang argued, this might enable defendants to "transfer part of the burden to the federal government."
The tobacco business is more prosperous.
Even if a settlement is reached in the opioid case, plaintiffs shouldn't anticipate a compensation comparable to that of Big Tobacco, a business that, despite the losses it has suffered in recent decades, is still very lucrative.
The yearly gross sales of the opioid market in the United States are estimated to be over $10 billion. In 2016, Big Tobacco made approximately $20 billion in net earnings. Purdue Pharma, the producer of OxyContin, generates yearly sales of about $3 billion. That isn't a small sum, but it begs the issue of whether enough money can be recovered from the opioid business to help alleviate the problems it is accused of causing.
Whistleblowers in the tobacco business existed.
Whistleblowers who released internal records from tobacco firms indicating that they withheld information of the hazards and addictiveness of smoking were a hidden weapon for plaintiffs in tobacco lawsuits.
It's conceivable that drug company whistleblowers may play a similar role in opioid cases, but no one has come forward with incriminating proof so far (although an ex-DEA whistleblower has some pointed things to say about the drug industry and Congress).
It all depends on how the funds are allocated.
One of the most important lessons gained from the tobacco case is that it is not how much money plaintiffs get that matters, but how they use it.
Data on how states used money from the Tobacco Master Settlement Agreement indicates that states spent money that was meant to go toward Medicaid services and anti-smoking education initiatives in a broad variety of ways. Money was often diverted to other uses.
"If you're going to receive the money, don't let the lawmakers spend it for anything they want."
California, for example, collected $401,637,000 from cigarette firms in 2010 and spent every penny on debt payments and budget shortages.
"If you're going to receive the money, don't make the error in tobacco and let it be utilized by whoever the legislature wants," Jim Tierney, the former Attorney General of Maine, told NPR. When we have a massive health issue, they'll use it to build roads… or decrease taxes… or anything ridiculous."
What Will Happen Next?
Individual claims would be returned to their local jurisdictions and prosecuted by those courts if plaintiffs and defendants in the opioid MDL could not reach a settlement. However, the unknowns of a jury trial may persuade both parties that settling is the better choice.
Opioid defendants may wish to avoid juries from opioid-affected areas, since the people who determine their fate may have lost loved ones to the epidemic. However, they look to have a significant advantage in public opinion at the present.
According to a 2017 survey, patients and physicians are mostly to blame for the country's opioid issue. Drug firms were held liable by 15% of respondents, while drug distributors were held responsible by 7%.
Companies are well aware of the influence of public opinion on their bottom line. The company's choice to settle was influenced by widespread public distrust of cigarette corporations. They were well aware that going to trial may be more expensive than settling, and that it could even lead to bankruptcy.
However, as litigation progress, evidence of dangerous, unethical, and illegal business activities may surface, turning public sentiment against opioid corporations.
Plaintiffs, on the other hand, have no promises that a trial will end in a good outcome—if they ever get that far. While opioid makers and distributors have previously settled state cases containing identical charges for hundreds of millions of dollars, the businesses have never acknowledged any wrongdoing. Nonetheless, they generated funding that governments badly needed to address the opioid problem, as well as industry improvements.
Plaintiffs and defendants in the current MDL have already started negotiating a settlement. It's anyone's guess how they'll finish, but lawsuits against the opioid business, win or lose, demonstrate that communities are serious about addressing America's biggest drug problem in history.