Drug Lipitor has been linked to a significant number of cases of Type 2 Diabetes. The drug maker is defending the lawsuit by arguing that "the plaintiff did not present or provide any evidence" proving their claim.
The "lipitor lawsuit update 2020" is a legal article about the Lipitor and Type 2 Diabetes lawsuit. The article discusses what happened to the case in 2019, and what might happen in 2020.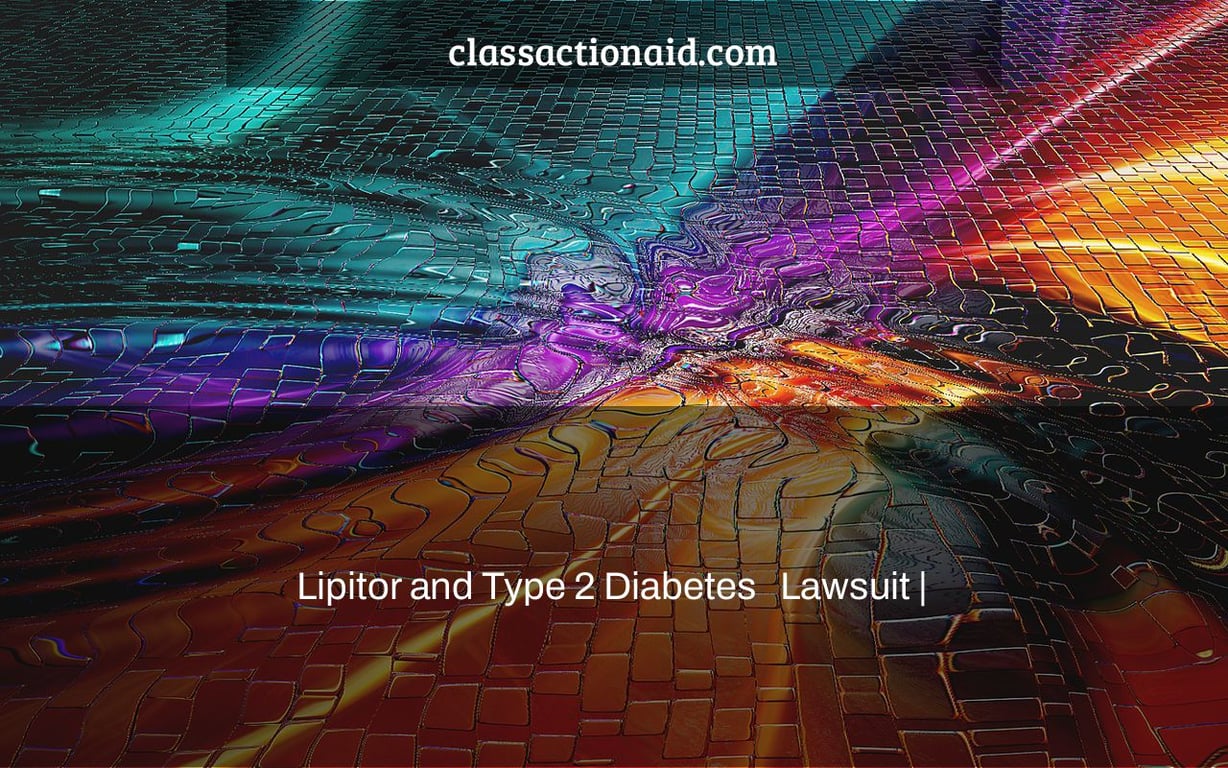 Lipitor, a cholesterol-lowering drug, has been shown in studies to boost blood sugar levels in individuals and lead to type 2 diabetes.
Pfizer, Inc.'s cholesterol treatment Lipitor (atorvastatin) is the all-time best-selling drug, with $130 billion in sales.
It belongs to the statin class of medicines, which reduce cholesterol synthesis in the liver. Lipitor has helped a lot of people manage cardiovascular risks including heart disease, heart attack, and stroke, but research reveals that it may also boost blood sugar levels and cause type 2 diabetes.
Lipitor received a new warning label for this adverse effect in 2012, but many people say it arrived too late and is inadequate.
As a consequence, hundreds of Lipitor patients who acquired type 2 diabetes have sued Pfizer, saying that the corporation should have put harsher warnings on the drug's labeling.
Pfizer Information
Pfizer is the pharmaceutical company behind Viagra (sildenafil), the anti-inflammatory Celebrex/Celebra, and the antibiotic Zithromax, among a slew of other pharmaceuticals. It was founded in 1849 and is based in New York City. Pfizer is known for acquiring lesser pharmaceutical businesses, such as Warner-Lambert, Pharmacia, and Wyeth (which was acquired for $68 billion).
Pfizer has been sued countless times over the years, both for the adverse effects of its pharmaceuticals and for its commercial methods. Pfizer pleaded guilty to a charge of illegal promotion of the arthritis medicine Bextra in 2009, and paid the government $2.3 billion to resolve the case. Pfizer agreed to pay $486 million to resolve a shareholder lawsuit claiming that the corporation caused financial losses by concealing the hazards of using Celebrex and Bextra.
Lipitor's Brief History
At the Parke-Davis Pharmaceutical Research facility in Ann Arbor, Michigan, a team of scientists headed by chemist Bruce Roth created atorvastatin in August 1985. In 1996, the FDA authorized the medicine (marketed as Lipitor) after 10 years of testing and trials.
Lipitor became one of the most popular medications of all time between 1996 and 2011, with 30 million individuals given it to decrease their cholesterol. Lipitor earned Pfizer $10 billion per month at its peak.
However, Pfizer's Lipitor patent expired in November 2011, allowing a slew of (less expensive) generic rivals to enter the market. Since then, Lipitor's earnings have slowly fallen, but they still amount over $2 billion each month, and the drug's outlook remains positive.
Pfizer did not tell patients about the side effects of Lipitor until 16 years after it was introduced to the market.
Given the drug's purported adverse effects, which include an increased risk of type 2 diabetes, memory loss, and disorientation, the drug's upbeat outlook is startling. Even more shocking, Pfizer did not notify patients about these side effects until 2012, 16 years after Lipitor was first introduced to the market.
Pfizer attempted to develop an over-the-counter version of Lipitor in 2014, but was forced to discontinue the project when patients were unable to self-administer the medicine without the assistance of a doctor.
Thousands of lawsuits were filed in 2014 and 2015 as a result of Lipitor's lack of proper warnings from 1996 to 2012.
Approximately 3,000 instances are now part of a multidistrict lawsuit (MDL) involving Lipitor's adverse effects. The majority of the claimants are women, according to research, since Lipitor is more likely to induce diabetes in women (see "Type 2 Diabetes and Lipitor" below). The first of these studies is expected to begin in 2016.
Type 2 Diabetes and Lipitor
Researchers aren't sure how statins may cause diabetes. Statins may enhance a patient's insulin resistance, according to one hypothesis. Another is that statins reduce the pancreas' capacity to release insulin.
Food is broken down in the body into sugar (glucose), which is then transported through the circulation. In a healthy person, the pancreas releases insulin in reaction to a meal to lower blood sugar levels and enable glucose to enter the body's cells, giving them the energy they need to operate.
Patients with type 2 diabetes, on the other hand, are unable to make enough insulin or to utilize it effectively. As a consequence, glucose is unable to enter the body's cells and instead accumulates in the circulation, causing blood sugar levels to rise. High blood sugar levels may cause a variety of significant health issues, including organ damage and heart attacks.
Lipitor may impair the operation of the pancreatic cells that store and release insulin, as well as reduce the body's sensitivity to the hormone, according to researchers.
According to studies, statin drugs like Lipitor raise the risk of type 2 diabetes by 46%.
Though the exact mechanism by which Lipitor raises diabetes risk is unknown, research published in BMJ, Journal of the American College of Cardiology, Journal of General Internal Medicine, Diabetologia, and JAMA have all confirmed the link.
Many studies have found that statins increase the risk for diabetes by 10-25%, but newer According to studies, statin drugs like Lipitor raise the risk of type 2 diabetes by 46%.
According to another study, those who use statin drugs are 87 percent more likely to acquire diabetes. (This is notable since it was the first research to look at the relationship among patients who were generally healthy.) Patients using statins were also shown to be 250 percent more likely than non-statin users to acquire diabetes with complications.
According to some research, statin-associated diabetes is more frequent in women.
Type 2 diabetes is a chronic illness that can be controlled but not cured.
Diabetics must have their blood glucose levels checked on a regular basis, adhere to a strict diet, and take medicine. They're also more likely to develop crippling or life-threatening complications:
Cardiovascular disease (CVD) is a condition that affect
Damage to the nerves
Damage to the kidneys
Alzheimer's disease is a kind of dementia.
Did Pfizer adequately warn about the risk of diabetes from Lipitor?
In 2012, the FDA authorized a revised Lipitor warning label, 16 years after the drug was first introduced. Many people say that the new warning is too late and that the diabetes risk is not properly presented.
"Increases in HbA1c and fasting blood glucose levels have been recorded with HMG-CoA reductase inhibitors, including LIPITOR," the prescription material for Lipitor now says under "Endocrine Function" warnings and precautions.
Patients have protested (rightly) that they don't comprehend how this warning pertains to diabetes risk and that a more clear Lipitor diabetes warning is required.
Hundreds of thousands of lawsuits have been filed against Pfizer.
Following the FDA's revelation in 2012 concerning Lipitor and diabetes, lawsuits were filed claiming that Pfizer failed to adequately notify customers about the diabetes risk.
Lipitor claims have already surpassed 3,000, making it one of the country's biggest product liability cases. As part of a multidistrict action, Lipitor cases are consolidated in South Carolina District Court (MDL). The first claims are slated to go to trial in 2016, and they should reveal if Pfizer will give a Lipitor settlement.
Watch This Video-
The "lipitor recall 2020" is a lawsuit that is being filed against Pfizer. The lawsuit alleges that Lipitor caused the plaintiff's Type 2 Diabetes and it should have been recalled in 2016.
Frequently Asked Questions
Can Lipitor cause type 2 diabetes?
A: Lipitor is a medication used to treat high cholesterol and other conditions. It can cause changes in the body that lead to type 2 diabetes, but its not clear how common this side effect is.
Is there a lawsuit on Lipitor?
What happened to the Lipitor lawsuit?
A: The lawsuit for Lipitor was settled.
Related Tags
lipitor settlement in 2021
lipitor lawsuit liver damage
lipitor lawsuit muscle damage
lipitor and diabetes
lipitor horror stories