A class-action lawsuit filed in Florida on behalf of thousands of consumers has been amended to include the SunTrust bank. The plaintiffs allege that their data was exposed when a third-party contractor improperly accessed it and transmitted it on an insecure server.
The "fairshake claim" is a lawsuit filed against SunTrust Bank over the data breach. The lawsuit claims that the bank's security measures were insufficient, and that the company must pay for damages.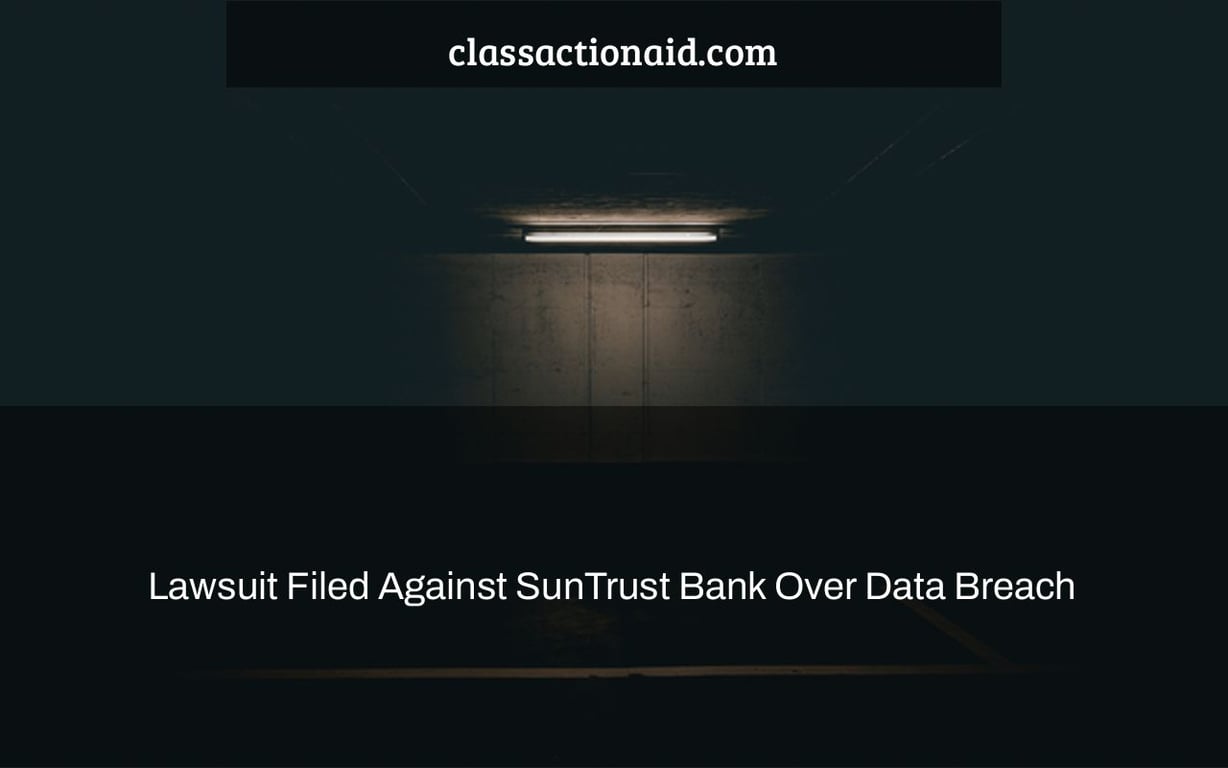 Morgan & Morgan has filed a proposed class action lawsuit against SunTrust Bank in connection with a data breach that may have exposed the personal information of 1.5 million clients. The case was brought by class action lawyers John Yanchunis and Ryan McGee, who are veterans of multiple data breach lawsuits, including the biggest ever.
The case was filed on behalf of three plaintiffs—Angelica LeRoy, Curtis Smith, and Loretta Smith—as well as anybody else who may have been affected by the data breach in the United States District Court for the Northern District of Georgia.
Check out the Complaint
Mr. Yanchunis said, "The complaint, which we filed on behalf of our clients and the 1.5 million customers harmed by the data breach, aims to hold SunTrust responsible for its admitted failure to keep the information entrusted to it secure." "SunTrust served as a trustee for its consumers, and it was SunTrust's obligation to protect the security of its customers' information."
Even though the breach was reportedly detected more than a month before in February, SunTrust Bank revealed it in a statement on April 20, 2018. It's still unclear when the hack happened or how long client data was exposed.
A Data Breach That Isn't Like Any Other
Unlike many previous data breaches, SunTrust's computer network was not hacked from the outside. According to the claims in the lawsuit, an employee reportedly entered the bank's network and simply copied out lists containing names, addresses, phone numbers, account balances, and other personally identifiable information (PII) and sold them to criminals.
SunTrust then failed to notify impacted clients for many weeks, depriving them of the opportunity to take the required precautions to protect themselves. One and a half million SunTrust customers are now at higher risk of fraud and identity theft, despite the fact that they were unaware of the hazards for at least many weeks.
They must now devote time—possibly hours—to putting the essential safeguards in place for data breach victims.
Allegations in the Complaint SunTrust Was Aware of the Risk of a Data Breach
The action was filed on behalf of all SunTrust customers who may be harmed as a consequence of the alleged breach by attorneys Yanchunis and McGee. SunTrust "knew, or should have known," according to the lawsuit, "that its data systems and networks did not effectively secure Plaintiffs' and the Class members' PII."
The case claims damages for SunTrust Bank's wrongdoing in various areas, including:
Personal and financial information of the plaintiffs was stolen.
Identity theft and possible fraud are causing immediate and looming harm.
Notification of the data breach was delayed and insufficient.
Publication of personally identifiable information in an erroneous manner
Privacy invasion
The complaint also seeks to compel SunTrust to strengthen its security procedures in order to avoid future breaches of its clients' private and sensitive data.
Learn more about the steps you should take if you were a victim of a data breach, as well as how to file a data breach lawsuit.
Frequently Asked Questions
Has SunTrust been sued?
A: No, SunTrust has not been sued.
What is a data breach lawsuit?
A: A lawsuit that is filed when one or more parties involved in a data breach (such as hacking of personal information, credit card numbers, etc.) are suing the perpetrator(s) for damages.
Can I sue Wawa for data breach?
A: Wawa has been breached and the personal information of thousands of customers was exposed.