The suits were filed by the city of Chicago in Cook County Circuit Court.
The lawsuits allege that Purdue Pharma, Johnson & Johnson and Teva Pharmaceutical Industries contributed to an opioid epidemic by designing and selling drugs like OxyContin for nonmedical purposes. The companies also misled doctors about the addictive potential of opioids, according to court records.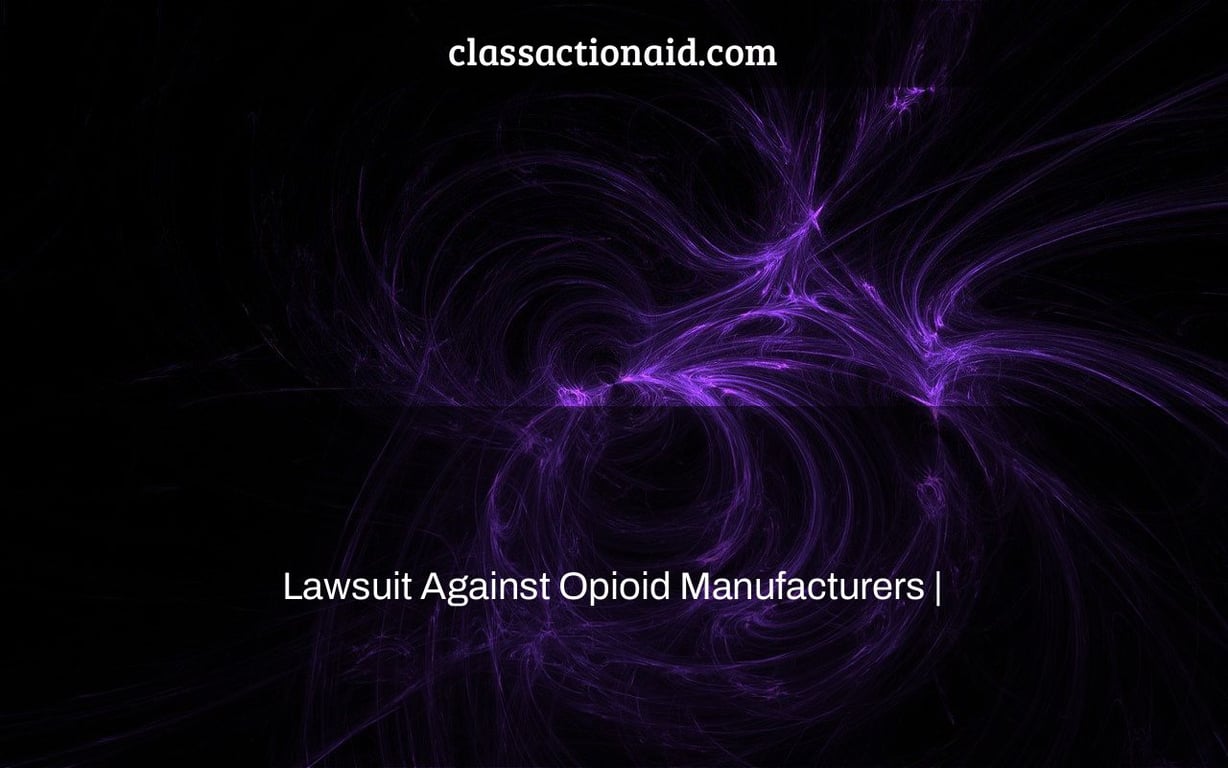 Drugs that bind to opioid receptors to block or lessen pain are known as opioid narcotics. Patients who have just had surgery or who have suffered physical trauma, such as a car accident or a significant sports injury, are often given them. Hydrocodone, oxycodone, methadone, and fentanyl are examples of opioids.
The amount of prescription painkillers (also known as opioids) sold in the United States has almost doubled since 1999.
The amount of prescription painkillers (also known as opioids) sold in the United States has almost doubled since 1999. Prescription opioid overdose fatalities have more than doubled in the same time span.
"The fatality rate from drug overdoses is growing at a considerably quicker pace than other causes of death," according to the New York Times, which compares the spread of opioid addiction to the HIV/AIDS pandemic of the late 1980s and early 1990s.
Many opioid users and places devastated by addiction are now pursuing lawsuits against doctors, pharmacists, and drug distributors as a consequence of the pandemic. These cases allege that physicians, drug corporations, and "pill mills" abused patients, causing them to become addicted to pharmaceuticals and costing individuals and the state millions in medical, legal enforcement, and other costs.
Hold the Pharmaceutical Industry Accountable
Concerning Opioids
Opioids are very effective prescription pain relievers. The following are the most regularly prescribed opioids:
Oxycodone is a pain reliever (brand names: OxyContin, Roxicodone, Oxecta)
Hydrocodone
Methadone
Fentanyl
Morphine
Heroin has a comparable impact to the medications mentioned above, despite the fact that physicians no longer prescribe it. When the government eventually tightened down on opioid prescriptions, many individuals who had gotten hooked to them turned to heroin to get the same high—often with fatal consequences.
Opioids have a shaky track record when it comes to pain relief.
Surprisingly, opioids have a shaky track record when it comes to pain relief. While the majority of opioid users believe the medications work, the research is still inconclusive. Opioids, according to a 2016 University of Colorado research, actually worsen chronic pain. Meanwhile, according to The Washington Post, the CDC "has discouraged physicians" from prescribing opioids because of their extremely addictive nature and the constant risk of overdose:
"Prescription opiates are as addictive as heroin," CDC Director Tom Frieden recently told The Washington Post, and the agency's recommendations state that there is minimal evidence that the pills are beneficial in managing long-term pain.
How did these medications end up being administered to millions of individuals if they are so much more addicting than they are effective?
What Caused the Opioid Crisis?
Prescription opioids were largely used for short-term pain and chronic pain linked with cancer and the end of life prior to the 1980s.
The medical community's fundamental reframing of pain in the mid-'80s—from a symptom to a critical indicator that physicians could monitor and treat—paved the way for the development of prescription opiates.
As a result of the increased usage of painkillers, pharmaceutical firms started launching new medications and aggressively promoting them.
Purdue Pharma, the developer of OxyContin, represented the pharmaceutical industry's concentration on chronic non-cancer pain.
In 1995, OxyContin was authorized by the FDA. OxyContin sales climbed from 300,000 prescriptions ($44 million) to 7.2 million prescriptions ($1.5 billion) between 1996 and 2002. The number of Purdue sales agents more than doubled during this time.
Purdue spent $200 million on OxyContin marketing in 2001 alone. Salespeople were rewarded with six-figure bonuses. They built a database of high-prescribing physicians and targeted them.
Practitioners received branded promotional items such as caps, cuddly toys, coffee mugs, and vouchers for free OxyContin prescriptions. Purdue also held "pain conferences," where doctors were paid to give lectures and were targeted with medical magazine ads.
However, the marketing blitz was built on a deception that would prove fatal: Purdue stated that OxyContin (oxycodone) presented a 1% chance of addiction. Some physicians were advised by sales personnel that the medicine didn't even produce a buzz. Purdue, on the other hand, released harsher tablets with far greater addiction and misuse hazards.
Millions of people who would have received ibuprofen in the past were instead supplied a heroin-like medication.
Appalachia and the Southwest have been hit the hardest by the epidemic.
The opioid pandemic, which has grown fast over the last 15 years, has had the greatest effect on parts of Appalachia and the Midwest. Experts believe certain areas of the nation are particularly susceptible to the issue because they have a higher proportion of blue-collar employees, such as coal miners, who are more prone to suffer industrial injuries that need the use of painkillers. (Other hard-hit regions, such as New Hampshire, have less drug rehabilitation options.)
West Virginia has the nation's highest incidence of overdose deaths.
West Virginia, on the other hand, has the nation's highest overdose mortality rate—35 per 100,000 people—and is known as the unofficial epicenter of the opioid problem. It is located in the middle of coal country and has the nation's second-highest unemployment rate (after Alaska). This is a pain-inducing recipe.
Senator Joe Manchin (D) has advocated for a new War on Drugs, claiming that prescription opioids are distributed "like M&Ms" in his home state.
EMTs in Huntington, West Virginia, responded to 26 overdoses in four hours on August 17, 2016. All 26 individuals had died as a result of a particularly fatal batch of heroin, which was almost certainly contaminated with another substance.
West Virginia has the highest overdose mortality rate in the US, and Huntington's is more than three times higher.
Victims Defend Their Rights by Filing Lawsuits
Big Pharma hasn't been held totally responsible for the opioid crisis in the United States, but it hasn't gotten off lightly either.
Attorneys from ClassAction.com have filed a lawsuit against opioid wholesalers.
Purdue Pharma admitted to deceiving physicians and patients about OxyContin's addictive potential and misbranding the medicine as "abuse resistant" in 2007. Purdue also agreed to a $24 million settlement with the state of Kentucky for alleged Medicaid fraud using OxyContin in 2015, following a nine-year court struggle.
McKesson Corp., Cardinal Health, and AmerisourceBergen Drug Co. were named in a complaint filed on behalf of McDowell County, West Virginia, by ClassAction.com lawyers. From 2006 to 2012, these three businesses provided more than half of West Virginia's opioids.
Defendants are accused of carelessness, state code breaches, and unfair enrichment, according to the lawsuit. It argues that these businesses depleted McDowell County's budget in addition to promoting "addiction and damage."
CDC is the source of this image.
In addition, 29 West Virginia plaintiffs filed a landmark case against medication companies, physicians, and pharmacies. The plaintiffs either endured or lost a loved one to opioid addiction. They are suing physicians, pharmacies, and distributors, alleging that they constituted a "virtual rogue's gallery of pill-pushers."
The state's highest court, using the legal concept of comparative blame, rejected the defense's assertions that confessed drug addicts should not be permitted to suit.
"What will it take for us as a country to admit that we are the victims?"
"What will it take for us as a country to realize that, for the most part, we are the victims and that doctors, pharmacists, and pharmacies are the culprits preying on the lives of others?" Wilbert Hatch, the primary plaintiff and a former opiate user, explained his position.
Please call us if you or a loved one has been addicted to prescription opioids so we can discuss your choices. You could be eligible for a lawsuit that might help you get the aid you need.
Watch This Video-