The Jehovah's Witness Church is facing a sex abuse lawsuit filed by four victims. The suit alleges that church officials knew of the sexual assaults but failed to report them, as required by law and policy.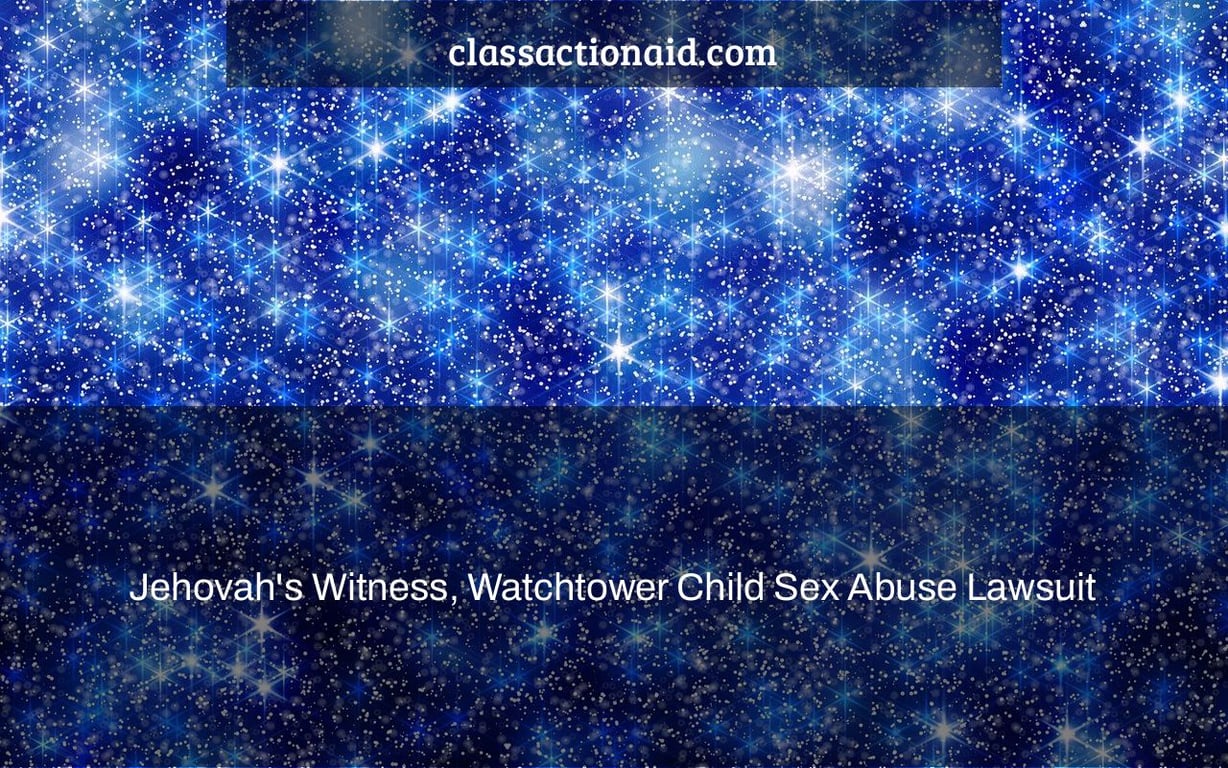 Victims are suing the Watchtower Bible and Tract Society and the Jehovah's Witnesses for allegedly neglecting to prevent child sexual abuse.
Recent lawsuits claim that Jehovah's Witnesses have been covering up child sexual assault for decades. Victims are now suing the church for failing to safeguard minors from known child sex offenders within the community.
The Watchtower Bible and Tract Society of New York, the Jehovah's Witnesses' parent organization, reportedly encouraged church leaders to report allegations of abuse to them directly rather than to law authorities in 1989. Members of the congregation were also advised to report abuse to the church rather than the police.
When victims of abuse reported it, however, nothing occurred. Their tormentors often stayed in the group, abusing many more youngsters.
Not only did church leaders refuse to report child sex offenders to the authorities, but they also kept victims quiet by enforcing strict procedures for assault complaints. Before the church would investigate, accusers had to have two eye witnesses (one in addition to themselves). If they couldn't find another witness, they were sometimes accused of making a false charge, which might result in "disfellowshiping," or expulsion from the church, in certain situations.
In addition, the victim was obliged to face their accused abuser, which is a terrifying scenario for any victim, much alone a youngster.
Victims are suing the Watchtower Bible and Tract Society and the Jehovah's Witnesses for allegedly neglecting to prevent child sexual abuse. By extending the Statute of Limitations for reporting childhood abuse, New York's Child Victims Act may enable even more adults to seek justice.
Watchtower faces a $2 million fine for failing to provide records.
Watchtower had "abused the discovery process" by suppressing internal data, according to an appeals court.
Thousands of names of accused child abusers have accumulated over the years, but the Jehovah's Witnesses have never given them over to police.
After Watchtower neglected to turn over documents and present witnesses in a complaint brought by José Lopez, the court awarded the group $13.5 million in 2015. Mr. Lopez said he was mistreated by Gonzalo Campos, a church leader. Although the judgment has now been reversed, the matter is still pending.
The court imposed fines for concealing internal papers in a second case brought by another of Campos' claimed victims. The church was forced to pay $4,000 for each day they suppressed data beginning in April 2016. They might now face fines of up to $2 million.
When Watchtower moved to overturn the court's sanctions, an appeals court ruled that they had "abused the discovery process," and the fines were upheld.
This refusal to comply with authorities is not limited to the United States. A Royal Commission in Australia found that the church had withheld over 1,000 allegations of child sexual abuse from law enforcement.
After the abuser was praised for mentoring children, the victim filed a lawsuit.
Ms. Conti's lawsuit was decided by a jury, who found Watchtower and the North Fremont congregation responsible in failing to protect her from abuse.
Many victims are valiantly pursuing justice in court in order to achieve the justice they were denied as children.
In Northern California, a jury in 2012 handed out the biggest judgment ever for a single religious child sex abuse victim.
Candace Conti, the victim, sued Watchtower for failing to safeguard her from Jonathan Kendrick, a fellow North Fremont congregation member. Mr. Kendrick had been convicted of indecent or lascivious activities with a juvenile in the years leading up to the abuse in 1995 and 1996.
When Ms. Conti reported the abuse to church officials, Mr. Kendrick was not prosecuted legally. She chose to seek legal action after learning as an adult that he was an active member of the Oakley, California church and had harmed another girl.
When an investigative writer met with an elder at the church where Mr. Kendrick had just relocated, he learned that they were unaware of his criminal background. In fact, the elder got a letter complimenting Kendrick's ability to work with youngsters and his leadership in keeping the congregation's youth on track.
In Ms. Conti's case, the jury found that the Watchtower and the North Fremont congregation were negligent in failing to safeguard her from abuse. An appeals court reduced the jury's verdict of $28 million in punitive and compensatory damages three years later.
The Child Victims Act seeks to extend the statute of limitations for crimes against children.
The law would provide victims a one-year opportunity to bring previous claims back to life, regardless of whether the Statute of Limitations has lapsed.
The state of New York is infamous for making it difficult for adult victims of child abuse to seek justice against their perpetrators. Their Statutes of Limitations (SOL) rule stipulates that lawsuits must be filed by the victim's 23rd birthday. For child sex abuse, several states have no statute of limitations.
New York legislators are working to alter that. Assemblywoman Linda Rosenthal presented the Child Victims Act, which would reduce the statute of limitations for criminal trials to 28 years and civil claims to 50 years. It would also provide victims a one-year opportunity to bring previous claims back to life, regardless of whether the Statute of Limitations has lapsed.
When it comes to child sex abuse charges, the law would regard private groups like the Jehovah's Witnesses the same as official institutions.
The bill is anticipated to be voted on shortly in the New York State Assembly. On February 12, 2008, 74% of New Yorkers voted in favor of the measure. However, organizations such as the Boy Scouts and the Catholic Church are opposed to it, citing a fear of lawsuit as a reason.
Victims are supported by ClassAction.com.
The Child Victims Act is set to be voted on by the New York state assembly any day now. If granted, it would provide victims of child sex abuse inside the Jehovah's Witness religion a one-year opportunity to file a lawsuit against their perpetrators, regardless of their age.
These opportunities are rare, and if the law is passed, victims must seek justice as soon as possible so that they may effectively seek justice.
Our lawyers are keeping a close eye on the Child Victims Act and are ready to defend victims of child sexual assault who are suing Watchtower. Our lawyers understand the sensitivity of these matters and have the necessary knowledge to assist victims in navigating the difficulties of such litigation.
If you have been a victim of abuse, you may get more information about your legal options by contacting us.
Watch This Video-