As the opioid epidemic continues to devastate families and communities across America, pharmaceutical companies are reaping a windfall in profits. The U.S. is currently experiencing an 80 percent spike in drug overdoses, yet this rising addiction rate has not impacted Big Pharma's bottom line at all: In fact, it has actually contributed to higher sales for some of these corporations by creating more demand for their products.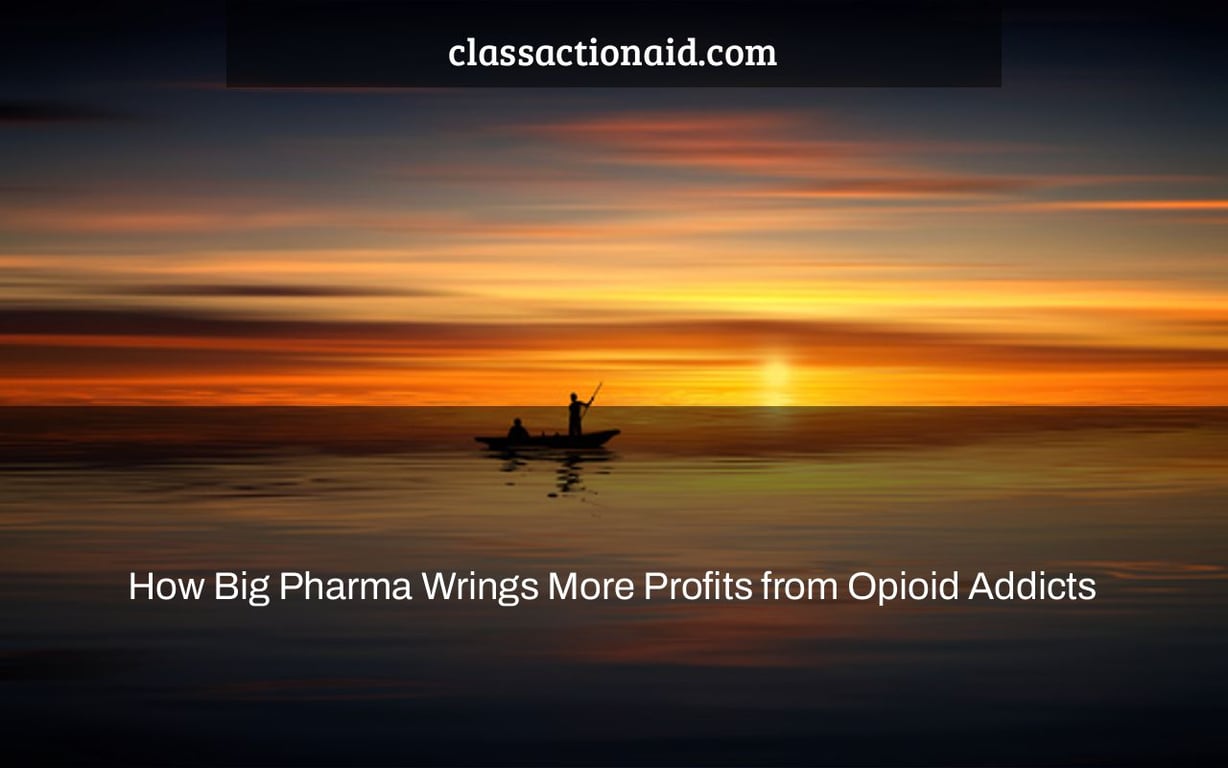 As the expression goes, every crisis presents an opportunity.
Big Pharma, always on the lookout for the next big thing, is cashing in on the opioid problem. The pharmaceutical industry is developing new medications to address the consequences of opioid addiction, as well as hiking the price of existing generics. As a result, it will be able to profit even more from the opioid catastrophe that it helped to generate.
While America is dealing with the largest drug problem in its history, Big Pharma is looking to make even more money.
The opioid painkiller business in the United States is estimated to be worth $10 billion a year. Half of that is already valued in the developing market for medications to treat opioid side effects, addiction, and overdose. And it's on track to expand significantly in the next years.
It should come as no surprise that pharmaceutical firms prioritize profits above public health. However, Big Pharma's efforts to profit off the biggest drug crisis in US history demonstrate how nothing is off limits in the industry's ambition to develop top-selling drugs.
Treatments for Opioid Side Effects
One of the most contentious moments of Super Bowl 50 occurred during an advertisement commercial, not on the field.
"If you require an opioid to manage your chronic pain, you may be so constipated it seems like everyone can go… but you," a narrator said in the black-and-white commercial, which was sponsored by AstraZeneca, Daiichi Sankyo, the United States Pain Foundation, and others.
The narrator said that opioid induced constipation (OIC) is "different, and may need a different strategy."
According to the ad, this strategy entails the use of OIC-specific medications such as AstraZeneca's Movantik and Daiichi Sankyo's Movantik.
On social media, the Super Bowl commercial sparked a reaction (and some amusing responses), with many people claiming that it normalized opiate usage. Governor Peter Shumlin of Vermont stated that Big Pharma had "no shame" and was attempting to "profit from a disaster."
.@AstraZeneca spent millions of dollars on a Super Bowl commercial to normalize long-term opiate usage – A heinous effort to profit on a disaster.
February 11, 2016 — Peter Shumlin (@GovPeterShumlin)
However, the commercial was a success: Movantik prescriptions jumped by one-third in the months after the Super Bowl, according to AstraZeneca. The cost of a single Movantik medication is about $10.
Opioid-induced constipation affects 40-90 percent of opioid users, according to reports. In the late 1990s, researcher Jonathan Moss developed an OIC medication to aid cancer patients who were using opiate medicines. Drug corporations, on the other hand, were not interested in a product that only addressed a small number of patients.
Drugmakers altered their tune as the opioid crisis expanded. They're now rushing to get into a market with blockbuster potential.
There's a Medication for That
The sole OIC medication available in 2014 was AstraZeneca's Movantik. There are now six OIC medicines available under the name brand. There might be as many as eight by 2019.
In Western Europe and the United States, the market for OIC medications is predicted to expand from $67 million in 2016 to more than $650 million by 2019, with $563 million in the United States alone. Despite having fewer than 5% of the world's population, the United States consumes 80% of all opioids.
Although the United States has fewer than 5% of the world's population, it consumes 80% of the world's opioids.
Until recently, physicians encouraged opioid users to reduce their painkiller dosage or cure constipation with non-drug therapies such as dietary modifications or exercise. Critics argue that providing a medicine for a problem caused by a drug encourages patients to not only continue taking opioids unabatedly, but also encourages them to consume more drugs.
According to Dr. Andrew Kolodny of Physicians for Responsible Opioid Prescribing, "the pharmaceutical industry actually manufactured the [OIC] crisis." "They gave it a name and began publicizing how terrible the problem is. And now they've figured out how to fix it."
Dr. Kolodny describes how opioid users might become caught in a vicious cycle of drug consumption as they attempt to balance off the harsh pills' adverse effects.
"Many patients get highly drowsy as a result of opioids, and it's customary to give them amphetamines to help them stay awake." They can't sleep anymore, so they take Ambien or Lunesta. They get agitated, paranoid, and sweating as a result of the amphetamines, which means they need more medications," he said.
Nausea, central nervous system symptoms (such as cognitive impairment and agitation), and itching are all frequent opioid side effects that may need therapy (itch).
Opioid Addiction Treatment Drugs
Nearly 2 million Americans misused or were dependent on prescription opioids in 2014 (the most recent year for which data is available). Long-term opioid consumption might start with a single opioid prescription. One out of every four individuals who get opiate prescriptions develops an addiction.
Because of the potential of overdose mortality, treatment for opioid addiction is vital. Prescription opioid overdoses claimed the lives of nearly 15,000 individuals in 2015.
Methadone
Opioid addiction treatment drugs have been available for over a century. Methadone, an opioid, was developed in Germany in the 1930s as a less addictive alternative to morphine. After WWII, methadone was introduced to the United States under the brand name Dolophine, which was manufactured by Eli Lilly.
Methadone was first used to treat opiate addiction in the 1950s. As heroin-addicted American troops returned from Vietnam in the 1960s, this tendency accelerated. Approximately 500,000 individuals are now enrolled in methadone addiction treatment programs.
Methadone does not induce the euphoria that other opioids do since the onset is moderate. However, it decreases drug cravings and eliminates the unpleasant withdrawal symptoms that typically lead to relapse in addicts.
Treatment treatments for methadone addiction are divisive. Some people feel "Just Say No" doesn't work, while others believe the programs are a practical strategy to overcome addiction. Others argue that substituting one opioid addiction for another does not address the fundamental issue.
Then there's the issue of money. Methadone clinics may cost as much as $76 per patient every day. Methadone therapy that is financed by the government costs taxpayers more than $1 billion every year. In 2016, the federal government committed more than a billion dollars to states for treatment of opioid addiction using medicines (i.e., methadone treatment).
Opponents of utilizing public monies for medication-assisted therapy argue that taxpayers subsidizing drug firms and for-profit treatment facilities that deliver legal opioids to addicts is unfair and immoral.
The $1.3 billion phony billing scheme was dubbed "the greatest health care fraud takedown in American history" by Attorney General Jeff Sessions.
The federal government declared earlier this summer that it will tighten down on healthcare fraud involving opioid treatment programs. Attorney General Jeff Sessions termed the $1.3 billion fake billing scheme "the greatest health care fraud takedown in American history" after the Justice Department busted it. 120 of the 412 offenders were charged with offences involving opioids.
The opioid problem seems to be presenting financial possibilities for more than just drug firms, as investors spend large sums of money into addiction treatment and fraudsters attempt to profit from bogus opioid invoicing.
(For further information, see the links below.)
Suboxone
Methadone isn't the only drug on the market for treating opioid addiction. New medications are fighting for a slice of the multibillion-dollar addiction management business as the opioid crisis worsens. As one would anticipate, the pharmaceutical gold rush has brought with it certain unethical practices.
Suboxone is the most well-known of these medicines. Suboxone is the outcome of a public-private cooperation between the American government and the British pharma manufacturer Reckitt Benckiser. It is a combination of buprenorphine (an opioid painkiller) and naloxone (a medicine that inhibits the effects of opioids and is used to prevent addiction).
Suboxone's reputation has been tainted by a subculture of diversion, misuse, and profiteering physicians who prescribe it.
Buprenorphine, like methadone, was created in a lab as a morphine substitute. Buprenorphine piqued the attention of US government experts, who were intrigued by the drug's potential to cure addiction. They thought it was better than methadone since early tests indicated it had a minimal risk of overdosing.
Clinical studies were funded with $28 million by the National Institute on Drug Abuse (NIDA). Suboxone was authorized by the US Food and Drug Administration (FDA) in 2002, giving it a seven-year monopoly.
Suboxone supporters in the federal government said the medicine was "for the general welfare." The government and Reckitt Benckiser, however, had strong public-private relationships, according to the New York Times. For example, a government pharmacist and early Suboxone promoter went on to become Reckitt's executive vice president, and the firm hired the NIDA director who championed the relationship in the first place.
A federal regulation prohibiting physicians from administering opioids to narcotic users was amended by Congress.
One further regulatory obstacle has to be overcome after FDA clearance. Suboxone's supporters wanted the medication to be administered in physicians' offices (unlike methadone, which may only be given to patients in clinics), thus a federal regulation prohibiting doctors from providing drugs to addicts had to be altered. With the support of high-ranking members of Congress like Orrin Hatch and Joe Biden, this was accomplished.
While Suboxone has had some effectiveness in the treatment of addiction, its reputation has been tainted by a subculture of diversion, misuse, and unscrupulous physicians who prescribe it for profit. According to the New York Times, it cost Medicaid agencies at least $857 million over three years, and more than 10% of buprenorphine physicians have been sanctioned statewide.
Hundreds of overdose fatalities have also been linked to suboxone.
Suboxone had an 85 percent dominance of the opiate treatment market when Reckitt's patent (and exclusivity) expired in 2009, with annual sales of $2 billion. Suboxone sales in the United States totaled $1.5 billion in 2016.
Reckitt didn't like the FDA's approval of two generic versions of Suboxone in 2013 since it threatened their monopoly. It attempted to defend its brand via a series of aggressive actions that resulted in an antitrust lawsuit brought by 35 states and the District of Columbia.
Reckitt created a novel Suboxone formulation that includes a dissolvable filmstrip with a traceable barcode, which the company claims will prevent accidental pediatric poisonings and black market diversion. The business then ran a campaign against Suboxone pills and promoted the Suboxone movie.
Suboxone sales in the United States totaled $1.5 billion in 2016.
Reckitt took its own pills off the market, citing safety concerns, and urged the FDA to do the same for generics. The agency said no.
According to the complaint, Reckitt's conduct included "deceptive and unconscionable" techniques, "fear-based marketing," "sham research," and "product hopping" in order to game the pharmaceutical regulatory process.
The technique of pharma companies adjusting a product slightly without making significant changes in order to preserve patent protection and market dominance is known as product hopping. In a recent piece, ClassAction.com attorney James Young outlined the procedure. "By developing a new product called a combination product, manufacturers may acquire renewed or prolonged patent protection and fight off generic competition," Young said.
Due of Reckitt's shenanigans, numerous states have switched from Suboxone to Zubslov (a slightly different mix of buprenorphine and naloxone) as the preferred opioid addiction treatment medicine.
Vivitrol (naltrexone), a rival that costs $1,300 per injection, brought in $55.8 million for producer Alkermes in the first three quarters of 2016. Vivitrol sales are expected to reach $700-800 million by 2018, according to Alkermes.
Opioid Overdose Treatment Drugs
Naloxone is a vital tool in the fight against opiate addiction. The medication acts as a "opioid antagonist," reversing harmful side effects and bringing a user back from the edge of a deadly overdose.
Naloxone has been available since 1971 and used to cost roughly one dollar per dosage. However, as demand for the medicine has grown, pharma firms have raised prices by a factor of 1,000 or more. From $21.3 million in 2011 to $81.9 million in 2015, naloxone sales increased.
As the demand for naloxone has grown, pharma firms have raised prices by more than 1,000%.
In 2008, Hospira was the only firm producing injectable naloxone. Hospira upped the price of naloxone by 1,100 percent the same year, just as the opioid epidemic was intensifying.
In 2005, a dosage of injectable naloxone from Hospira cost In 2005 a dose of Hospira's injectable naloxone cost $0.92. The price went up to $21.90 in January 2014. Pfizer bought Hospira in 2015..92. In January 2014, the price was raised to $21.90. In 2015, Pfizer acquired Hospira.
The addition of rivals to the naloxone market did not result in price reductions. Evzio, an auto-injector meant for users with no medical experience, was released in 2014 by Kaleo Pharma for $690 for a bundle of two. An Evzio bundle cost $4,500 in February 2016.
The manufacturer of an injectable version of naloxone, Amphastar Pharmaceuticals, raised prices from $19 per dosage in June 2014 to $41 per dose in January 2015.
Price increases for naloxone have prompted several emergency services to run out of the life-saving medicine.
In 2016, a two-pack of Adapt Pharma's Narcan, a nasal-spray version of naloxone, cost $150. In 2016, a vial of Mylan's injectable naloxone cost $23.72.
Price increases for naloxone have prompted several emergency services to run out of the life-saving medicine. They have also made it hard to obtain for community organizations that provide free naloxone to the community.
In an increasing number of areas, first responders are required to carry naloxone. New Mexico was the first state to mandate all local and state law enforcement officers to carry the drug earlier this year.
While a small number of suppliers may have contributed to rising pricing, many believe that Big Pharma is increasing prices on purpose in response to increased demand. According to the New England Journal of Medicine, the price rise for naloxone is part of a wider pattern of escalating medicine costs.
"We're not dealing with a finite resource." According to Dan Bigg of the Chicago Recovery Alliance, naloxone is "nearly as inexpensive as sterile sodium chloride—salt water."
The Senate Special Committee on Aging's Claire McCaskill and Susan Collins sent a letter to the five naloxone-producing drug companies, asking them "what actions [they] are taking to ensure continued and improved access to naloxone, an explanation for price changes in [their] company's naloxone product, and a description of the available resources and tools to prevent barriers to access and shortages of this critical and life-saving medication."
Drug makers argue that they provide special pricing and provide naloxone to first responders, public health agencies, and charitable organizations.
However, with overdose fatalities already outnumbering road deaths in the United States, depending on pharma corporations' benevolence isn't a viable long-term option. The need for naloxone isn't going away anytime soon. More naloxone price spikes seem to be a certain conclusion unless the government intervenes.
Pharmaceutical firms have shown, if nothing else, that they are opportunistic.
Frequently Asked Questions
How much did Purdue Pharma make from opioids?
A: Purdue Pharma made $23.7 billion in revenue from their OXYCONTIN, PERCOCET and MS continantal drugs
How much is the opioid business worth?
A: The opioid industry is worth $8 billion annually in the United States.
I hope you enjoyed my answer, thank you for your time!
What is the largest pharmaceutical settlement?