The state of Florida has passed a new law which will take down any company that offers students debt relief in the form of fake degrees or transcripts. The legislation is intended to protect student borrowers from scam artists and ensures they get only legitimate assistance when filing for bankruptcy.
Florida has passed a law that will make sure people don't get scammed when trying to settle their debt. The new law makes it illegal for companies to charge fees for credit card relief services.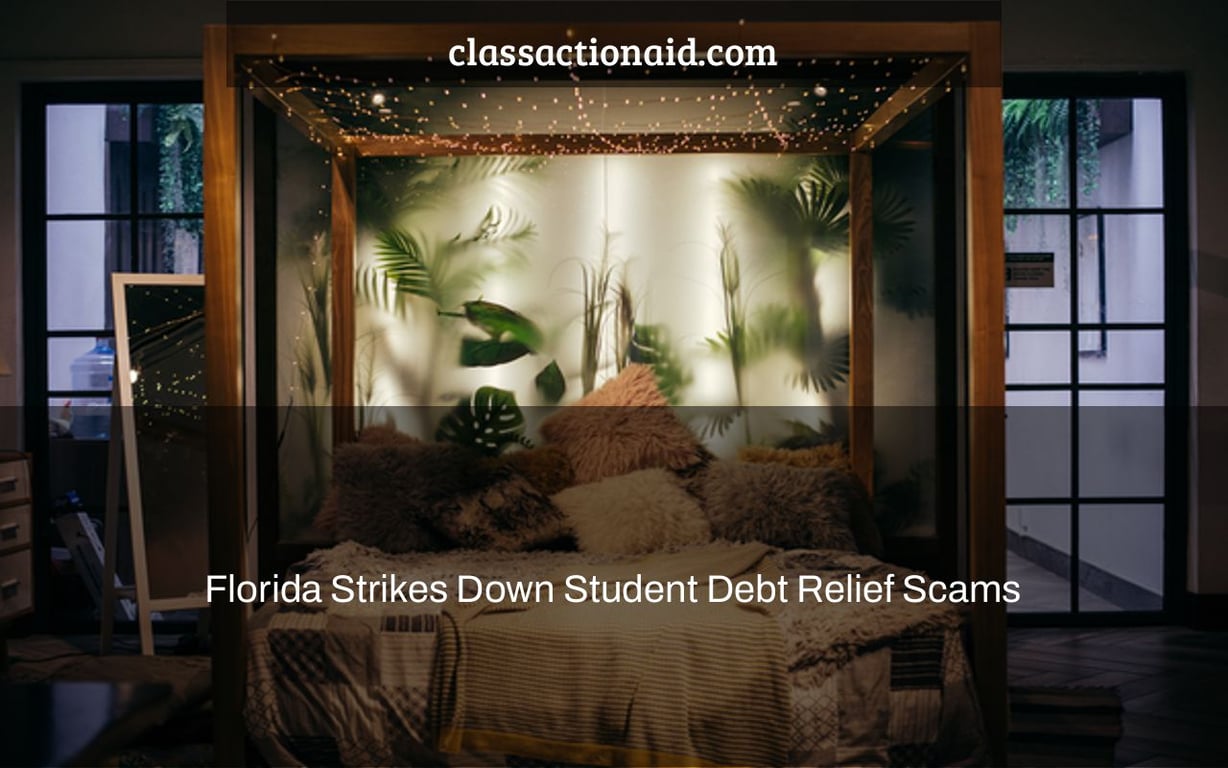 Student loans have grown into a $1.2 trillion business, causing a financial catastrophe that affects over 40 million Americans. However, rather of assisting, some loan servicers and debt reduction firms see this as a business opportunity.
Navient, the biggest loan servicer in the United States, recently made news for allegedly directing borrowers into pricey deferral programs, benefiting from $4 billion in additional interest charges throughout the country. Last month, the Consumer Financial Protection Bureau filed a lawsuit against the corporation.
But Navient isn't the only one looking to profit. Debt settlement firms who claim to be able to remove debts, cut payments, and improve credit scores are now being sued.  
Fees in the thousands for free services
Companies frequently ask upfront fees ranging from $250 to $5,000 before providing any of these free services.
If debt settlement businesses are able to assist a borrower in reducing their debts or payments, they are doing so utilizing services that any American may use for free.  
Some federal programs can forgive student debts, especially in the case of difficult-to-fill government employment, impairments, or school closures. Borrowers may also use StudentLoans.gov to combine their loans (resulting in reduced interest rates) and convert to income-driven loan repayment plans with their loan servicers provided they satisfy specific criteria. These services only cost you your time in order to determine whether you are eligible.
Debt settlement firms entice consumers by claiming that they have been authorized, or pre-approved, for debt-relief services that may lower debt by 50 to 70%, or even completely remove it.
Companies frequently demand upfront costs ranging from $250 to $5,000 before performing any of these free services, followed by monthly fees of approximately $200 to $300. Though this may seem to be a large sum, for debtors who are in debt for $100,000 or $200,000, it is a tiny amount to pay for the prospect of long-term relief.
Some businesses just take their customers' money and go.
Worse, in certain circumstances, debt settlement organizations fail to help the borrower at all.
They often accept large upfront and monthly costs, but then either declare that they are unable to help the consumer or just vanish.
Customers are often led along, believing the corporation is in charge of everything, while no one is making loan payments. Customers are left with defaulted debts and even worse credit ratings as a result of their actions.
"Victims are left farther in debt, with no solution to their situation and no idea where to turn next. No one can 'promise' that they will be able to erase or eliminate your student loan debt "The National Foundation for Credit Counseling's vice president of communications, Bruce McClary, said.
Companies impersonate the Department of Education of the United States of America.
"If you have to pay, stay away!" says the US Department of Education.
While you may be thinking to yourself, "I'd never fall for that," the most deceptive component of it all is that these firms often masquerade as the United States Department of Education.
They may utilize the Department of Education seal and make allusions to the fictitious "Obama New Student Loan Forgiveness program," which does not exist.
Some go so far as to collect borrower loan information so that they may reference the amount borrowers owe and to whom they owe it, so making them look respectable and trustworthy.
"If you have to pay, stay away!" says the US Department of Education.
Three debt collection agencies in Florida have been shut down.
Consumer Assistance LLC, Consumer Assistance Project Corp., and Palermo Global LLC, all controlled by Chastity Valdes, were recently shut down by the state of Florida.
The firms are accused of breaking the Florida Deceptive and Unfair Trade Practices Act, the Federal Trade Commission Act, the Telemarketing Sales Rule, and the Credit Repair Organizations Act, according to the complaint.
Each firm will effectively go out of business as a result of the verdict's provisions. They must pay $2.3 million in damages or hand over all of their assets to authorities, and they are barred from ever offering debt relief or credit repair services again.
The Florida Attorney General's office and the Federal Trade Commission (FTC) have previously collaborated to shut down bogus debt collection agencies. They sued Student Aid Center, a Florida-based organization, in May for charging costs ranging from $600 to $1,000 for doing nothing more than submitting documentation to the federal government, something any borrower may do for free. The case is still ongoing.
What to Be Aware Of
There are certain red flags that a business isn't authentic. The following are some of the dangers that the National Foundation for Credit Counseling cautions about:
Upfront payment: Debt settlement companies are required by law to settle or reduce at least one loan before requiring payment. If you choose to use an outside company, make sure they show some progress on your loans before you pay them.
Urgent time frames: Offers that require immediate action are likely scams. The federal government does not require you to sign up within 24 hours or one week in order to be eligible for benefits.
Warnings against contacting loan provider: If a company warns you not to contact your loan provider, this is a red flag. Most loan providers will work with you to reduce your monthly payments or consolidate your loans (though based on Navient's track record, you should research what you are eligible for before calling).
Advertising in general: Though there are legitimate ways to reduce your loans, these programs are usually not heavily advertised, nor do they reach out directly to eligible candidates. If you are looking for loan forgiveness programs, you'll likely have to file yourself.
Most essential, never provide firms your Social Security number, federal assistance code, or power of attorney for debts if you can verify they are authentic.
Florida has struck down a number of student debt relief scams that have been popping up. As a result, these companies are now being fined and the scammers will be prosecuted. Reference: student loan forgiveness.
Related Tags
u.s. advantage forgiveness program for credit cards
credit card debt settlement scams
national debt relief scams
student loan relief group
credit fix scams