Greenhouse gas emissions cheating by Audi and BMW has been uncovered, threatening the reputation of these companies. The two car-makers stand accused of using illegal software to lower their CO2 levels on official tests.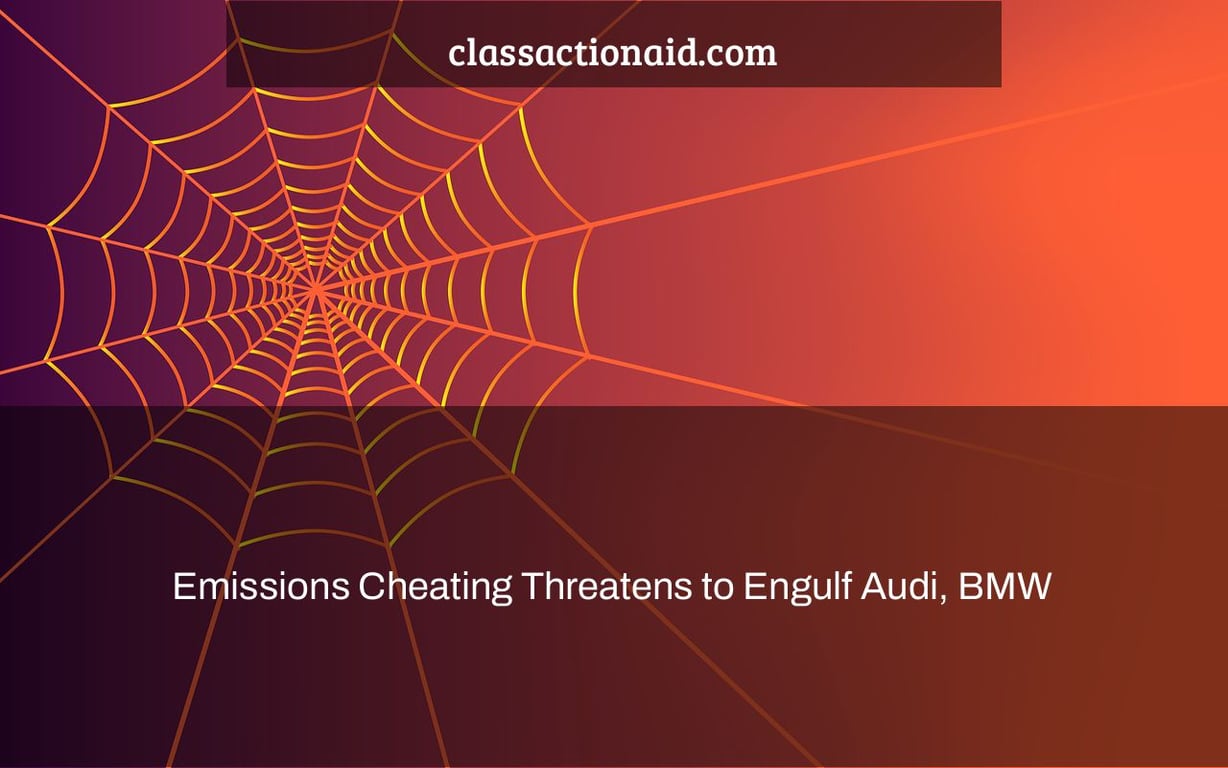 While Volkswagen strives to put the Dieselgate crisis behind it, evidence is mounting that the company may have been the tip of the iceberg when it comes to diesel emissions cheating.
In the 1990s, German automakers are suspected of creating a secret cartel.
Volkswagen and other German carmakers may have collaborated on diesel engine pollution regulations, according to Der Spiegel magazine. The news comes as Daimler, the parent company of Audi, BMW, Porsche, and Mercedes-Benz, has announced the recall of about four million diesel cars due to high nitrous oxide emissions.
More bad news for Volkswagen: modifications to its European cars meant to bring them into conformity with pollution regulations are apparently creating performance issues, an issue that experts have long warned may be an unexpected result of dealer repairs.
Volkswagen's price for the Dieselgate scandal has now surpassed $24 billion in the United States, after paying another $154 million in fines to California. Additional penalties as a result of a new chapter in the diesel crisis might be terrible for German automakers, who are already under pressure to keep up with the industry's drive toward electric cars.
The Alleged Collusion Between Automakers Goes Back Decades
On July 21, the German magazine Der Spiegel published an article alleging that German manufacturers Daimler, BMW, and Volkswagen (including VW brands Audi and Porsche) had been collaborating on technology since the 1990s.
The German antitrust regulators received letters from VW and Daimler, according to the Spiegel story. It alleges that about 200 personnel from 60 business organizations met in private to discuss their supplier choices, pricing components, and how to achieve more strict diesel emissions standards. The discussions are said to have "laid the groundwork" for the Volkswagen emissions cheating scandal, which emerged in 2015.
Manufacturers may have conspired to set the price of AdBlue, a diesel engine treatment device that employs a liquid solution to neutralize nitrous oxide emissions, since 2006. According to Spiegel, the manufacturers discussed the size of AdBlue tanks and decided to restrict their size.
In court filings, Volkswagen and Audi stated that the smaller tanks need frequent refilling to appropriately balance emissions, and that rather than causing hardship to owners, they designed cars to limit the solution, enabling them to generate excessive nitrous oxides. BMW and Daimler have both denied any wrongdoing.
The suspicions of a cartel are being investigated by European Union antitrust investigators. Large penalties might be levied on the automakers involved. The US Department of Justice is also looking into the accusations, although no official inquiry has been launched as of yet.
Millions of diesel vehicles will be modified by Audi, BMW, and Porsche.
Audi, BMW, Daimler, and Porsche have all revealed intentions to update software on select diesel cars to cut pollution in the past month.
More than four million cars will be modified by the manufacturers, including three million Mercedes-Benz, 850,000 Audis, 350,000 BMWs, and 22,000 Porsches. At the moment, the retrofits are only available for automobiles in Europe. Similar adjustments are expected to be released for diesel automobiles marketed in the United States, where nitrous oxide emissions restrictions are tougher.
More than four million cars have been recalled to have their emissions systems repaired.
Porsche, which is owned by Volkswagen, is the latest German carmaker to issue recalls due to erratic emissions. Last week, Germany's Transport Minister Alexander Dobrindt ordered the recall of Porsche Cayenne models with 3-liter diesel engines, after Porsche revealed that the cars included possibly unlawful emissions software. Affected cars are said to feature a "warm up mode" that complies with emissions regulations but switches to a higher-emissions mode during operation.
Audi and Daimler are being investigated for alleged emissions test cheating. Daimler has been asked to testify before a German government inquiry investigating Volkswagen's Dieselgate scandal. German authorities are also looking into Volkswagen's Audi division for possibly deploying an emissions-cheating device. In conjunction with the probe, a former manager from Audi's engine research department has been detained.
A VW official in the United States has announced that he would plead guilty to conspiracy as part of a criminal probe into the emissions cheating plan.
Customers are enraged with Volkswagen's emissions repairs.
Repairs to Volkswagen's polluting diesel cars have been suspected to have an influence on fuel efficiency and performance, and based on reports from Europe, these fears are genuine.
Repairs on around 160,000 VW Passat cars have been postponed, according to Automotive News Europe, since the suggested software upgrade resulted in increased fuel consumption and CO2 emissions. The reason for the delay, according to VW, is to guarantee that vehicle noise and CO2 emissions are identical to before the patch.
In January, Volkswagen started recalling vehicles fitted with emissions-cheating software in Europe. Approximately 8.5 million Volkswagen, Audi, Seat, and Skodas sold in Europe need nitrous oxide emission upgrades. However, many consumers who have had their vehicles repaired by a dealer claim that they are experiencing performance difficulties like as stalling, sputtering, loss of power, worse fuel efficiency, and trouble starting. Some claim they have suffered repair costs as a result of the issues.
VW claims that there is an issue, citing just a small number of complaints among hundreds of thousands of completed fixes as evidence.
Owners of impacted VW diesels have until May 2018 to decide whether they wish to sell their vehicles or get compensation and a free emissions repair under the US Dieselgate deal. Fixes for Volkswagen cars sold in the United States have yet to be authorized.
While some consumers may want to avoid dealer maintenance, according to a report, VW owners in Germany who reject software upgrades will have their vehicles de-registered.
Diesel's Future Is Uncertain
The multiple diesel crises in Europe, the world's biggest diesel market, are hastening the technology's demise. The controversies in the United States may be the last nail in the coffin of the diesel automobile.
While diesel makes for a small fraction of the US auto market, it accounts for about half of all automobiles sold in Europe.
However, as a result of the emissions cheating revelations, diesel sales are plummeting. In Europe, diesel's market share is predicted to decline from 55 percent in 2012 to barely 10 percent in 2025.
German carmakers have fallen behind manufacturers that have created hybrid and electric cars to fulfill stricter greenhouse emission rules because they gambled on diesel. German automakers are lagging behind hybrid and electric giants Toyota, GM, and Tesla in terms of market share.
In Europe, diesel's market share is predicted to decline from 55 percent in 2012 to barely 10 percent in 2025.
Diesel engines are more efficient and create less CO2, but they release more carcinogenic nitrogen oxides, which have been related to respiratory problems.
Diesel has never had a big presence in the American vehicle market, and many feel that Dieselgate represents the end of diesel in the United States. Diesel engines, on the other hand, continue to be a popular choice for pickup trucks and other large vehicles because they create more torque than gas engines, making them better for transporting big loads and towing. Diesel trucks transport almost 70% of all freight tonnage in the United States, using 38 billion gallons of diesel fuel every year.
Stronger pollution rules are anticipated to hasten the European transition away from diesel and gasoline. France and the United Kingdom have announced plans to phase out new diesel and gasoline vehicles by 2040. Many European towns are contemplating banning older diesel vehicles as well.
Despite the factors working against diesel, European automakers have spent extensively in the industry and will certainly continue to push it as they aim for a controlled fall. Automobiles are Germany's most important export, and Volkswagen, BMW, and Daimler are among the country's greatest employers.
Frequently Asked Questions
Did BMW lie about emissions?
A: This is a very difficult question to answer, because there are many factors that could have led to the BMW cars emissions being higher than anticipated.
Was Audi affected by the emissions scandal?
How much was Volkswagen fined?
A:
The fine amount is surrounded by a lot of speculation, but it is speculated to be between $16 and 17 billion.