Mosaic has been dealt a blow after it was sued by the Florida Bar for violating advertising law over its sinkhole ad. The company is accused of making false claims and misleading consumers.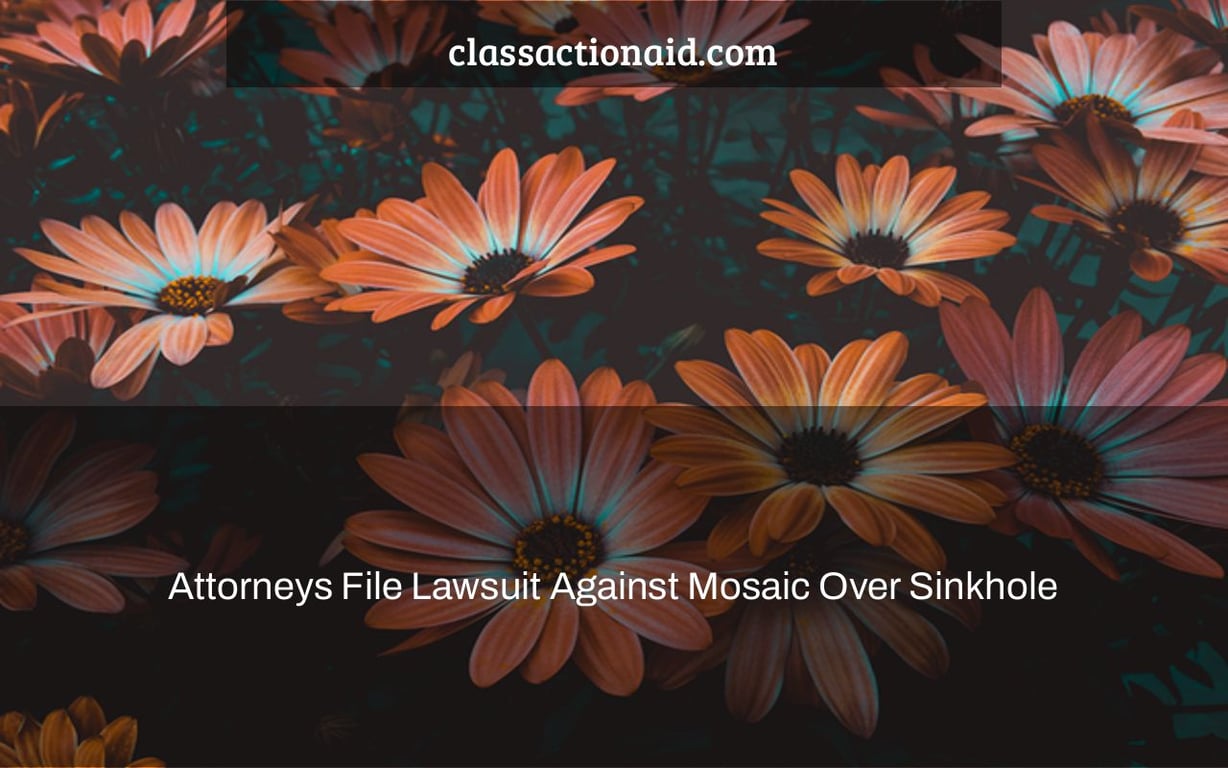 Three Lithia, Florida homeowners (Nicholas Bohn, Natasha McCormick, and Eric Weckman) filed a class action lawsuit against Mosaic Fertilizer on September 22, 2016, alleging that the enormous sinkhole that just formed in the vicinity was leaking radioactive water into the Floridan Aquifer.
The complaint—filed by our attorneys in partnership with New York-based firm Weitz & Luxenberg—seeks relief for water treatment and monitoring as well as property damage, and alleges that Mosaic "recklessly and negligently managed, operated and stored toxic radioactive wastewater produced from Defendants' New Wales Facility."
Take a look at the Mosaic Complaint.
Mosaic is also accused of violating Florida's Pollution Discharge Prevention and Control Act, as well as being accountable for an unusually risky activity, nuisance, carelessness, and gross negligence, according to the plaintiffs.
The plaintiffs filed the class action complaint on behalf of everyone who is similarly placed and harmed by the Mosaic sinkhole, claiming that 5,000 individuals reside within five miles of the sinkhole "who get their water from private wells and are touched by the sinkhole."
Contact us right away if you've been affected by the Mosaic sinkhole. You may be able to file a lawsuit.
Why Did Mosaic Take So Long to Clean Up?
A 300-foot-deep sinkhole formed on August 27, 2016 at the Mosaic Fertilizer phosphate mine near Mulberry, Florida.
Mosaic told the public over three weeks later, on September 15, through their website. After pouring 215 million gallons of possibly radioactive water into the Floridan Aquifer—major Florida's source of drinking water—the gigantic sinkhole has garnered headlines.
So, why didn't Mosaic notify residents sooner? Why wait three weeks to convey the news when families are drinking and swimming in possibly deadly water?
Because they have the ability to.
Mosaic was not legally obligated to reveal the leak.
According to the Tampa Bay Times, a 2005 state legislation only compels businesses to notify the Department of Environmental Protection (DEP) and the United States Environmental Protection Agency (EPA) within 10 days of discovering pollution. Residents who may be impacted must be notified within 30 days by the DEP.
This is a significant difference from 1994, when a similar sinkhole occurred at the same location. The public was therefore alerted to the issue relatively promptly and may take appropriate action, such as testing their water or filing a lawsuit.
Mosaic's Senior Vice President of Phosphates Walt Precourt failed to explain why Mosaic believed Polk County residents didn't deserve to know about the leak sooner in his apologies for the three-week delay. Mr. Precourt simply stated:
"I'm sorry for not delivering this information sooner. We took rapid action to remove as much water as possible from the leaking process pond and are presently using a recovery well to remove the remaining water from the aquifer."
Given Mosaic's shaky history, the delay may not be surprising.
The Company's Ethical History Is Scandalous
The EPA and Mosaic negotiated a settlement in October 2015 over 60 billion pounds of hazardous waste contamination. The following were among Mosaic's infractions, according to the EPA:
Scrubber effluents, fluorosilicic acid-production wastes, product spills and leaks, and wastes from cleaning pipelines and tanks were not classified as hazardous wastes.
Hazardous waste treatment, storage, and disposal without a permit or temporary status;
Failure to execute land disposal decisions and fulfill hazardous waste land disposal limits;
failure to offer enough financial assurance for closure, long-term care, and third-party liability; and failure to provide appropriate financial assurance for closure, long-term care, and third-party liability.
Non-compliance with record-keeping standards
Mosaic agreed to pay $1.8 billion and decrease and better securely store hazardous waste at eight of its plants, including the New Wales facility where the new sinkhole emerged, as part of the settlement conditions.
"Install sophisticated technical controls that will reduce future consequences from its phosphyogypsum stack systems," Mosaic agreed (such as the one where the Mulberry sinkhole formed).
"Agreed to perform an estimated $1.2 million environmental project in Florida to mitigate and avoid certain possible environmental consequences related with an orphaned industrial site situated in Mulberry, Florida," according to Mosaic.
Mosaic will lose up to $50 million as a result of the leak.
According to a Mosaic official, the leak will cost $20-50 million to rectify. But it's a drop in the bucket compared to the world's biggest fertilizer manufacturer, which made $11.1 billion in sales in 2012.
Why doesn't Mosaic restructure its procedures to avoid these dangerous incidents in the first place, rather than spending tens of millions of dollars to clean up its toxic messes or paying billions of dollars in EPA penalties?
Many of Mosaic's EPA settlement provisions from last year focused on openness as well as safety (e.g., avoiding radioactive waste from seeping into Florida's water supply). Not only was it intended to prevent hazardous waste, but it was also intended to be transparent in the case of a leak or spill, allowing authorities and citizens to respond appropriately.
Mosaic has broken the spirit of the settlement, if not the formal terms, by keeping Floridians in the dark for three weeks about a potentially hazardous leak. It has also damaged whatever lingering faith that communities had in the corporation and the phosphate mining industry in general.
To rebuild that confidence, more than free water bottles will be required.