Onglyza, a new drug to treat high blood pressure and heart failure, generated $5 billion in sales last year. But lawyers say that the side effects of this medication include kidney problems and severe allergic reactions that may cause death–and they want these cases to go before juries.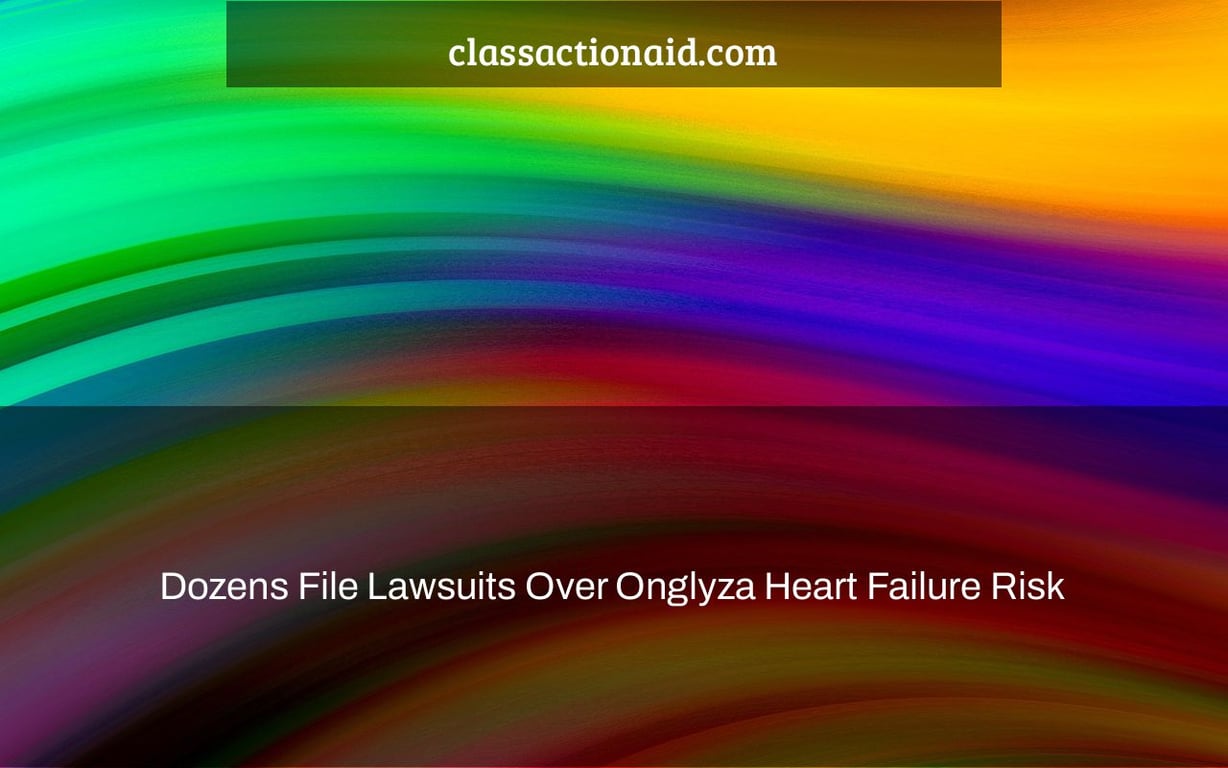 Onglyza users are 27% more likely to be admitted to the hospital for heart failure.
Patients with type 2 diabetes who use the anti-diabetic drug Onglyza may have an increased risk of heart failure.
Onglyza (saxagliptin) belongs to the DPP-4 inhibitor family of medications, which aid in the retention of incretin, a gastrointestinal hormone that stimulates the pancreas to generate more insulin. However, despite the drug's ability to assist people with type 2 diabetes maintain normal blood glucose levels, its hazards may exceed its benefits.
Patients who take Onglyza are 27 percent more likely than those who take a placebo to be hospitalized for heart failure, according to studies. Injured patients and their families are now suing Onglyza's producer, AstraZeneca, as well as the company's erstwhile partner, Bristol-Myers Squibb.
Diabetics are already at a higher risk of developing heart disease.
Adults with diabetes are two to four times more likely than non-diabetics to die from cardiac disease.
Heart disease is one of the most prevalent diabetic consequences. According to the American Heart Association, heart disease will kill 68 percent of diabetics aged 65 and over. Adults with diabetes are two to four times more likely than non-diabetics to die from cardiac disease.
In 2008, the FDA amended its anti-diabetic medicine approval rules in light of these findings. Drug companies must now demonstrate that their anti-diabetic treatments are cardiovascular safe, and that they will not cause a "unacceptable increase in cardiovascular risk."
Following a modification in FDA standards, Onglyza was authorized in 2009. Despite the FDA's clearance, a 2013 research found that Onglyza increased the likelihood of heart failure hospitalization—exactly the kind of danger that the FDA was seeking to avoid, according to critics.
Onglyza Raises the Chances of a Heart Failure Hospitalization
The SAVOR Trial, or "Saxagliptin Assessment of Vascular Outcomes Recorded in Patients with Diabetes Mellitus," looked at the long-term safety of Onglyza.
Over 16,000 individuals with type 2 diabetes and a history or high risk of a cardiovascular incident were monitored for about two years in this study. Half of the participants were given Onglyza and the other half were given a placebo.
Researchers from the SAVOR Trial discovered that patients who took Onglyza were more likely to be admitted to the hospital for heart failure: 3.5 percent of Onglyza patients were admitted to the hospital for heart failure, compared to 2.8 percent of placebo patients. Overall, this resulted in a 27% higher risk of heart failure hospitalization.
The findings triggered an FDA study into the cardiovascular safety of Onglyza. The FDA Endocrinologic and Metabolic Drugs Advisory Committee voted 14 out of 15 times in April 2016 to approve a new saxagliptin safety warning. Onglyza and Kombiglyze XR (another AstraZeneca saxagliptin and metformin combo medication) now have a warning that the treatment may raise the risk of heart failure.
Nearly 100 lawsuits have been filed against Onglyza and Kombiglyze XR.
In February 2018, the United States District Court for the Eastern District of Kentucky merged 84 Onglyza and Kombiglyze cases into a multidistrict lawsuit (MDL) (IN RE: Onglyza and Kombiglyze XR Products Liability). The MDL has grown to 94 cases as of March 14, 2018.
AstraZeneca and Bristol-Myers allegedly neglected to do enough safety testing to identify whether saxagliptin raised the risk of cardiovascular damage, according to the lawsuits. They further allege that the firms neglected to alert the FDA, the medical community, and patients about the elevated risk of heart failure and mortality associated with saxagliptin.
Have You Had Heart Failure Since Taking Onglyza?
You may be qualified to bring a lawsuit if you or a loved one experienced a serious cardiovascular harm such as congestive heart failure or a heart stroke after using Onglyza or Kombiglyze XR. A lawsuit may help you be paid for medical costs, pain and suffering, lost earnings, and other expenses.
For a free, no-obligation legal consultation, contact our lawyers. It won't cost you anything until we get you a jury award or a settlement.
Watch This Video-