Pharmaceutical companies are granted the right to advertise directly to consumers by law. However, patients still have a strong voice in their healthcare decisions, influencing how they want drugs advertised and what benefits they expect from it. This article takes an in-depth look at which groups of people tend to accept most money from pharmaceutical advertising and discusses why that might be happening.
The "biggest recipients of big pharma" is a list of 10 patient groups that accept the most money from pharmaceutical companies. The list includes the American Cancer Society, American Diabetes Association, and many more.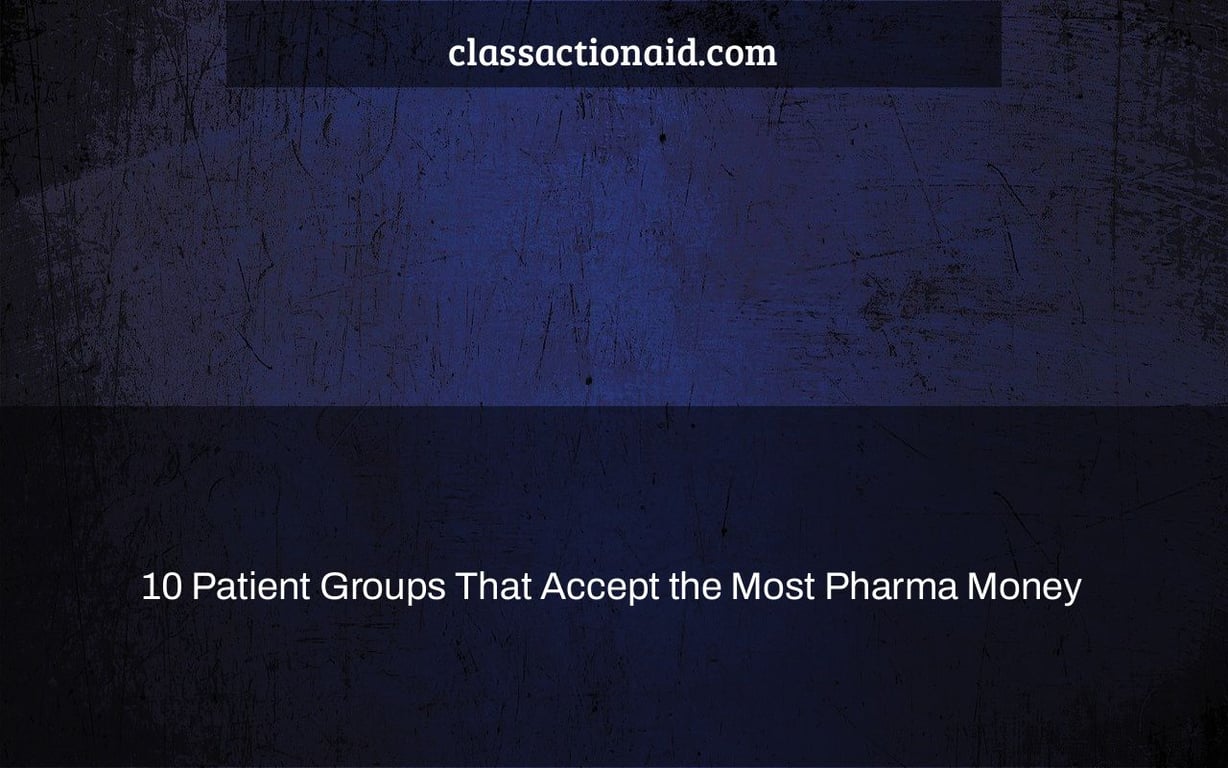 Drug and medical device industries fund eight out of ten patient advocacy organizations. Are they benevolent corporate gifts, or simply another method for Big Pharma to exercise influence outside of the company?
Pharmaceutical contributions account for more than half of certain patient advocacy organizations' annual revenue.
That is a difficult question to answer. However, following the money is the first step in determining how big a role pharmaceutical firms play in groups like the American Diabetes Association and the American Heart Association.
According to a 2017 research published in the New England Journal of Medicine, pharmaceutical contributions account for more than half of certain patient advocacy organizations' annual revenue. However, since there are few reporting requirements in place, it is difficult for the general people to evaluate if corporate contributions are undermining the legitimacy of the patient organizations to which they give.
This is something Kaiser Health News wants to change. Their Pre$cription for Power database aggregates all of the contributions that pharmaceutical and medical device firms make to patient organizations. We looked at the patient organizations that got the most corporate funding.
Patient Access Programs that Accept a Wide Range of Pharmaceuticals $
The Patient Access Network Foundation (PAN) has a budget of $31,407,500 dollars.
PAN's mission is to assist people pay treatment for 55 different ailments by providing grants.
The most significant contributions were made by:
Pfizer—$16,870,000
AbbVie—$14,537,500
2) The Patient Advocate Foundation (PAF) has a budget of $13,953,440.
PAF's mission is to assist people with health insurance, medical debt, and employment challenges that arise as a result of their diseases.
The most significant contributions were made by:
$9,500,000 for Eli Lilly and Co.
$3,290,000 Pfizer Inc.
3) The Healthwell Foundation, with a budget of $7,475,000
Healthwell Foundation's mission is to help people pay for co-pays, premiums, deductibles, and other out-of-pocket medical expenditures.
The most significant contributions were made by:
$6,425,000 Bristol-Myers Squibb
$1,000,000 Merck & Co.
4) $2,150,000 The Assistance Fund Inc.
The Assistance Fund's mission is to provide innovative treatments, educational opportunities, and financial assistance to severely and chronically sick individuals.
The most significant contributions were made by:
Instead of lowering drug prices, why not donate money?
Patient access programs, often known as drug access programs, assist underinsured people in obtaining the pharmaceuticals they need. Patients must often fulfill strict financial standards in order to qualify for financing via a medicine access program, therefore the number of patients who benefit from these programs is quite limited.
Medication makers support the bulk of drug access initiatives directly, but their gifts are far from altruistic. Rather than cutting prescription costs and eliminating the need for drug access initiatives, pharmaceutical firms often contribute money to these non-profits. The payments assist pharma firms get favorable press while also ensuring that medicine costs (and revenues) remain high.
Most Pharma Accepting Patient Advocacy Groups
1) ASCO's Conquer Cancer Foundation: $4,895,725
The Conquer Cancer Foundation's mission is to finance groundbreaking cancer research while also providing information and services to cancer sufferers and the medical community.
The most significant contributions were made by:
Pfizer ($2,060,000): Ibrance, Sutent, Xalkori, and Inlyta are some of Pfizer's cancer medications.
$978,000: Eli Lilly and Co. Alimta, Cyramza, Erbitux, Gemzar, Lartruvo, Portrazza, and Verzenio are cancer medications.
Top benefactors Pfizer and Eli Lilly are two of the top ten oncology medicine producers, so it's understandable that they'd want to sponsor a cancer charity. Merck, Bristol-Myers Squibb, and Johnson & Johnson are among the top 10 cancer medicine firms, as are fellow contributors Merck, Bristol-Myers Squibb, and Johnson & Johnson.
2) The American Diabetes Association has a budget of $3,856,993 dollars.
The ADA's mission is to aid in the prevention and treatment of diabetes, as well as to enhance the lives of those who are impacted by it.
The most significant contributions were made by:
Eli Lilly and Company—$2,924,403: Eli Lilly's diabetic medications include Humalog, Humulin, Jardiance, and Byetta, which are currently distributed by Amylin.
Johnson & Johnson ($386,595) is a company that sells glucose meters.
Merck & Co.—$317,000: Januvia, Janumet, Kombiglyze XR, and Onglyza are diabetes medications.
The American Diabetes Association (ADA) has a track record of taking funds from dubious sources. They were chastised for taking money from sugary food businesses such as Coca-Cola and Cadbury Schweppes, which makes Dr Pepper and Cadbury eggs. Cadbury gained authorization to put ADA's label on its diet drinks in return for a $1.5 million contribution.
Taking money from companies with a bad reputation is one thing, but some opponents claim that the ADA may face a conflict of interest as a result of these contributions.
In their 2017 type 2 diabetes recommendations, the American Diabetes Association approved Jardiance for adults with type 2 diabetes and cardiovascular disease. Critics point out that these suggestions favor Eli Lilly, the ADA's major contributor and Jardiance producer.
It's not the first time that the association's suggestions and guidelines have helped pharmaceutical corporations. They decreased the prediabetes (a precursor to type 2 diabetes) standards in 2003 and 2010, so that more individuals were labeled prediabetic and more likely to receive a prescription to help manage their glucose levels.
The United States has one of the lowest rates of prediabetes of any nation. According to their estimates, one out of every three Americans (86 million individuals) has prediabetes. The American Diabetes Association and the Centers for Disease Control and Prevention have labeled it a public health emergency, and rising obesity rates in the United States are undoubtedly cause for alarm. However, other organizations, such as the American College of Physicians, have claimed that the recommendations are excessively strict, and that they may lead to some patients taking medicine when lifestyle modifications would be more beneficial.
3) Arthritis Foundation of America (AFA): $3,271,214
The Arthritis Foundation's mission is to help patients overcome daily challenges by offering information and resources, access to optimum treatment, scientific advances, and community connections.
The most significant contributions were made by:
AbbVie ($1,567,000): AbbVie sells the autoimmune condition medicine Humira, which is the most profitable drug in the United States.
Orencia, an autoimmune illness medicine, is sold by Bristol-Myers Squibb for $855,650.
4) American Heart Association (3,259,054 dollars)
Mission: Assists in the provision of adequate cardiac care in order to prevent disability and mortality due to cardiovascular disease and stroke.
The most significant contributions were made by:
$1,964,300: Bristol-Myers Squibb Coumadin (warfarin), a common blood thinner, is sold by Bristol-Myers Squibb, which also co-markets Eliquis and Plavix.
Abbott Laboratories ($432,525 in revenue) is a company that sells cardiovascular medical equipment such as coronary stents.
The American Heart Association (AHA), like the ADA, has been chastised for releasing health recommendations that seem to benefit pharmaceutical industry. They dropped what they previously deemed to be "healthy" blood pressure limits in 2017, resulting in a 26.8% rise in the number of people diagnosed with mild hypertension.
Prehypertension medicine is typically ineffective and unneeded, according to a 2014 research published in the journal BMJ. Based on these findings, the AHA's recommendations seem to favor the AHA's pharmaceutical funders, who will presumably see an increase in sales.
Crohn's and Colitis Foundation Inc.: $3,125,271
The Crohn's & Colitis Foundation's mission is to serve people with IBD (Crohn's disease and ulcerative colitis) via research, education, and support.
The most significant contributions were made by:
AbbVie—$2,735,395: AbbVie is a pharmaceutical company that sells Humira, an autoimmune illness medicine.
Johnson & Johnson makes a $342,662 profit on the sale of the autoimmune illness medicine Stelara.
6) $2,339,500 AIDS United
AIDS United's mission is to "put an end to the AIDS pandemic in the United States."
The most significant contributions were made by:
Bristol-Myers Squibb—$1,200,000: In 2015, Bristol-Myers Squibb sold $1.14 billion worth of HIV antiviral medicine Reyataz, and $1.25 billion worth of HIV antiviral drug Sustiva. Both have subsequently been sold by the corporation.
Johnson & Johnson ($881,500): Janssen, a Johnson & Johnson affiliate, is now testing an HIV preventive vaccine. They came under criticism when they declined to join a United Nations patent pool whose goal is to lower HIV medicine costs and expand access throughout the globe.
Gilead Sciences—$250,000: Gilead Sciences is the world's top maker of antiretroviral medications, including Truvada, Viread, Atripla, Complera, and Stribild, as well as tenofovir alafenamide fumarate (TAF) therapies including Odefsey and Genvoya.
In 2015, Gilead Sciences was the highest corporate contributor in the nation, providing approximately $500 million to patient access organizations alone. These gifts came just as the company was facing a barrage of negative headlines over price rises for its HIV TDF medications. The price rises, according to critics, were intended to entice patients to switch to the new TAF medications.
Our lawyers are now looking into claims that the business withheld TAF, a medicine that may not have the same risk of kidney and bone problems as TDF, in order to boost revenues.
In Place of Lobbying, How About Donations?
These connections are sometimes more than just business: Pharmaceutical executives make nearly 40% of the boards of patient advocacy organizations, and they are likely to assist develop group standards and policies.
Drug corporations may use a vast network of patients and families to assist promote clinical studies and the development of new treatments if their ties with patient advocacy organizations are strong enough. It's no surprise that pharmaceutical firms donated more to patient advocacy organizations in 2015 than they spent on lobbying.
Pharmaceutical firms donated more to patient advocacy organizations in 2015 than they spent on lobbying.
While these organizations depend on contributions to support and fight for patients, relying on pharmaceutical firms for a large portion of their revenue may be costly. In the past, patient advocacy organizations have been chastised for not speaking out loudly enough about prescription pricing concerns, such as the growing price of epipens.
These conflicts of interest are seldom revealed when patient advocacy organizations feel compelled to appear before Congress or petition the FDA. In reality, just 12% of these organizations have rules in place to deal with conflicts of interest. Donations to patient advocacy organizations, according to some advocates, should be subject to disclosure regulations similar to the Sunshine Act for doctors.
In the meanwhile, the public may examine websites such as Pre$cription for Power and Pharmed Out, which lists patient advocacy organizations that do not take money from pharmaceutical firms.
Learn about current cases against some of the top pharmaceutical firms and pharmaceuticals if you or a loved one has been hurt by a drug or medical device.
Watch This Video-
The "big pharma political donations by party" is a list of 10 groups that have the most pharmaceutical money. The list was created by Statista, which is a website that provides statistics and data on various topics.
Related Tags
which politicians take the most money from big pharma
pharmaceutical health products: top recipients
big pharma corruption 2020
big pharma lobbying 2020
big pharma political donations 2020