An investigation by the Associated Press has uncovered that for decades, still-powerful religious and educational institutions have routinely ignored allegations of sexual abuse against their members
If you are a victim of sexual abuse in youth organizations and want to file a lawsuit, then you will need to qualify. If you don't qualify, then your case won't be taken seriously. Read more in detail here: should i cash a class action settlement check.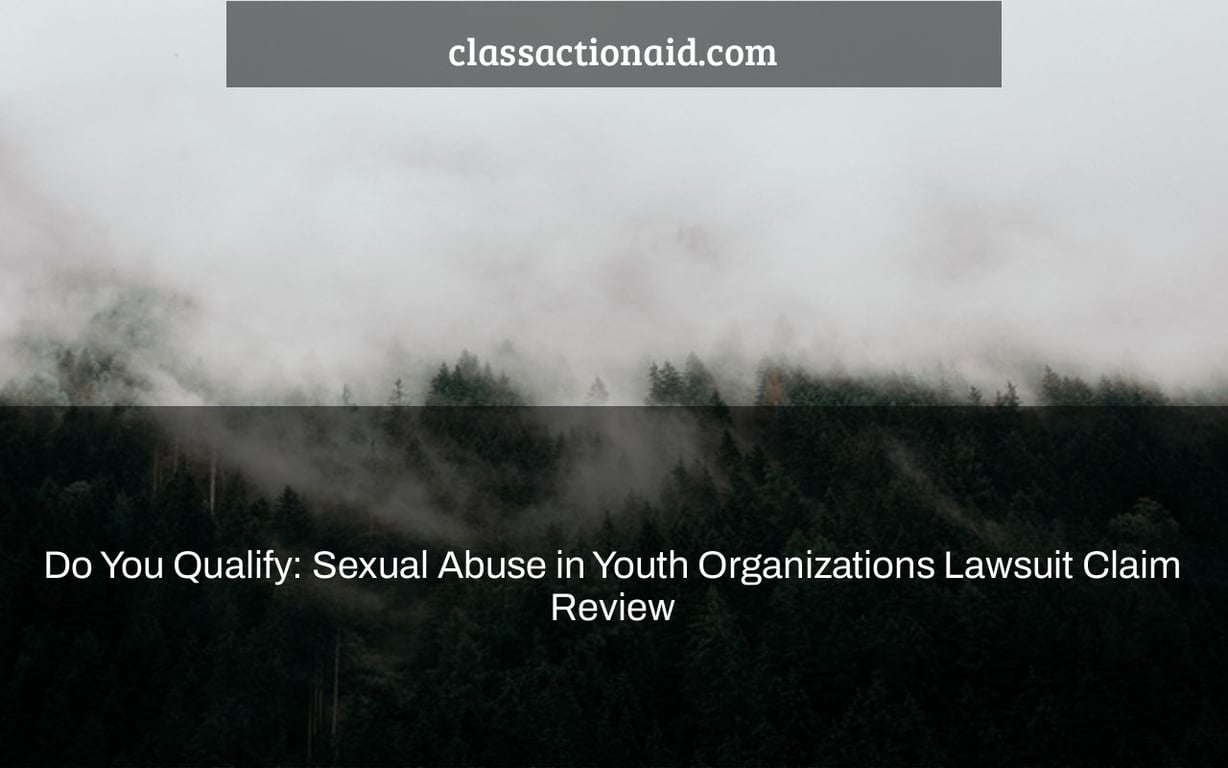 Definition of Child Sexual Abuse
According to the Rape, Abuse & Incest National Network (RAINN), the country's biggest anti­–sexual violence group, sexual abuse is defined as any sexual behavior that happens when permission is not provided, or cannot be given due to a child's age.
Forced sexual contact, which may include force or the threat of force, is included in the definition of sexual abuse. Any and every sexual interaction between a kid and an adult is included in the definition of child sexual abuse.
Sexual assault isn't only about sexual penetration. It may also include sexual touches or actions like exposure or voyeurism, even if there is no physical contact. The overwhelming majority of instances of child sexual abuse involve someone the kid knows. According to RAINN, 93 percent of child sexual abuse offenders are known to the victim, with 34 percent being family members and 59 percent being acquaintances.
The legal definitions of different sexual offenses may differ from one state to the next.
Accountability for Youth Organizations
Because youth groups play such an essential role in a young person's development, it is critical that they be held responsible for the safety of its members. Children may be susceptible to abuse if adult workers and volunteers are not properly screened, trained, and monitored.
Youth organizations, as well as any perpetrators they employ, may face criminal charges. Unfortunately, some organizations have been accused of sexual abuse cover-ups in recent years, putting their money and reputations ahead of the well-being of children.
Nearly 800 former Boy Scouts have filed a lawsuit against the Boy Scouts of America, alleging that they were sexually abused.
These complaints span eight decades and almost every state, alleging sexual abuse by Boy Scouts, including fondling and rape. Over sexual abuse allegations, dozens of accused offenders have been expelled from the Boy Scouts of America.
In sexual abuse lawsuits involving Boy Scouts, it is claimed that the youth organization failed to properly screen its volunteers and that the scope of sexual abuse inside the Boy Scouts organization was hidden.
Prominent members of the community, including police officers, teachers, military personnel, and physicians, have been accused of sexually abusing Boy Scouts. They have easy access to kids because of their roles inside the group.
These suspected offenders are accused of using the Boy Scouts' benign reputation to get access to young boys who would not have been permitted to spend time alone with adult males otherwise.
What is the number of victims on the Boy Scouts' Abuse List?
According to a Time magazine investigation, more than 12,000 boys were sexually abused by Boy Scouts between 1944 and 2016, but these Boy Scouts of America sexual abuse numbers may be significantly understated. There are at least 7,800 alleged Boy Scout sexual abusers, according to reports.
Read more: How Will Boy Scouts' Bankruptcy Affect Abuse Survivors?
Additionally, the YMCA has been accused of failing to safeguard children from sexual assault. In one instance, an 18-year-old high school student was probed for molestation while working as a teacher's assistant at a local YMCA. He was accused of improperly touching 17 children, ranging in age from 3 to 8, between the ages of 3 and 8.
According to a YMCA sex abuse lawsuit, the high schooler continued to sexually assault a kid for almost two months after the police started their investigation into the sex abuse allegations. The parents of the kid allege that the YMCA failed to safeguard their child because it lacked sufficient training and oversight.
The parents also allege that the YMCA neglected to dismiss the abuser despite the fact that he was being probed by authorities for molestation.
Following the investigation, Michael Begin pled guilty to 20 charges of criminal child molestation connected to his time at the YMCA in Jeffersonville, Indiana, and was sentenced to 120 years in prison in April of last year.
According to the Des Moines Register, a sports director at an Iowa YMCA was arrested and charged with lascivious conduct with a kid, a criminal offense. A girl says he led her into a bedroom and groped her genitals during the alleged sexual assault, which occurred at her house.
According to local ABC affiliate WMDT, a longtime employee of a YMCA facility in Wicomico County, Maryland, was indicted on sex abuse charges earlier this year, including four counts of sexual abuse of a minor, four counts of third-degree sex offense, eight counts of fourth-degree sex offense, and one count of false imprisonment.
Vincent Tubbs, a former maintenance director of the Salisbury YMCA, is suspected of abusing a single adolescent victim on numerous occasions between 2001 and 2004.
Read more: A Former YMCA Counselor Pleads Guilty to Child Sexual Abuse Charges
Sexual Abuse in Children's Sports
Youth sports are an important aspect of growing up. Youth sports provide significant physical, social, psychological, and health advantages to children. Kids may develop confidence and problem-solving abilities via youth sports, which will benefit them in many aspects of their lives.
Coaches and volunteers play an important role in the development of youth groups. Their guidance and mentoring may go a long way toward identifying a child's potential and assisting them in achieving personal, physical, and competitive objectives.
However, if limits are not respected, the unique connection that exists between children and their instructors may lead to difficulties.
Children are often taught to respect authoritative figures, and coaching entails a degree of trust. Abusers may try to exploit this unique connection by victimizing children who have grown to trust and respect them. Before attacking their targeted victims, they may groom them for a period of time, progressively eroding boundaries.
Because sexual abuse victims typically experience a great deal of guilt, especially if the assault happened through no fault of their own, they seldom tell a trusted adult about it. They are also unaware that their abuser may have additional victims of sexual assault. By disclosing sexual abuse, you may help prevent others from being abused in the future.
According to sexual abuse data given by ProtectYoungMinds.org, between two and eight percent of child sports players are victims of sexual abuse. Coaches, teachers, and instructors account for 98% of sexual abusers in youth sports.
Regardless of gender, children participating in youth sports and other youth groups may be subjected to sexual abuse.
New legislation, such as the Safe Sport Act, has been proposed to safeguard children in sports organizations.
Sexual Abuse in Taekwondo in the United States
A complaint was filed against USA Taekwondo, claiming that a coach sexually abused numerous players while they were children. According to the complaint, USA Taekwondo failed to safeguard the youngster.
Three plaintiffs claim that their taekwondo instructor raped them while they were traveling to tournaments. The USA Taekwondo complaint claims that the organization knew the coach was a threat to the athletes yet did nothing to safeguard them from sexual abuse.
According to the plaintiffs, the coach's predatory conduct was well-known inside the group. However, there were no rules in place at USA Taekwondo that forbade coaches from traveling alone with young athletes or sharing a hotel room.
In 2015, the USA Taekwondo instructor was allegedly found guilty of several felonies and sentenced to more than four years in jail.
In 2018, USA Gymnastics was embroiled in a major sexual assault controversy. Hundreds of athletes have accused Larry Nassar, a former USA Gymnastics doctor, of sexually assaulting them during medical exams.
Simone Biles, McKayla Maroney, and Aly Raisman, all Olympic medalists, are among the athletes who have come out about their abuse. They were also among the over 150 women who testified against Nassar at his sentencing hearing in January 2018.
The athletes claim they were sexually assaulted during their sessions with Nassar and that he instructed them not to tell anybody. During their tenure with USA Gymnastics, several of the victims say Nassar abused them hundreds of times.
Nassar was given a minimum of 40 years in jail and a maximum of 175 years in prison.
Read more: Have Sexual Abuse Victims in the USA Gymnastics Lawsuit Been Reimbursed?
Sexual Abuse in Swimming in the United States
According to The Wall Street Journal, USA Swimming, which governs amateur swimming in the United States, has being investigated over accusations that it hid sex abuse reports to preserve the agency's image and profits.
Accusers were required to file official sexual assault charges with USA Swimming, according to court documents and other data.
A lawyer would allegedly contact the accuser to address the sex abuse accusations if the case was submitted to USA Swimming's National Board of Review, which takes decisions regarding disciplinary actions against coaches.
This lawyer, however, reportedly represented USA Swimming and would use his or her knowledge of the case against the accused rather than fighting for the accuser.
The goal of this plan, according to reports, was to discourage victims from reporting abuse. Because there were fewer reports, USA Swimming was able to pay out less settlements and financial claims.
This method is no longer used by USA Swimming; federal law now mandates that any accusations of child abuse be promptly reported to law authorities and, in the case of abuse inside Olympic organizations, to the US Center for SafeSport.
Congress moved in to alter how sexual abuse complaints were handled and avoid future sexual abuse cover-up scandals in reaction to the increasing number of sexual abuse scandals in youth organizations and youth sports.
In February 2018, the Protecting Young Victims from Sexual Abuse and Safe Sport Authorization Act of 2017 (commonly known as the Safe Sport Authorization Act) became federal law, requiring timely reporting of youth sports sexual abuse to law authorities.
This legislation created the United States Center for SafeSport, a non-profit organization charged with investigating allegations of abuse and safeguarding American Olympic athletes.
Continue reading: Does the Safe Sport Act Prevent Child Abuse?
Sexual Abuse Prevention in Youth Organizations
Unfortunately, sexual abuse in youth groups is a frequent occurrence. Children are often put in danger because they are trained to trust people in positions of authority, such as a coach, troop leader, or doctor.
Great coaches may have a huge effect on a child's self-esteem, leadership skills, and self-assurance. Adults who sexually abuse children, on the other hand, may lead victims to suffer pain and anguish that will follow them throughout their lives.
In order to get access to vulnerable children, sexual predators may seek employment as a coach or volunteer to assist youth sports.
Establish clear rules and good execution if you are in charge of a youth group.
Make sure that workers, coaches, and volunteers get sexual abuse awareness training so that they can identify indications of grooming or abuse and know how to report it.
Before allowing workers, coaches, or volunteers to deal with children, be sure they've been screened and have a background check completed. Comprehensive screening may lead some would-be offenders to reconsider their application, preventing them from gaining access to minors. Keeping children safe also entails informing them in an age-appropriate manner about potential hazards and how to avoid them.
Continue reading:
What is the Youth Organizations Background Check Policy?
In Youth Organizations, Advocates Hope to Educate Children About Sexual Abuse
The "recall settlements" is a lawsuit claim review that looks into the sexual abuse in youth organizations. The article explains how to qualify for the recall settlement.
Frequently Asked Questions
How long do you have to file a sexual abuse claim in the United States?
A: You have to file a sexual abuse claim within two years of the date that it happened.
Is sexual assault a cause of action?
A: Yes, sexual assault is a form of unlawful bodily contact.
What defines sexual assault?
A: Sexual assault is an act in which one person uses power over another to coerce or force sex on them. It can also be a form of sexual contact without consent, including non-penetrative acts such as kissing or touching that does not involve physical force. There are various degrees of sexual assault and there may be no visible signs that the victim has been assaulted at all.
Related Tags
lawsuit compensation
joining a class action lawsuit
how long does it take to get a class action settlement check
class action lawsuit against auto insurance companies
i received a class action settlement