Human trafficking is a global issue that affects millions of people across the world. In 2016, there were an estimated 27 million victims of modern slavery worldwide. The US Government has been making strides to combat human sex trafficking by placing blame on social media companies for enabling it and setting up programs like "The Global Alliance Against Trafficking in Women" which focuses on prevention, protection and empowerment of women who have experienced or are at risk for human sexual exploitation. But this past year was also marked with legal action against Facebook following the Cambridge Analytica data scandal where user information from 50 Million users was misused without consent
Human sex trafficking is a global issue. In order to join the fight, you must qualify. This lawsuit is one way that you can help make a difference. Read more in detail here: lawsuit compensation.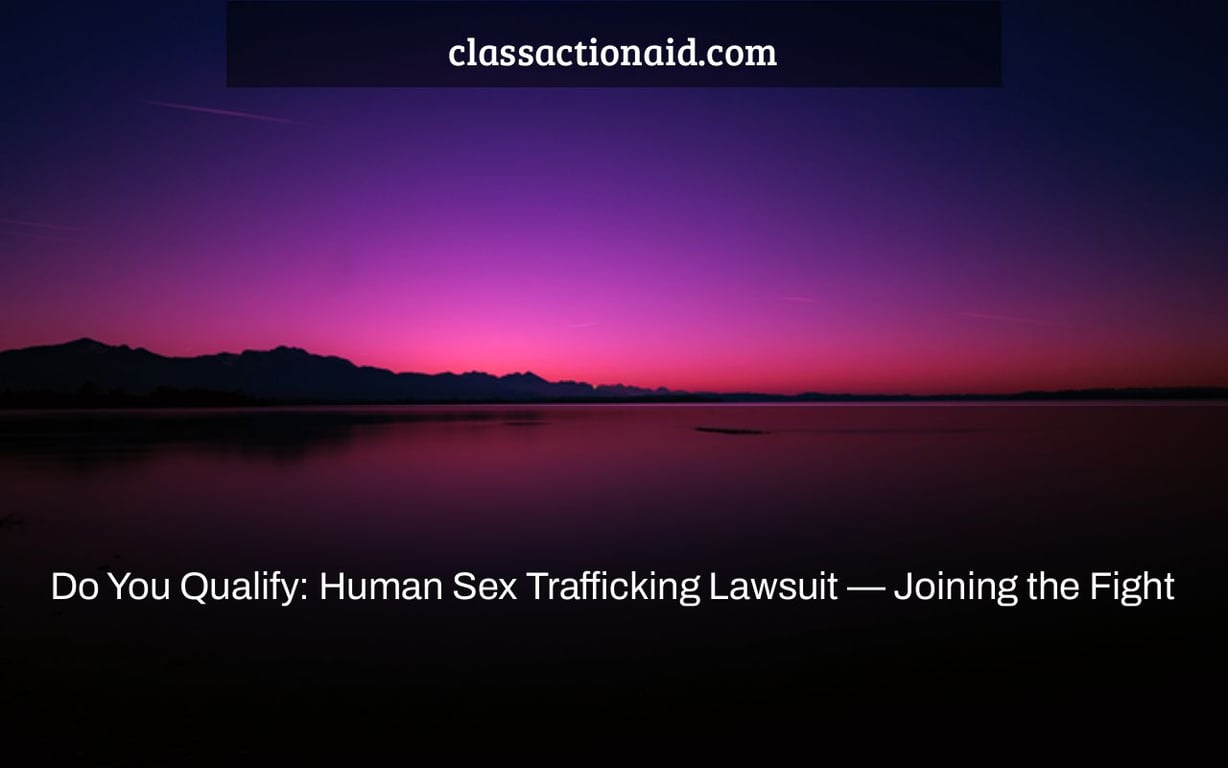 What Are the Human Trafficking Laws?
To combat the human trafficking problem, strict regulations have been enacted at both the state and federal levels.
The United States Code prohibits sex trafficking, slavery, and any other kind of forced labor, while Chapter 78 of the United States Code specifies precise processes and financing requirements for government organizations attempting to combat human trafficking.
The Preventing Sex Trafficking and Strengthening Families Act of 2014, which offers advice on how to safeguard at-risk children in the foster care system from sex trafficking, provides further legal protection.
Each state has its own laws on human trafficking, beginning with Washington in 2003, which was the first to outlaw the practice. California's criminal and civil laws against human trafficking went into effect in 2006.
A victim of a severe type of human trafficking has the ability to file a civil action for any "appropriate remedy" for damages arising from their trafficking under California Civil Code 52.5.
CA Civ Code 52.5 (a) A victim of human trafficking, as defined in Section 236.1 of the Penal Code, may sue for actual damages, compensatory damages, punitive damages, injunctive relief, any combination of those, or any other suitable remedy.
Penalties for human sex trafficking
The consequences for perpetrating such a terrible crime as human trafficking are quite harsh.
A conviction for enslavement or forced labor may result in penalties as well as a potential term of 20 years in jail. If there is a fatality, sexual violence, or any sort of assault involved, the maximum penalty will be life in prison.
Certain states have enacted legislation to safeguard companies that may be involved in human trafficking.
In South Carolina, for example, company owners who may have exploited their running firm to commit sex or human trafficking offenses face an extra punishment of up to ten years in prison.
Sex Trafficking Litigation on Craigslist
A number of websites, including Craigslist, have been sued in California, Washington, and Texas for their role in aiding sex trafficking activities.
After revealing her tale of being sex-trafficked and forced into prostitution at the age of 12, a Washington lady filed a lawsuit against Craigslist and three hotel companies in December 2019.
The woman's complaint alleges that Craigslist knew or should have known that its pornographic ads helped in attracting predators looking for vulnerable and young children on its website. The three hotel companies cited in the action are Motel 6, Wyndham, and Howard Johnson.
"A never-ending procession of purchasers would come at the motel sites and occupy a room that they either did not rent or did not rent for an overnight stay." According to The Seattle Times, "dozens to hundreds of… unconnected purchasers utilized defendant hotels and services to commercially sexually exploit, rape, sexually abuse, and physically attack the plaintiff one by one."
Facebook was also accused of aiding sex trafficking, with a Texas judge rejecting Facebook's request for protection from the three cases in April 2020.
Craigslist and Facebook are just a few examples of online platforms used to commit sex-trafficking crimes.
Sex trafficking and the facilitation of sex trafficking are now streamed live anywhere in the globe on online web platforms such as ModelHub (MindGeek) and OnlyFans (BBC current report), where sex trafficking and the facilitation of sex trafficking takes place among largely legal sex business. (Beginning in October, OnlyFans will prohibit sexually explicit content—the site's backbone—due to problems with credit card providers and investors wary of legal consequences if they're accused of aiding sex trafficking.)
Websites with suspected sex trafficking advertisements have been well-known for more than a decade, and although some have been taken down by federal law enforcement, others continue to flout the law, as outlined in FOSTA-SESTA, which lays out a clear route to bringing trafficking down.
These websites make human trafficking and victims of human trafficking easily accessible to traffickers and predators. Read about the continuing and well-documented issue in a 2013 piece by Fair Observer.
Columnist Nicholas Kristoff Exposes Pornhub Sex Trafficking Exploits
Nicholas Kristoff, a columnist for The New York Times, published a piece in December 2020 on how Pornhub enables children's films to be submitted to its heavily visited website.
"Rape films abound on its website." Child rapes, revenge pornography, spy cam recordings of women bathing, racist and sexist material, and footage of women asphyxiated in plastic bags are all monetized. A search for "girls under 18" (no space) or "14yo" yields over 100,000 movies in each instance. "The majority aren't of children being abused, but there are far too many," Kristoff wrote.
He recounts the tale of a 15-year-old Florida girl who went missing, and her mother later discovered pornographic recordings of her on Pornhub. He tells tales about other females in the same way.
Pornhub, like YouTube, lets users submit their own videos. While the majority of the material is geared toward adults, "several show child maltreatment and nonconsensual assault," according to Kristoff.
Pornhub, which is owned by MindGeek, also enables users to download films from the site, which means that even if a movie is taken down, it may still be spread around the internet, according to Kristoff.
Pornhub was sued by two former sex trafficking victims in February, claiming that it encourages the sexual abuse of children and victims of child sex trafficking.
One of the female claimants alleges that recordings of her being raped as a child were posted to a pornographic website and seen by others.
While Pornhub employs a tiny staff of moderators, the complaint claims that they are given an incentive not to examine too carefully.
"MindGeek's rules, or lack thereof," the complaint states, "incentivize its workers not to delete child pornography and other improper material." "A annual bonus system is in place, depending on the amount of authorized videos. This leads to people skipping to the conclusion of films (or not watching them at all) and accepting them, even if they show child sexual trafficking."
Pornhub has been sued before, but this isn't the first time. Pornhub has said that it is not responsible for any videos of sexual abuse that are posted to its platform.
In March, a similar class action complaint was filed against the pornographic website XVideos.
The "recall settlements" is a lawsuit that has been filed by the "Human Rights Project for Girls." The suit is against several companies and individuals who are accused of knowingly marketing sex with minors.
Frequently Asked Questions
Can you sue someone for trafficking you?
A: Yes, you can prosecute and sue someone for trafficking.
Who is protected by the Trafficking Victims Protection Act?
What qualifies a person as a victim of trafficking?
A: Victims of trafficking are people who have been forced or coerced against their will to work in a job that is not safe, does not pay them fairly and forces them into situations where they have no control over the situation.
Related Tags
joining a class action lawsuit
top class action lawsuit 2020
troxel law class action
ccc one lawsuit
class action lawsuit against auto insurance companies