The lawsuit against 3M claims that the earplugs they provided to members of the U.S military caused permanent hearing loss and tinnitus, a ringing in one's ears. In this article, I will discuss whether or not you qualify for a case based on your location, use of ear plugs with certain frequency ranges, and other factors.
3M has been sued for their earplugs. The lawsuit alleges that the company failed to warn customers about the potential for hearing loss and tinnitus. 3M is currently being investigated by a law firm, who will determine how much 3M should pay out per person.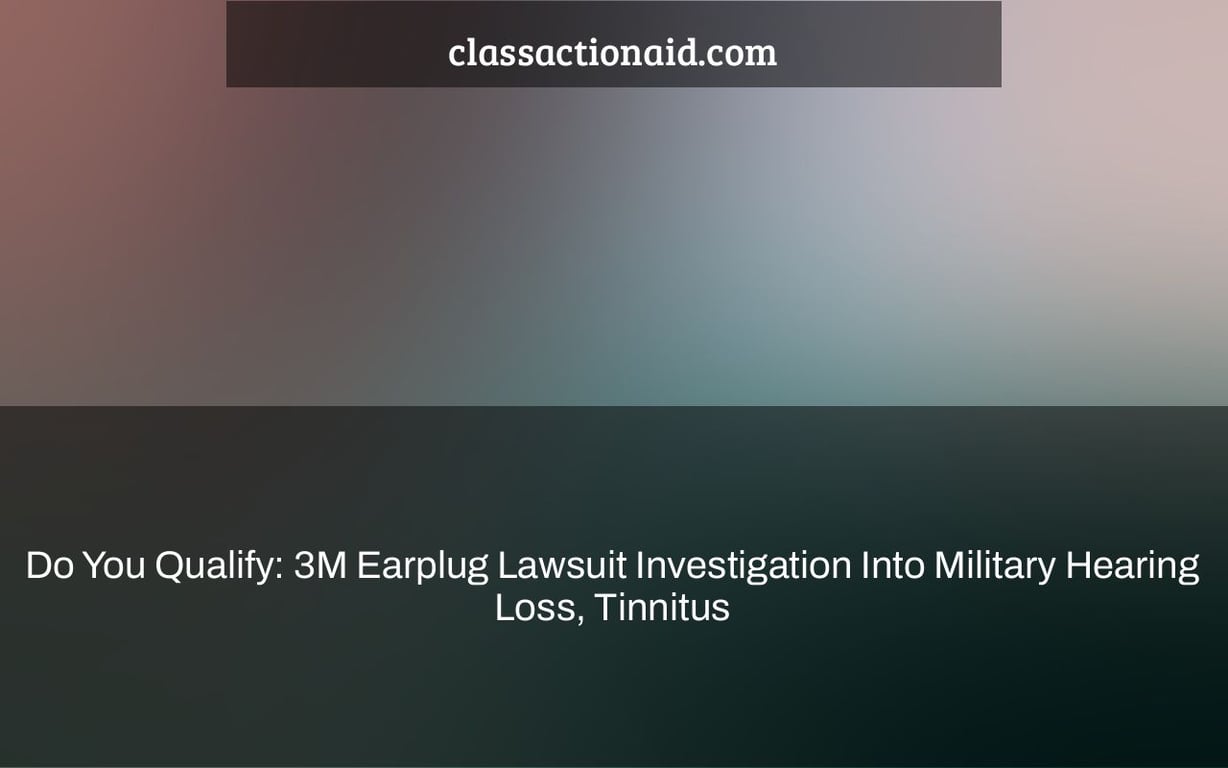 What is the Earplugs Settlement with 3M Combat Arms?
In July 2018, the Department of Justice announced a $9.1 million settlement to resolve charges that 3M violated the False Claims Act by selling or inducing the sale of faulty 3M ear plugs to the US military.
The Department of Justice claimed that 3M and its predecessor, Aearo Technologies, Inc, were aware that the Dual-Ended Combat Arms Earplugs Version 2 were too short to be properly inserted into users' ears, allowing them to loosen without the user's knowledge, preventing proper noise cancellation and providing effective hearing protection.
Combat Arms with Two Functions Aearo Technologies was the first company to produce earplugs in the 1990s. The manufacturer was aware of design problems in the device as early as 2000, according to the Department of Justice. Despite this, Aearo was granted an exclusive contract to provide the military with the earplugs in question; when 3M acquired Aearo in 2008, the contract was transferred to 3M.
When the deal was completed, the DoJ claimed that 3M failed to disclose this design flaw to the military.
Acting Assistant Attorney General Chad A. Readler of the Department of Justice's Civil Division stated, "The Department of Justice is dedicated to safeguarding the men and women serving in the United States military from faulty goods and fraudulent behavior." "Government contractors who attempt to profit at the cost of our armed forces will be held accountable."
More here: Which Combat Arms Earplugs Are Faulty?
What is Tinnitus and Military Hearing Loss?
Noise exposure during battle and training is the most common cause of tinnitus and hearing loss among military personnel. Military earplugs are designed to protect military personnel from loud noises such as gunfire, aircraft, tanks, roadside explosives, heavy equipment, and other sources.
It's more than simply an annoyance; it may have long-term consequences. Tinnitus patients may find it difficult to focus or sleep owing to ringing, hissing, or buzzing noises in their ears.
Hearing loss may make interacting with others and maintaining connections challenging, leading to social isolation and despair.
More than 2.7 million veterans get military disability payments for hearing loss or tinnitus, a ringing in the ears, according to the US Department of Veterans Affairs (VA).
However, the real figure may be greater. Only veterans who have been recorded by the VA are included in the above figure. Many more veterans with military hearing loss are likely to be undocumented by the VA.
According to statistics,
Veterans are 30% more likely than non-veterans to commit suicide.
to suffer from significant hearing loss (CDC).
Hearing loss is four times as common among veterans who served after September 11, 2001. (CDC).
More than 933,000 Veterans were getting disability pay for hearing loss as of the end of fiscal year 2014, with over 1.3 million receiving compensation for tinnitus (VA).
Have any lawsuits been filed against 3M over its earplugs?
Hundreds of 3M earplug lawsuits have previously been filed by veterans who allege that using 3M earplugs caused them to suffer hearing loss or tinnitus.
A multidistrict litigation was established in April 2019 to combine 635 military earplug claims filed in 30 federal courts throughout the nation. Other lawsuits have been brought against 3M in state courts.
3M has a losing streak in these cases as of 2021. A Florida jury decided in favor of a former servicemember in mid-June, awarding the plaintiff $1.7 million in compensation for hearing loss. 3M was found to be 62 percent at fault for the injuries, according to the jury decision.
The "3m earplug lawsuit update 2021" is a law firm that specializes in personal injury cases. The company has been doing an investigation into the 3M earplugs for military personnel. They are looking to see if there is a link between the use of these earplugs and hearing loss or tinnitus.
Frequently Asked Questions
What is the average payout for the 3M earplug lawsuit for tinnitus?
A: The average payout for the 3M earplug lawsuit is around $30,000.
How much will veterans get from the 3M lawsuit?
A: According to the press release, the 3M company has stated that they will be paying out a minimum of $2.5 billion in compensation and an additional $1 billion for research into how it can prevent such things from happening again.
Does the 3M lawsuit affect VA disability?
A: It does not affect VA disability, but it may influence your future employment.
Related Tags
3m earplug lawsuit payout reddit
is the 3m earplug lawsuit worth it
when will the 3m lawsuit be settled
3m earplug lawsuit payout to veterans
3m earplug lawsuit statute of limitations