Comcast's hidden fees, billed as "government-required" surcharges on your monthly bill, are illegal. These extra charges have been discovered and challenged in court by the regulators of California.
The "how to get rid of comcast broadcast tv fee" is a problem that many Comcast customers are facing. If the fees are found to be illegal, then it could cost Comcast a lot of money.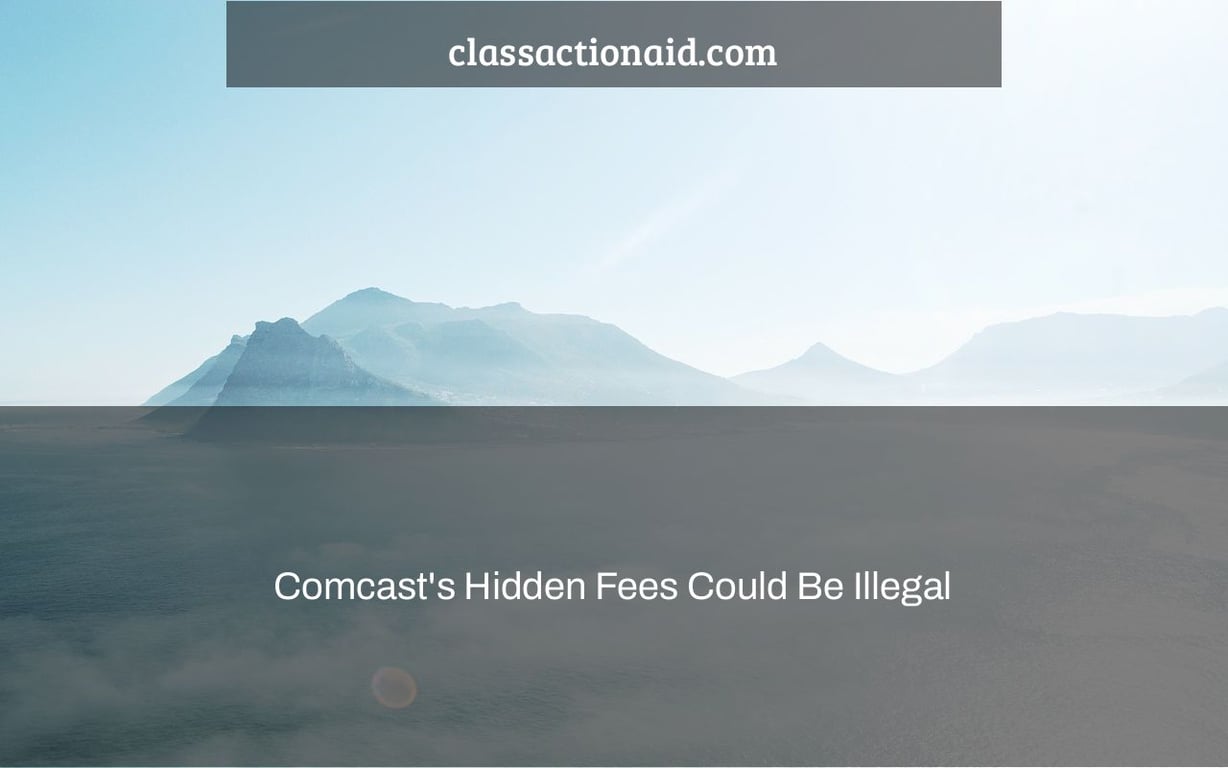 Comcast's famed hidden costs are said to be misleading advertising in a new class action complaint filed in the Northern District of California on October 15, 2016. The 76-page lawsuit also includes the following allegations:
Comcast misrepresented its cable TV service by advertising flat monthly costs when it planned to charge more than promised via a Broadcast TV Fee and/or a Regional Sports Fee.
Plaintiffs were not given appropriate notice and explanation of these costs by Comcast.
The way Comcast represented these surcharges on consumers' bills was misleading.
By imposing these fees, Comcast was in violation of its own contracts.
Before raising charge levels, Comcast neglected to provide plaintiffs appropriate notice.
Customers were mislead and lied to regarding the nature and purpose of Comcast's fees.
Comcast's implicit duty of good faith and fair dealing with consumers was broken.
Though Comcast requires all customers to agree to an arbitration provision (as part of their service agreements), the lawsuit claims that this clause is "unconscionable, illusory, and unenforceable," and that plaintiffs were not notified of the clause and/or did not consent to it.
Comcast would most certainly respond by citing not just the arbitration clause, but also the fact that its "hidden" costs are often stated in the small print of advertising and invoices.
(That tiny print explains why the cable sector, like airlines, is one of the most despised in America—though these aren't the only ones whose real costs much exceed their advertised ones.)
Comcast may have the law on its side, but neither public opinion nor the Federal Communications Commission are on its side (FCC).
Comcast is fined $2.3 million by the FCC for shady billing practices.
The FCC slapped Comcast with a $2.3 million punishment only days before the class action was filed for billing consumers for equipment and services they hadn't requested or approved. Customers had even rejected the service offers while conversing with Comcast employees in numerous circumstances.
Travis LeBlanc, the Enforcement Bureau head at the FCC, stated in a statement:
"A cable bill should only contain costs for services and equipment requested by the customer—nothing more, nothing less." We expect all cable and phone providers to be accountable for the accuracy of their invoices and to guarantee that any charges are allowed by their consumers."
Negative option billing, which involves charging clients for services or equipment they never requested, is common in the cable sector, among others. Despite admitting that its invoices should have been clearer and customer service may have been better, Comcast denied any wrongdoing or even "problematic policy."
The FCC only discovered "isolated mistakes or consumer misunderstanding," the business claimed in a statement.
Comcast is being sued for $100 million by the Washington Attorney General.
If the foregoing billing and customer service practices are merely isolated mistakes, they seem a lot like the ones listed by Washington State Attorney General Bob Ferguson.
Mr. Ferguson filed a $100 million lawsuit against Comcast in August 2016, saying that the firm had broken the state's Consumer Protection Act (CPA). The following are some of the allegations made in the complaint:
Comcast defrauded 500,000 customers out of $73 million in membership payments for an ostensibly comprehensive "protection plan" that does not cover the overwhelming majority of home wiring work.
Fees were imposed on Comcast customers for service visits due to faulty Comcast equipment and networking issues. (Despite Comcast's promise that "we won't charge you for a service that comes from a Comcast equipment or network fault,")
Comcast gave service personnel the authority to charge for tasks that should be done for free.
Thousands of consumers' credit scores were harmed as a result of Comcast's unlawful credit checks.
Customers with high credit ratings may avoid the deposit costs, according to Comcast's policy. Customers choose to pay the deposit fee at least 6,000 times, only to have Comcast check their credit regardless.
"This case is a textbook example of a large organization manipulating its consumers for profit."
"This case is a textbook example of a huge organization misleading its consumers for financial advantage," Mr. Ferguson said in a news statement announcing the complaint. I'm not going to let Comcast continue to choose profits before customers—or the law."
If you have been the victim of misleading billing practices or fraudulent advertising, please contact us to learn more about your options. For financial losses and other damages, you may be entitled to compensation.
The "how to remove sports programming surcharge" is a question that has been asked by many customers. Comcast's hidden fees could be illegal according to the FCC.
Frequently Asked Questions
Does Xfinity have hidden fees?
A: Xfinity has hidden fees.
How do I stop broadcast TV fees?
A: Unfortunately, there is no way to stop broadcast TV fees. This is due to the fact that cable companies own their content and cannot be stopped from charging for it.
Do I have to pay Xfinity regional sports fee?
A: You are not required to pay a regional sports fee with Xfinity. However, if you do choose to purchase one of our packages that includes this feature, it is included in the cost of your package.
Related Tags
comcast regional sports fee lawsuit
how to get rid of xfinity regional sports fee
xfinity broadcast tv fee internet only
how to get rid of broadcast tv fee spectrum
what is the regional sports fee