Risperdal is a medication that has been used to treat schizophrenia, bipolar disorder and irritability in people with autism. It's also prescribed for patients suffering from Parkinson's disease. Learn more about how this drug works within your body and what its side effects are here!
Risperdal is a medication that is used to treat symptoms of schizophrenia and bipolar disorder. It can also be used to treat irritability in autistic children.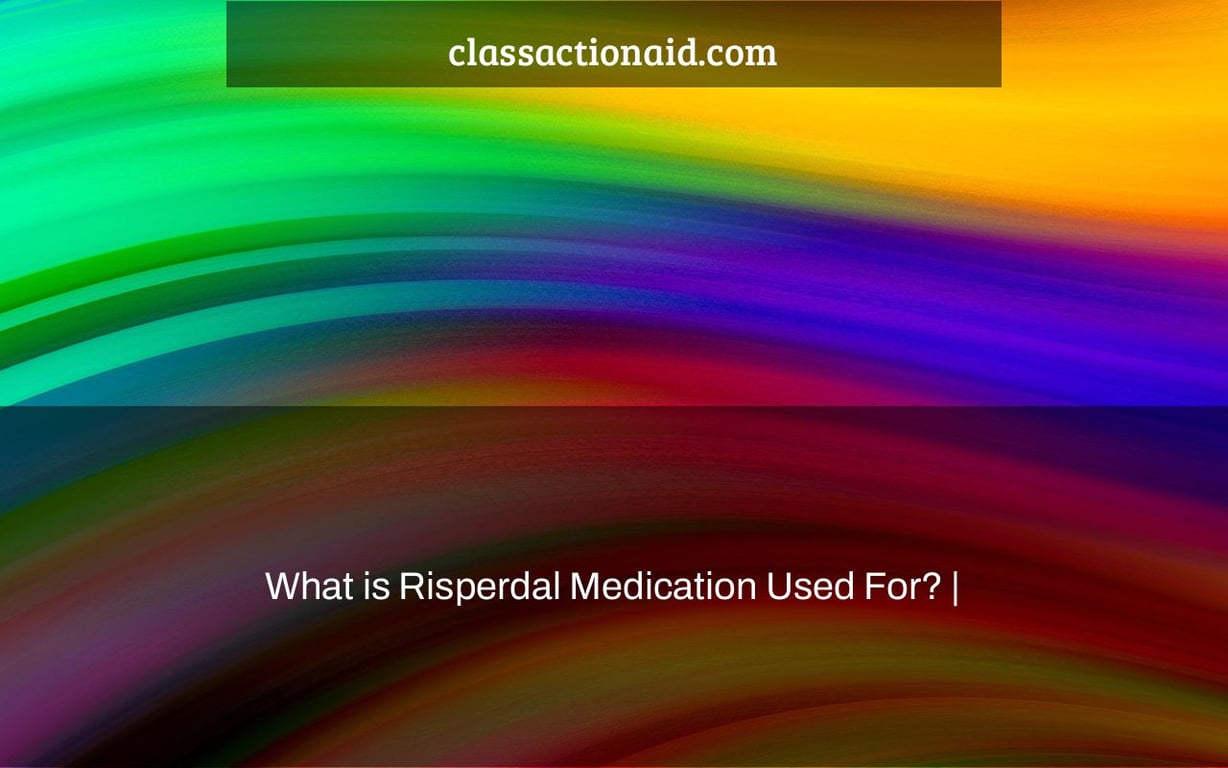 Risperdal (risperidone) is an antipsychotic medication that is used to treat schizophrenia, bipolar disorder, and autistic symptoms. It was approved for the treatment of schizophrenia by the US Food and Drug Administration (FDA) in 1994, under a Johnson & Johnson/Janssen Pharmaceuticals patent that would not expire until 2003. (at which point, generic versions of the drug hit the market).
Despite physicians' requests, lawsuits claim that Johnson & Johnson failed to sufficiently warn of Risperdal's gynecomastia dangers.
Unfortunately, Risperdal may lead to the development of feminine breast tissue in young males, a disease known as gynecomastia. Despite physicians' requests, Johnson & Johnson never enhanced Risperdal labelling to include a warning about the risk of gynecomastia. Worse, J&J is accused of knowing about the hazards but manipulating data and withholding important information from the FDA in order to (finally) get clearance to sell the medicine to youngsters.
Thousands of patients have filed lawsuits against J&J, saying that the firm was aware of the dangers of gynecomastia yet failed to notify customers.
A History of Deception at Johnson & Johnson
In 1994, the FDA authorized Risperdal for schizophrenics. Johnson & Johnson/Janssen owned the patent on the medicine from that time until December 2003, and there was no competition from generic versions (which debuted in 2004).
Despite this advantage, J&J aimed to broaden the drug's appeal in order to increase profits—despite evidence of negative effects in youngsters and the elderly. The corporation used a variety of misleading strategies throughout the following 12 years, as Steven Brill explains in great detail. The information below is just the tip of the iceberg.
Johnson & Johnson cofounded the Texas Medical Algorithm Project (TMAP) in 1995 with the goal of persuading physicians to administer Risperdal to off-label Medicaid patients such as children and the elderly.
At the same time, the business asked the FDA to authorize the medicine for older patients, but the agency declined. Janssen petitioned the FDA once again in 1996, this time for use by youngsters. They were once again refused by the FDA.
Risperdal sales had already surpassed $589 million in 1996, almost double those in 1994 ($172 million). The FDA declined Janssen's request to extend approval to the elderly in January 1999, citing the drugmaker's failure to "completely examine and explain what seemed to be an excess number of fatalities" among senior Risperdal users.
The FDA mandated the following year that Risperdal's label specify that it should only be used for schizophrenia and not for the considerably broader "psychotic disorders."
Meanwhile, Johnson & Johnson continued to push Risperdal for children by paying bribes to physicians, launching "return to school" marketing campaigns, and even giving out sweets and toys with the word "Risperdal" on them.
Johnson & Johnson discovered in 2000 that 5.5 percent of boys who took Risperdal for a long time acquired breasts. According to the Risperdal label, this happened to 0.1 percent of males. More over a fifth of Risperdal users were children and adolescents at this age.
Laura Ricciardi and Moira Demos of Making a Murderer said in 2016 that their next project will be an adaptation of Steven Brill's narrative about Johnson & Johnson, "America's Most Admired Lawbreaker."
A $2.2 billion fine has been levied on Johnson & Johnson.
The FDA frequently cautioned J&J about advertising Risperdal for use by teenagers from 1999 to 2005. The Justice Department claims that Janssen promoted Risperdal for use in children and people with mental illnesses during this time, despite the fact that the company knew Risperdal posed "certain health risks to children, including the risk of elevated prolactin, a hormone that can stimulate breast development." (Risperdal was ultimately authorized by the FDA in 2006 for use by children and adolescents, notably those with autism.)
Johnson & Johnson paid a $2.2 billion payment to resolve a Justice Department investigation into its promotion and marketing of Risperdal (together with associated state investigations, lawsuits, and inquiries) in 2012. It was one of the highest fines in American pharmaceutical history.
However, at that time, the medicine had brought in over $30 billion in revenue (20 domestic, 10 international). Given all of the bribes, illegal marketing methods, and data manipulation that Johnson & Johnson engaged in to the detriment of customers, two billion dollars was a slap on the wrist.
Hundreds, if not thousands, of boys are said to have developed breasts after using Risperdal, and many elderly individuals have had strokes and even died as a result of taking the drug.
Meanwhile, Alex Gorsky, the man in charge of Johnson & Johnson's Risperdal marketing operations at the time, received no repercussions for promoting the medicine to youngsters and the elderly. Mr. Gorsky, on the other hand, was appointed to CEO of Johnson & Johnson in April 2012. In 2014, he earned $25 million.
Risperdal has been linked to gynecomastia in studies.
Gynecomastia is caused by a hormonal imbalance, and it may result in the development of male breasts as well as considerable weight gain. Risperdal is thought to produce gynecomastia in young male users by increasing levels of prolactin, a hormone that encourages female breast growth and breastfeeding.
Risperidone users in children and adolescents were shown to have a five-fold increased risk of gynecomastia.
A 2006 research by a Duke psychiatrist discovered a substantial correlation between Risperdal and gynecomastia in children and adolescents, which drew attention to the Risperdal-gynecomastia link. When risperidone is given to teenagers for psychotic symptoms, the medicine raises prolactin levels and causes gynecomastia, according to the findings.
Another 2006 research on risperidone and gynecomastia came to the same result, stating that the drug should be used with care in young individuals.
A more recent research published in the Journal of Child and Adolescent Psychopharmacology concluded that risperidone usage and gynecomastia in young adult men are linked. Children and adolescents who used risperidone had a five-fold increased risk of gynecomastia as compared to non-users.
The research specifically mentions gynecomastia's "severe psychological burden."
Thousands of lawsuits have been filed as a result of traumatic side effects.
Many young men who have been injured by Risperdal have filed lawsuits against Johnson & Johnson, seeking compensation for their physical injuries, financial losses, and pain and suffering.
In November 2015, the Philadelphia Court of Common Pleas merged over 1,500 Risperdal gynecomastia cases as part of a mass tort. All of the claims claim that Risperdal induced gynecomastia in young males and that Janssen failed to warn users about the risk.
Some Risperdal gynecomastia sufferers may be eligible for large compensation, according to early settlements:
In April 2015, a jury awarded $2.5 million in damages to a young man who got size 44D breasts after taking Risperdal. Janssen failed to adequately warn about Risperdal's tendency to induce gynecomastia, according to the verdict.
In November 2015, a jury awarded $1.75 million to a man who acquired gynecomastia while using Risperdal for schizophrenia in 2003.
Andrew Yount of Tennessee was awarded $70 million in damages by a jury in July 2016. After using Risperdal as a child, Mr. Yount grew breasts.
According to a Bloomberg News report, Janssen has established a reserve to resolve its Risperdal cases, which currently number over 18,000 people.
Hundreds of lawsuits have been filed against Johnson & Johnson over their talc-based powders, which have been linked to an increased risk of ovarian cancer.
We Can Assist You
Consumers may use ClassAction.com to hold drug firms responsible for hazardous and faulty drugs. We've handled these issues for decades and have a proven track record of obtaining victims the recompense they deserve.
Our firm has assisted over 200,000 clients in obtaining $5 billion in settlements and awards. Importantly, we do not need a retainer and only charge a fee if your matter is satisfactorily resolved.
Please contact us if you have had any adverse effects after using a drug. Don't put it off; some instances are time-sensitive, and you might be eligible to compensation if you act quickly.
Watch This Video-
Risperdal is a medication that is used to treat schizophrenia and bipolar disorder. It has been on the market since 1995, and it is classified as an atypical antipsychotic. The side effects of risperidone can include weight gain, dry mouth, headache, dizziness, blurred vision and constipation. Reference: risperidone side effects long-term.
Frequently Asked Questions
What does risperidone do to the brain?
A: Risperidone is an antipsychotic medication that helps treat schizophrenia, bipolar disorder, and irritability in patients. It lowers levels of dopamine and serotonin which are two neurotransmitters responsible for positive emotions like happiness.
Is risperidone used to treat anxiety?
A: Risperidone is not a drug that has been approved as an effective treatment for anxiety by the FDA. However, it does have antidepressant effects and can be prescribed to treat certain forms of depression.
How does risperidone make you feel?
A: Risperidone can make you feel like your head is spinning, lightheaded and dizzy. Its not wise to drive or operate heavy machinery while using risperidone.
Related Tags
risperidone dosage for anxiety
risperidone side effects
risperidone dosage
risperidone drug class
why take risperidone at night