Uber has been in the news recently, largely due to its recent legal battles. However, Uber's biggest threat will likely come from other companies that can offer similar services at a lower price point and with better customer service. With so many ride-sharing competitors on the horizon, it is unclear how long Uber will be able to maintain dominance of this market.
Uber is a ride-sharing service that has been facing many threats. The three greatest threats are government regulation, competition, and driver shortages.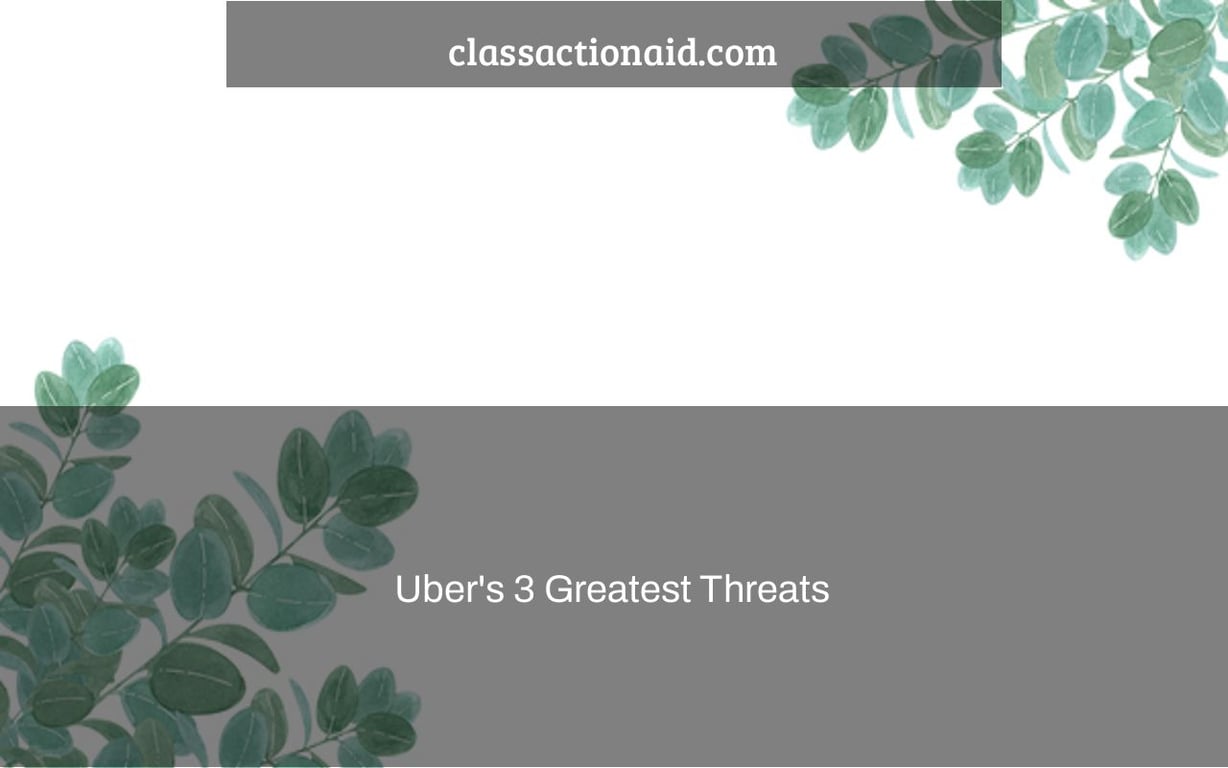 The year 2016 has been a rollercoaster for Uber.
The corporation lost $1.2 billion in the first half of the year. (Uber lost $2 billion in 2015.)
Uber pulled out of China in July, surrendering its business to despised competitor Didi Chuxing, after two years and two billion dollars in losses.
On August 18, a court dismissed Uber's $100 million settlement with California and Massachusetts drivers over their misclassification as independent contractors. The Wall Street Journal claimed two weeks later that Google will start its own ride-sharing business using the popular route-finding tool Waze.
Uber lost $1.2 billion in the first half of the year.
Finally, in October, the New York Department of Labor concluded that Uber drivers are workers, a decision that was subsequently backed by three London courts later that month.
Oof. That has to sting, even for the World's Most Valuable Startup.
To suggest Uber is in risk of failing is an exaggeration. (A $62 billion value provides some reassurance.) However, unlike a year or even six months ago, it is now possible to imagine a future in which Uber fails.
The three biggest risks to the widespread ride-sharing business are listed below.
1. Litigation
Fusion.net is the source of this image.
In 2015, Uber was hit with more federal lawsuits than Lyft, Instacart, Handy, and Airbnb combined. They also outperformed these other gig economy businesses in 2014, 2013, and 2012.
They've battled more legal challenges than Snapchat, Pinterest, WeWork, Dropbox, SpaceX, and Palantir, all of which are billion-dollar companies (whatever that is). And there's no sign of an end in sight.
In April 2016, a $100 million settlement was reached in two class action Uber cases in California and Massachusetts, which represented 385,000 drivers.
Hundreds of drivers objected to the contract, believing it to be unjust. Doug O'Connor, the principal plaintiff, sacked his lawyer. Mr. O'Connor said in a legal complaint to the court that the contract "is not in my interest or in the interest of any Uber driver."
Judge Edward Chen of the United States District Court concurred. He rejected the Uber settlement on August 18, 2016, stating it was not "fair, sufficient, or reasonable" for drivers. (Arbitration will now be used in certain circumstances.)
The sum provided to drivers was just 10 percent of what the Uber complaint claimed they were owed: $1 billion, according to Judge Chen.
Hundreds more Uber claims are still active in federal and state courts around the country. Uber should fear not just monetary damages, but also the possibility of a court determining that Uber misclassifies its workers as contractors.
According to some estimates, Uber would owe $730 million in reimbursements to its drivers if they had employee rights.
2. Fines & Fees
Judge Chen underlined in his conclusion that under the terms of the settlement, Uber would pay just $1 million in state fines, which might amount more than $1 billion otherwise.
A state regulator in Pennsylvania restored a $11.4 million punishment against Uber for precisely these types of violations two weeks later. This punishment came six months after the California Public Utilities Commission (CPUC) slapped Uber with a $7.6 million fine for flouting state rules.
Uber operated unlawfully in Pennsylvania from February to August 2014, according to the Pennsylvania Public Utility Commission (PUC), offering over 123,000 trips without state authorisation. Uber also allegedly impeded the state's probe into its operations, according to the PUC.
Uber should be held accountable.
The punishment was initially levied at $49.9 million by two courts, but the PUC lowered it to $11.4 million against state officials' preferences.
Uber has pledged to fight the charge, calling it "absurd." However, precedents are typically set by rulings like the PUC's and CPUC's. What's to stop the other 48 states from enacting penalties that are equal (or even higher)?
Furthermore, as Uber is well aware, worldwide growth is costly. In Australia, Belgium, Brazil, Denmark, France, and a slew of other nations, the firm has run against opposition. Adapting to each country's unique legislation, battling taxi unions, and waging protracted court battles all cost a lot of money.
Uber tried for two years in China to make it work. They threw down the towel after $2 billion in losses.
3. Waze/Google
Google established a private carpooling service in the Bay Area in May. Google is now broadening that soft opening via the Waze app, allowing anybody in San Francisco or Oakland who has the Waze app to request a ride.
The service costs a maximum of 54 cents each mile, which is far less than Uber or Lyft. Waze, which is presently just a carpooling service, is expected to expand its capabilities to include on-demand trips like those popularized by Uber and Lyft.
Waze, like Uber, may not need drivers to operate.
The Google Self-Driving Car Project (created by Google X) has been under development for a decade, with the goal of putting autonomous automobiles into the wild in 2020.
It's easy to imagine a scenario in which Google/Waze spends the next four years creating a nationwide ridesharing infrastructure and client base, and then replaces at least part of its drivers with self-driving vehicles, which would save the company a lot of money.
Meanwhile, Google can learn from Uber's mistakes by classifying its (human) drivers as employees or providing them with similar reimbursements, tips, and other employee benefits that Uber has failed to provide. Waze's road should be considerably simpler and smoother since Uber has previously gone through so much problematic legal ground (and continues to do so).
Uber is the most valuable startup in the world, but Alphabet Inc., Google's parent firm, is The Most Valuable Company in the World, with a market value of $546.50 billion, over nine times that of Uber.
Uber is a behemoth, but Google is a colossus. It has multiple advantages over Uber (money, branding, expertise), and it has the potential to bring the company down—or, more likely, to its knees—in the long term.
Uber's 3 Greatest Threats are the competition, the government and customers. The competition is Uber's biggest threat because they are trying to make it difficult for Uber to succeed. The government is a threat because they want to regulate Uber and force them to do things that would hurt their business. Customers are a threat because they will stop using Uber if it becomes too expensive or inconvenient. Reference: uber news.
Frequently Asked Questions
What is the biggest threat to Uber?
A: The biggest threat to Uber is competition from other ride-sharing companies, like Lyft and Google Maps.
What threats does Uber face?
A: Uber has the potential to face many threats in their market. One of those is a decreasing cost for car ownership which would hurt profit and increase competition from other modes of transportation such as Lyft or Taxi services.
What are the disadvantages of Uber?
A: Uber is a transportation company, which has some disadvantages. One of the main drawbacks to using this form of transport can be that there are not always enough cars available on demand. So you might have to wait for your ride or pay more for an additional pickup charge in order to get where you need to go.
Related Tags
uber risk management
uber ethical issues 2020
uber problems 2021
uber problems and solutions
uber risks