With online shopping becoming a bigger and more convenient part of American life, the need for consumer protection has never been greater. This article is your resource for the 10 best tools available to help you avoid getting ripped off or give yourself legal recourse if someone does take advantage of you.
The "best online privacy protection services" are tools that can be used to protect your personal data. These tools include Google's Search, Chrome, and Gmail.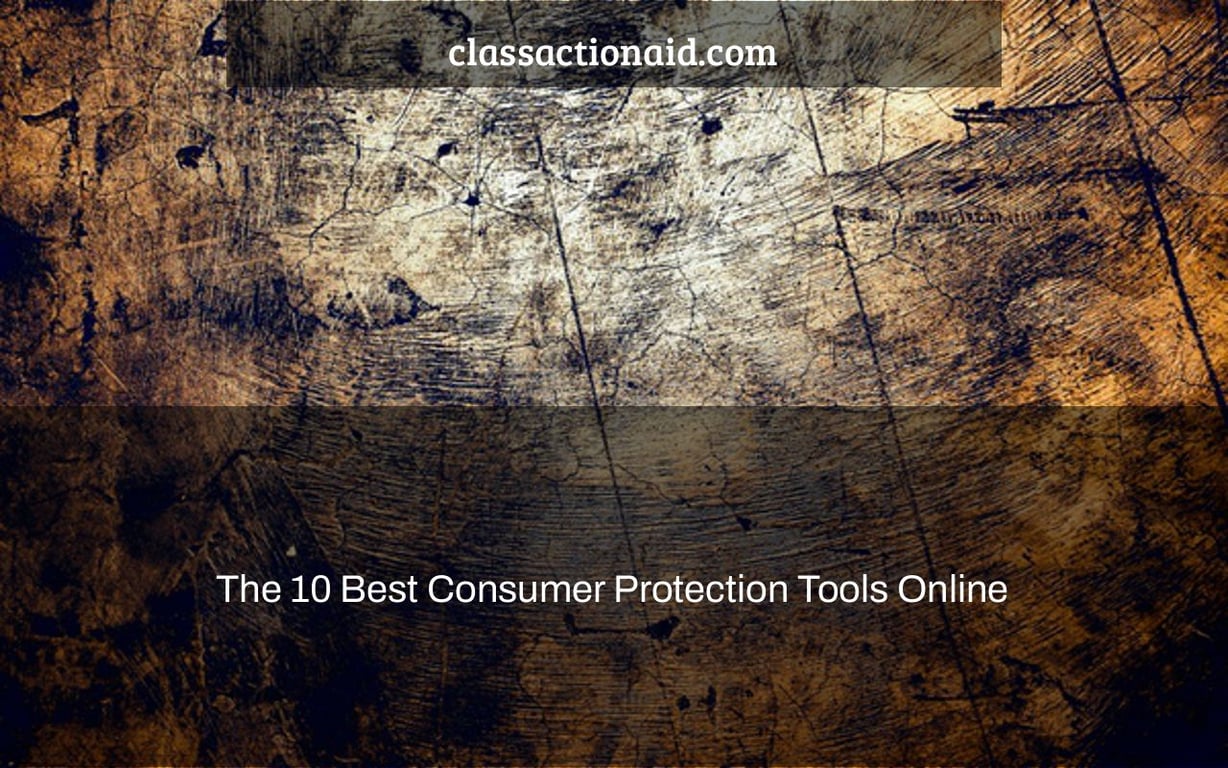 It's National Consumer Protection Week, which is the ideal opportunity to get acquainted with all of the fantastic tools available on the Internet for informed consumers, like Public Citizen, ConsumerAffairs.com, and, of course, ClassAction.com. Indeed, with so many essential tools available, it's easy for one or more to be lost in the mix.
That's why we've gathered the best 10 online consumer protection tools in one location. We've got you covered whether you need to know if your automobile or medical item has been recalled, what your doctor or Congressperson has been up to, or if your personal information has been stolen.
1. The National Highway Traffic Safety Administration's (NHTSA) Auto Recall Lookup
According to a recent Carfax analysis, there are 63 million recalled automobiles on American roads that have not been repaired. This is a 34% increase over the previous year. Unfortunately, far too many drivers are unaware that they are driving a severely flawed vehicle.
On American highways, there are 63 million recalled automobiles that have not been repaired.
Use the National Highway Traffic Safety Administration's (NHTSA) recall search by VIN to see whether your car is one of the 63 million that have been recalled (Vehicle Identification Number). Simply input your VIN and it will tell you whether your vehicle has been subject to a safety recall in the last 15 years.
"How to Buy a Used Car in an Age of Widespread Recalls," according to the New York Times, contains numerous suggestions. The brief version is as follows: Examine a variety of sources and ask several questions.
If everything else fails, get a lawyer.
2. Surgeon Ratings from Consumers' Checkbooks
Consumers' Checkbook's Surgeon Ratings is a brand-new service that lets customers browse a database of over 50,000 surgeons around the nation to see how frequently their surgeries result in fatalities, complications, or hospital readmissions.
Checkbook.org has collated and reviewed over five million procedures, and it does not take advertising money from the hospitals and physicians it examines, ensuring its independence. Also, consider how striking the differences between surgeons might be (emphasis added):
…for some types of surgeries, Checkbook has found that risk-adjusted death rates for patients of some surgeons are more than three times higher than for patients of other surgeons—even after our analysts made risk-adjustments to account for differences in the patients' age, health, and other characteristics.
These are alarming figures, but it's also promising that customers now have access to this information.
Do your research before selecting a surgeon—it might save your life.
3. Dollars for Doctors by ProPublica
Doctors who accept money from Big Pharma prescribe brand name medications at greater rates than doctors who do not accept drug company payments, according to a 2016 investigation by ProPublica.
Thankfully, ProPublica's Dollars for Docs investigation is accompanied with a search option on its website, allowing users to quickly uncover how much money their physicians have taken from drug firms. Patients will be able to see how objective (or not) their physicians' prescriptions are in this manner.
According to a new research by Drexel University, 65 percent of Americans see physicians who have received money from Big Pharma, although the majority of them are unaware of it. When it comes to opioids, which accounted for 73 percent of all overdose fatalities in America in 2016, Big Pharma money has been extremely prevalent and lethal.
Find out who pays your doctor and how much they are paid, and ask whether you may take generic medications instead of name brand ones (or, better yet, no drugs at all).
4. The Consumer Financial Protection Bureau's Know Before You Owe program
According to a recent study conducted by CreditCards.com, 81% of Americans do not know enough about the Consumer Financial Protection Bureau (CFPB) to develop an opinion on it. That's a pity, since the Consumer Financial Protection Bureau was established in the aftermath of the 2008 housing crisis to safeguard consumers against predatory lending and other unscrupulous financial activities.
A Sample Loan Estimate, a Sample Closing Disclosure, and a downloadable Home Loan Toolkit are included in Know Before You Owe.
The CFPB protects us in a variety of ways, including via its Know Before You Owe mortgage tool, which is "intended to help customers understand their loan alternatives, search for the best mortgage for them, and prevent expensive surprises at the closing table." It comes with a Sample Loan Estimate, a Sample Closing Disclosure, and a Home Loan Toolkit that may be downloaded.
Spread the word; it seems that the CFPB may benefit from the media.
5. How to Contact Your Elected Officials on USA.gov
This Congress has already introduced a spate of new laws that might jeopardize long-standing consumer protections (#RightsAtRisk). The Fairness in Class Action Litigation Act of 2017 (H.R. 985), for example, would make it considerably more difficult to file a class action lawsuit, stripping ordinary people of their opportunity to hold irresponsible firms accountable.
Another measure, H.R. 906 (also known as the FACT Act), would delay or reject asbestos-related mesothelioma claims. Civil rights, consumer rights, and veterans organizations, among others, are vehemently opposed to these measures.
So, what are your options? From Congresspersons to mayors to the President himself, use this USA.gov portal to locate and contact your political authorities. Tell them to vote "No" on bills weakening consumer rights and "Yes" on bills strengthening them.
Congresspeople want to preserve their jobs, therefore constituents' phone calls and letters are important.
(For page 2, see below.)
6. GovTrack by Civic Impulse
As said in #5, certain members of Congress are willing to take away Americans' liberties. GovTrack, a tool that "helps everyone learn about and follow the operations of the United States Congress," allows you to keep up with these representatives' actions and proposed legislation.
Find out who your representatives are and what legislation affects you, then sign up for alerts to be notified when a vote or other action is taken. On legislation, GovTrack—which is not a government website—includes a Call Congress button and a PredictGov tool that predicts the chance of a law passing. (It only gives H.R. 985 a 5% chance of passing.)
Keep an eye on your representatives in Congress and hold them responsible come election time. 
Have I Been Pwned? by Troy Hunt is number seven.
In the Digital Age, data breaches are becoming more common; it seems like millions of new accounts are hacked every week. As a consequence of the Yahoo mega-breach, which exposed the personal information of over one billion individuals, ClassAction.com attorney John Yanchunis will lead the biggest class action lawsuit in history.
Check Have I Been Pwned?, a website developed by cybersecurity expert Troy Hunt, to see whether your data has been compromised in one of these incidents. Simply enter your email address to find out whether (and, more importantly, when) you were hacked. (Note: The New York Times' website offers a comparable interactive tool that is updated on a regular basis.)
There's never been a better time to update your passwords than now.
The Big 7 Chart of the Campaign for Safe Cosmetics
The restrictions in the United States regarding specific substances are less rigorous than those in other nations. Many of these chemicals abound in cosmetic products by the "Big 7": Avon, Estee Lauder, Johnson & Johnson, L'Oreal, P&G, Revlon, and Unilever.
The restrictions in the United States regarding specific substances are less rigorous than those in other nations.
The goal of the Campaign for Safe Cosmetics is to keep these firms responsible. Its Big 7 graphic illustrates which corporations have strong policies, no policies, or transitional policies for over 20 potentially harmful substances, including BHA, formaldehyde, and lead. The graph also shows how much money each of these corporations generates from cosmetics, as well as which compounds are potentially carcinogenic.
You may need to take the concealer off at times.
The FDA's MedWatch program is number nine.
MedWatch, a service of the US Food and Drug Administration (FDA), is particularly valuable in three ways:
You may (and should) report an adverse event you had or witnessed in reaction to a medicine, medical device, cosmetics product, or food/beverage using the red Report a Problem button.
You may check for safety warnings, medication labeling revisions, and other safety information using the blue Safety Information button, as well as contact the FDA with questions concerning adverse event reporting.
You may subscribe to MedWatch newsletters (and/or follow them on social media) by clicking the green Remain Informed button to stay up to date on medications, equipment, and goods that have a high number of adverse event reports. 
180 million units of 650 medical devices were recalled in the second half of 2016. It's the second-highest number of recalls in a six-month period since 2000, and it's up 44 percent from the first half of 2016.
You and your family will be safer if you are better aware about these widespread recalls.
Did That Telemarketer Cross the Line? by ClassAction.com is number ten.
Okay, we're a bit biased, but we believe our flowchart is the most impartial approach to figure out whether you have a TCPA (Telephone Consumer Protection Act) case against an annoying telemarketer. If that's the case, you might be entitled for compensation ranging from $500 to $1,500 each illegal call or text.
You may also join the Federal Trade Commission's (FTC) National Do Not Call Registry, although this is unlikely to halt (or even lessen) the onslaught of calls.
Keep an eye on ClassAction.com for the most up-to-date consumer tools, news, and information, and don't hesitate to contact us if you believe you may have a case.
The "best privacy tools" is a list that features the 10 best consumer protection tools online. These are some of the most popular and effective ways to keep your personal information safe from hackers and data thieves.
Frequently Asked Questions
What are the tools used in consumer protection?
A: Consumer protection is the process of protecting consumers and deterring unfair, deceptive or fraudulent business practices. It includes laws that govern advertising and product safety as well as rules for fair trade.
What is the best way to protect consumers?
A: The best way to protect consumers is for them to become educated about the products they are purchasing.
What laws protect online shoppers?
A: The General Consumer Protection Act (GCPA) of 1987, the Quebec Consumer Code and the Canadian Competition Act.
Related Tags
consumer protection laws online shopping
consumer rights online shopping usa
best privacy apps for android
digital security and privacy examples
how to protect your data and identity online