Takata is one of the most widely known brands in automotive and aviation industries. Now, they are facing legal problems as their airbags have been linked to injury and death due to the rupture of airbag inflators. In 2016 alone, there were more than 10 million Takata recalls across all three categories: vehicle seats; automobile parts; motorcycles
The "takata airbag settlement checks 2020" is a lawsuit filed by the victims of the Takata Airbags. The lawsuit was filed in 2016, and it has been ongoing for 2 years now. There have been no major updates on the case since then.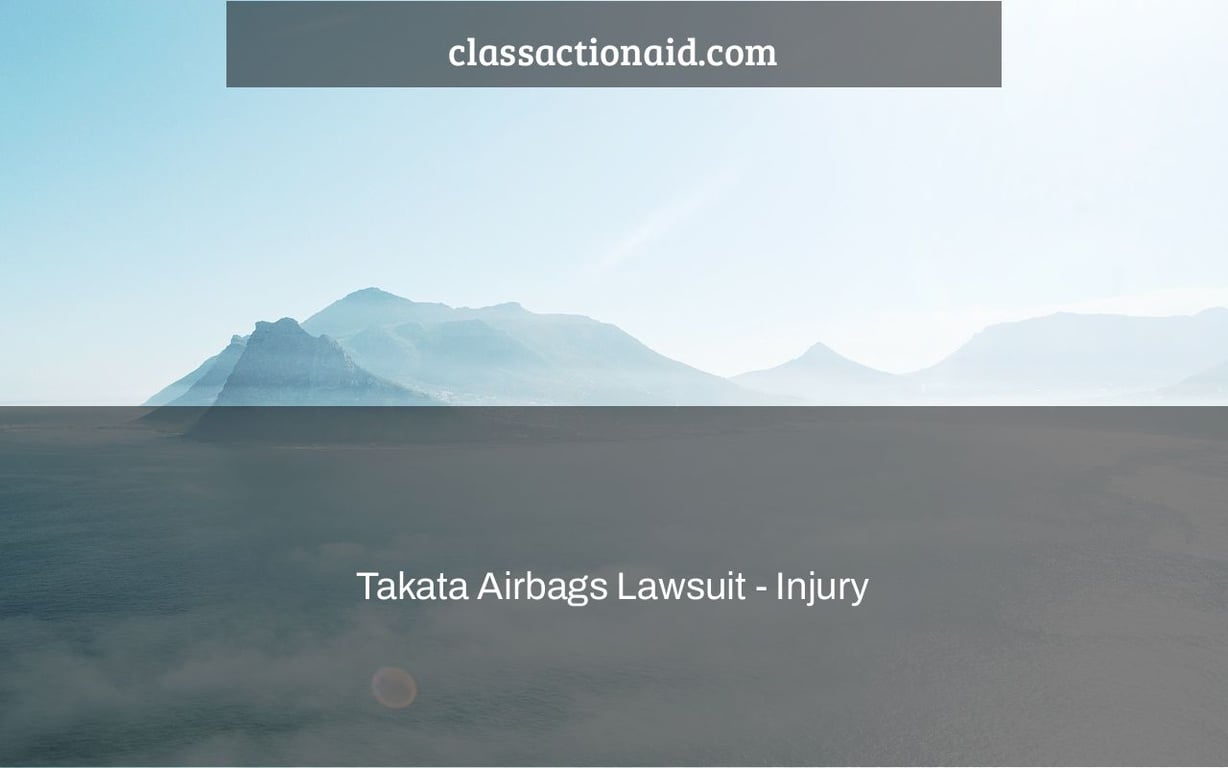 (As of June 20, 2018)
Takata airbags contain ammonium nitrate, a volatile chemical that may cause the airbag to deploy violently, causing injuries to occupants. The airbags may even detonate, splattering metal fragments across the vehicle's interior. Takata and manufacturers like Honda have been sued by drivers and passengers who have been injured by faulty Takata airbags.
Takata airbags have the potential to detonate, blasting metal shards into the vehicle's interior.
Takata, a Japanese vehicle safety components company, is one of the world's leading producers of airbags. While airbags are supposed to keep people safe, Takata's have been blamed for at least 23 deaths (15 in the United States) and more than 290 injuries all around the globe.
Takata airbags, which are ticking time bombs capable of blasting metal shrapnel into the cabin when deployed, are found in tens of millions of automobiles sold in the United States. Use the NHTSA's VIN look-up tool to see whether your car has these potentially harmful airbags.
Takata has known for a long time that its airbags are defective.
Takata has been aware that its airbag inflators might burst and spew metal debris since at least 2004. Regrettably, the corporation did not publicly admit the safety danger and issue a national recall until 2015. Takata was fined $200 million by the US Department of Transportation in 2015 for delaying and rejecting the provision of information that may have avoided driver injury.
Takata pleaded guilty to criminal misbehavior in January 2017 and agreed to a $1 billion settlement with the US Department of Justice. While $850 million will be used to compensate manufacturers affected by faulty Takata airbags, and $25 million will be used as a fine, $125 million will be used to compensate victims.
Takata declared bankruptcy in June 2017. The firm was eventually sold to Chinese-owned Key Safety Systems for $1.6 billion.
Personal injury lawsuits against Takata continue to be filed by victims of blowing Takata airbags. Contact us immediately for a free legal consultation if you or a loved one has been injured by a malfunctioning airbag. It's possible that you're due money.
What Causes Takata Airbags to Defect and Explode?
Injuries and even fatalities from airbags do occur. The safety mechanisms are activated by an explosive blast that may shatter noses, break bones, and cause spinal damage in rare cases. Short-statured adults, youngsters, and the elderly, on the other hand, are at a higher risk of damage. In most cases, the number of lives saved and injuries avoided by using an airbag substantially surpasses the danger.
Takata is the sole manufacturer of airbags that employs the highly flammable chemical ammonium nitrate.
Takata airbags, on the other hand, are a different matter. A design flaw in the airbag inflator, which is a metal cartridge carrying chemical propellant, might cause the inflator to deploy the airbag violently or even explode and spray metal shards. Takata airbags have killed 23 people and wounded at least 290 others throughout the globe thus far.
The lethal Takata airbag fault was characterized by a Democratic Senator as "in effect a live hand grenade in front of a driver and a passenger."
Takata's inflator propellant is the flammable chemical ammonium nitrate. It is the only airbag manufacturer that has done so. According to an independent testing facility, ammonium nitrate may deteriorate over time when exposed to heat and humidity, and that faults with the inflator assembly might enable moisture to sneak in.
The link between heat and humidity has long been hypothesized, based on the location of incidents involving exploding Takata airbags (primarily warm weather areas like Florida, South Carolina, and Alabama).
Takata workers expressed worries about high temperatures in 2006, nine years before a national recall was ordered, according to internal corporate emails. In an email discussion from the same year, one employee said to another, "Happy manipulating," in reference to falsifying data to disguise any safety issues.
Takata recognized problems with airbag test results as early as 2000, and when a 2004 airbag rupture raised warning flags, the corporation conducted covert testing. The test findings were pushed under the rug and not revealed to federal authorities, despite the fact that they validated the company's suspicions about defective inflators.
Takata agreed negotiated covert cash agreements with many persons harmed by burst airbags between 2004 and 2007 to further hide the flaw.
What Kinds of Injuries Can Takata Airbags Cause?
The injuries caused by blowing Takata airbags may be severe.
The motorist had been shot in the face, according to police reacting to a minor vehicle accident in California. Because of the cuts on her neck, authorities at another Georgia collision scene suspected the female motorist was a murder victim. The drivers in both situations perished. Their injuries were caused by a Takata airbag.
A woman's carotid artery was ripped open by shrapnel from a Takata airbag in another occurrence. She survived a near-fatal bleed and now alleges that the blood loss caused strokes, a seizure, and a speech problem. A piece of shrapnel fractured her nasal bone and embedded in her eye, blinding her during a small Florida vehicle accident. A fender-bender in Puerto Rico left a lady with a cut open jaw.
Airbag deployment is essentially a controlled explosion that employs technology similar to that used in military explosives. Takata airbag defects may cause excessive pressure, causing the airbag to deploy too quickly or possibly fragmenting the metal canister, resulting in injuries like these:
Face, neck, throat, chest, or arm cuts/lacerations
Burns
Bruises
Bones that have been broken or shattered
Teeth that have been broken
Blindness in one or both eyes
Injury to the larynx or voice cords
Experiencing complications as a result of blood loss
Disfigurement for life
Hearing loss or disability that is permanent
Brain damage may range from mild to severe.
Pregnancy-related harm
Damage to the nerves
Paralysis of the face, neck, and limbs
Death
What Cars Are Getting Airbag Recalls?
As part of the greatest car safety recall in American history, about 65-70 million vehicles with Takata airbags need to be repaired.
Takata reported on January 6, 2018, that an extra 3.3 million cars would need to be repaired due to recalled airbags. The current recall affects airbags in select 2009, 2010, and 2013 cars manufactured by Honda, Toyota, Audi, BMW, Fiat Chrysler, Ford, General Motors, Nissan, Subaru, and others.
The following automobiles are now affected:
Pilot Project 2003–2015
Land Rover is a British automobile manufacturer.
Lexus
Models and Makes Affected

Acura

Audi

BMW

2009–2014 TL
A3 (2006–2013)
3-series sedan, 2000–2011
3.2CL 2003
A4 cabriolet, 2006–2009
3-series wagon, 2000–2012
MDX from 2003 to 2006
Q5 (2009–2012)
3-series coupes and convertibles from 2002 to 2013.
RL 2005–2012
A5 cabriolet 2010–2011
M3 coupes and convertibles from 2001 to 2013
RDX from 2007 to 2016
2015 Q5
5-series (2002–2003)
3.2TL in 2002–2003
A4 Avant (2005–2008)
M5 (2002–2003)
ILX 2013–2016; ILX Hybrid 2013–2014
A4 Sedan (2005–2008)
2003–2013 X5
TSX from 2009 to 2014
A6 Avant (2003–2011)
X3 (2007–2010)
ZDX 2010–2013
A6 Sedan (2005–2011)
Coupe and convertible versions of the BMW 1-series from 2008 to 2013.

Buick

2017 R8
M3 sedan, 2008–2011
LaCrosse 2015
Cabriolet RS 4 2008
X6 (2008–2014); X6 Hybrid (2010–2011)

Cadillac

RS 4 Sedan (2007–2008)
X1 (2011–2015)
2015 XTS
S4 Avant (2005–2008)

Chevrolet

Escalade (2007–2014)

S4 Cabriolet (2007–2009)

Silverado HD (2007–2014)

Escalade ESV 2007–2014

S4 Sedan (2005–2008)

Camaro 2015

Escalade EXT 2007–2013

S5 Cabriolet (2010–2012)

Equinox 2015

Chrysler

S6 Sedan (2007–2011)
Malibu 2015
Chrysler 300 (2005–2015)
TT 2016–2017
Avalanche (2007–2013)
Crossfire 2007–2008

Daimler

Silverado LD (2007–2013)
Aspen, Colorado, 2007–2009
Dodge Sprinter (2007–2009)
Suburban 2007–2014

Dodge/Ram

Sprinter Freightliner 2007–2017
Tahoe (2007–2014)
Challenger (2008–2014)
Mercedes-Benz Sprinter (2010–2017)

Ferrari

Charger (2006–2015)
Sterling Bullet (2008–2009)
458 Italia 2010–2015
Dakota (2005–2011)

Fierce (Karma)

458 Speciale (2014–2015); 2015 Speciale A
Durango (2004–2009)
Fisker Karma 2012
458 Spider (2012–2015)
Magnum (2005–2008)

Ford

488 GTB in 2016–2017
Ram 1500/2500/3500 Pickup (2003–2008)
Ranger (2004–2011)
488 Spider (2016–2017)
Ram 2500 Pickup (2005–2009)
GT 2005–2006
California (2009–2014); California (2015–2017) T
Ram 3500 Cab Chassis (2007–2010)
Mustang (2005–2014)
tdf: 2013–2017 F12; 2016–2017 F12
Ram 3500 Pickup (2006–2009)
Edge (2007–2010)
2016 F60
Ram 4500/5500 Cab Chassis (2008–2010)
Fusion (2006–2012)
Ferrari FF 2012–2016

Honda

GMC

Ferrari GTC4Lusso 2017
Accord from 2001 to 2012
Sierra HD (2007–2014)

Infiniti

Civic (2001–2011), Civic (2001–2011), Civic (2001–2011), Civic (2001–2011), Civic (2001–2011
GMC Sierra LD 2007–2013
Infiniti I30/I35, 2001–2004
CR-V 2002–2011, 2016
Terrain in 2015
Infiniti QX4 2002–2003
Odyssey (2002–2004)
GMC Yukon 2007–2014
Infiniti FX35/FX45, 2003–2008
Civic Hybrid (2003–2011)
GMC Yukon XL 2007–2014
Infiniti M35/M45, 2006–2010
Element (2003–2011)

Jaguar

Jeep is a popular vehicle (Chrysler)

GL1800 Gold Wing Motorcycle (2006–2010)
XF (2009–2015)
2007–2016 Wrangler
Ridgeline (2006–2014)
Range Rover (2007–2012)
SC430 (2002–2010)
Fit 2007–2013; Fit EV 2013–2014

Lincoln was a president of the United States (Ford)

ES350 (2007–2012)
FCX Clarity (2010–2014)
MKX (2007–2010)
GX460 (2010–2017)
Insights from 2010 to 2014
Zephyr/MKZ, 2006–2012
IS250/350 (2006–2013)
CR-Z (2011–2015)

Mazda

IS250C/350C 2010–2015
Crosstour 2010–2015
Mazda 6 (2003–2011)
IS F 2008–2014

McLaren

Mazdaspeed 6 (2006–2007)
2012 LFA
570 in 2016–2017
RX-8 (2004–2011)

Mercedes-Benz

650S (2015–2016)
MPV 2004–2006
C-class (2005–2014) (excl. C55 AMG)
675LT 2016
B-series (2004–2009)
SLK-class of 2007–2008
MP4-12C MP4-12C MP4-12C MP4-12C MP4-12C MP
CX-7 (2007–2012)
Sprinter (2007–2014)
P1 (2011–2015)
CX-9 (2007–2015)
GL-class (2009–2012); R-class (2009–2012)

Mercury is a metal that is found in (Ford)

Mitsubishi

M-class (2009–2011)
Milan, 2006–2011
Lancer (2004–2007); Lancer Evolution (2004–2006)
E-class (2010–2011)

Nissan

Lancer Sportback 2004
GLK-class (2010–2015)
Maxima (2001–2003)
Raider (2006–2009)
SLS AMG 2011–2015
Pathfinder (2002–2004)
i-MiEV 2012–2017
E-Class Cabrio (2011–2017)
Sentra (2002–2006)

Pontiac

E-Class Coupe (2010–2017)
Versa (2007–2012)
Vibe (2003–2010)

Saturn

Saab

Scion is a brand of car manufactured by Sci (Toyota)

Astra (2008–2009)
9-3 from 2003 to 2011.
XB (2008–2015)

Subaru

9-2X (2005–2006)

Tesla

From 2003 until 2006, Baja
9–5 from 2006 to 2009
Model S (2012–2016)
Legacy (2003–2014)

Toyota

Volkswagen

Outback (2003–2014)
Sequoia (2002–2007)
Passat 2006–2010, 2012–2014
Impreza (including WRX/STI): 2004–2011
Corolla (2003–2013); Corolla Matrix (2003–2008).
CC 2009–2017
Forester (2009–2013)
Tundra (2003–2006)
Jetta SportWagen (2010–2014)
Tribeca Film Festival (2006–2014)
RAV4 (2004–2005)
Golf from 2010 to 2014
WRX/STI 2012–2014
4 Runner from 2010 to 2016
Golf R 2013
Matrix from 2009 to 2013
Eos, 2010–2014
Siena, 2011–2014
Tiguan 2015
Yaris (2006–2011) (Hatch Back)
GTI 2009–2013
Yaris (2007–2012) (Sedan)
If you drive one of the vehicles listed above, make an appointment to have your airbags replaced. You may be entitled to compensation as well (see below: "Lawsuit Eligibility").
Which Honda models are being recalled due to airbag issues?
On June 30, 2016, Transportation Secretary Anthony Foxx issued an advisory warning that "as high as a 50% possibility of a deadly airbag inflater rupture in an accident" for a handful of particularly at-risk vehicles. The following are the models:
Honda Civic (2001-2001)
Honda Accord (2001-2002)
Acura TL 2002-2003
Honda CR-V 2002
Honda Odyssey (2002 model)
Acura CL 2003
Honda Pilot (2003 model)
Did Takata Use Confidential Settlements to Hide Facts?
Companies that have anything to hide typically reach secret settlements with accident victims in order to keep negative information from coming to light.
"They wanted to get to the bottom of it right away. It nearly seemed as though they were intending to bribe us to stop talking."
This might be the situation with Takata, since some of the first claims were settled before the plaintiffs' attorneys could get proof. According to a Bloomberg analysis of a dozen Takata claims, five of them were resolved before any material could be released in court.
"They wanted to settle this soon," one plaintiff's counsel said of Takata. It nearly seemed as though they were intending to bribe us to stop talking."
Such private agreements, according to lawyers and other experts, keep facts out of the public realm and help to explain why there was so much disagreement about the specific nature of Takata airbag issues for so long.
What are the allegations in the Takata lawsuits?
Now that the origin of the faults has been identified, the evidence against Takata has reached a critical stage.
As more people see a link between their injuries and the airbags in their automobiles, they're filing lawsuits accusing Takata of the following:
Keeping the inflator fault in its airbags a secret.
Failure to inform the public about the full extent of the fault
Not adequately examining and revealing the issue, and even downplaying its prevalence
Producing airbag systems with a flaw that is unavoidable, irrational, and harmful
By irresponsibly developing, making, testing, and distributing excessively risky airbag systems, it has breached its obligation to customers.
Hide the fact that its airbags are faulty and harmful from car owners, safety regulators, and the general public.
Plaintiffs argue that they incurred injuries that may have been avoided as a consequence of Takata's carelessness. Plaintiffs claim that if they had known about the airbag malfunction, they would not have driven their car without having it repaired.
The state of Hawaii and the Virgin Islands (a US territory) have sued Takata and Honda for failing to notify citizens about catastrophically faulty Takata airbags, lending even more credence to these claims.
What Types of Damages Can a Plaintiff Recover?
Compensation for the following may be obtained via a Takata lawsuit:
Injury to the body and the ensuing pain and suffering
Physical impairment/disability
Disfigurement
Anguish in the mind
Loss of pleasure in life
Medical expenses
Wages lost/earning capacity harmed
Damage to vehicles and other things
Who Is Eligible to File a Lawsuit Against Takata?
If you have been injured by a Takata airbag, you may be qualified to file a Takata airbag lawsuit.
A Takata airbag is installed in your car.
The inflator canister fractured or the airbag deployed violently.
You got bruises, burns, cuts, or any of the other injuries described on this page's "What Kinds of Injuries Can Happen?" section.
It's important to note that the manner in which the event happened is irrelevant. You may be eligible to compensation if your airbag malfunctioned and you were critically injured as a consequence.
If you or a loved one died as a result of a Takata airbag issue, you may be able to bring a wrongful death claim.
Obtain more information at a no-cost consultation.
Only a lawyer can tell you whether you have a case against Takata. Our business has a long history of taking on the automobile sector and obtaining favorable results for our clients. We have the skills and resources to take on Takata and the automakers to whom it provides parts. If it means receiving the greatest outcomes, we will not hesitate to take your matter to trial.
Please contact us to learn more about your rights and alternatives. Don't put it off; you might be due money.
Watch This Video-
The "how much will i get from the takata airbag settlement" is a question that many people are asking. The answer to this question depends on how many injuries you have and how old you are. If you're under 18, then you'll receive $300, if you're between 18-40, then it's $500 and if you're over 40, then it's $1,000.
Frequently Asked Questions
Can I sue Takata airbag?
A: Yes, you can. However, it is a long and arduous process that could take years to see any compensation for the damages caused by Takata airbag defects.
Is the Takata airbag settlement real?
How many people have died due to faulty airbags?
A: There have been about 400 fatalities due to faulty airbags.
Related Tags
takata airbag deaths
takata airbag recall
airbag lawsuit settlements
takata airbag scandal
takata airbag injuries