The largest automotive recall in history – involving over 10 million vehicles sold by multiple manufacturers worldwide, including Honda and Toyota – has led to many lawsuits. Here's what you need to know about the story so far (including potential legal ramifications).
The "takata airbag recall list" is a comprehensive list of all the Takata airbags that have been recalled. The website also includes information about how to get your airbag replaced, what exploding shrapnel can do, and lawsuits.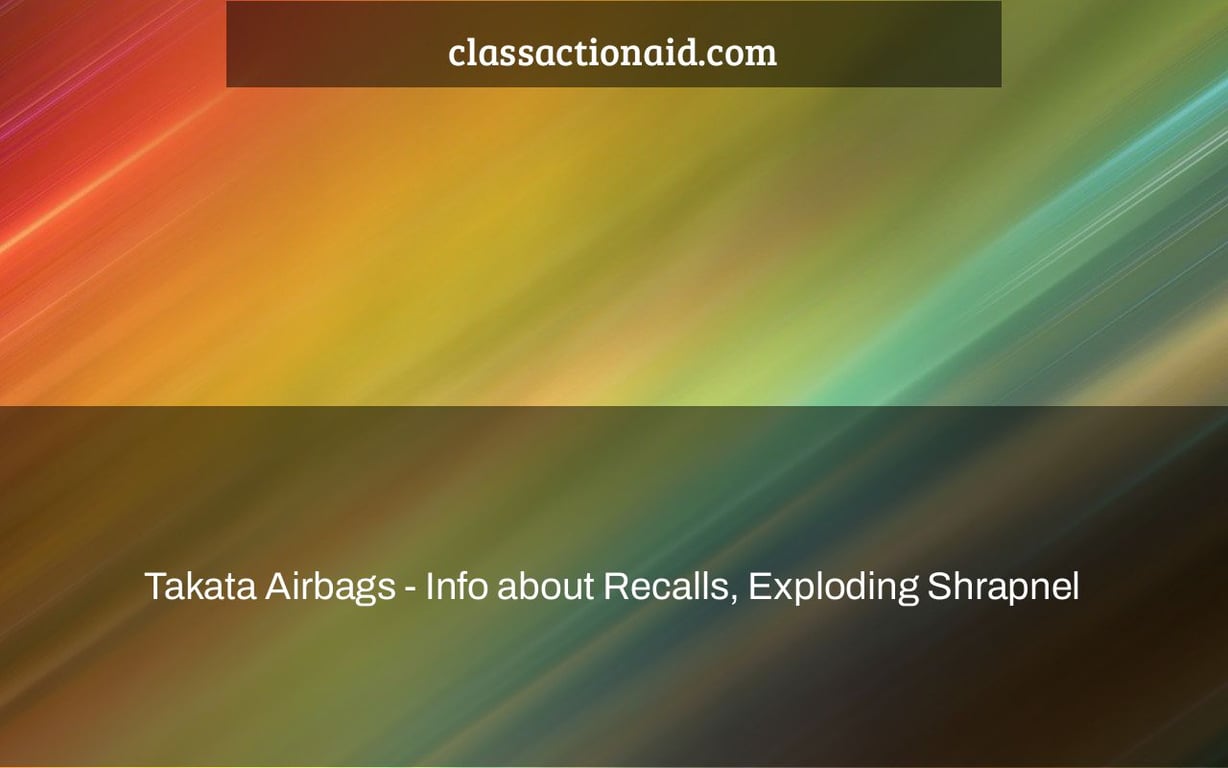 (As of June 20, 2018)
Defective inflators in Takata airbags may burst, ejecting metal shrapnel that can cause injuries to drivers and passengers.
Regardless of how these collisions occur, the manufacturer, not the driver, is responsible for the passengers' burns, bruising, and wounds.
Takata airbags have faulty inflators that may burst, spewing metal shards that can harm drivers and passengers.
Takata followed a pattern of deception when it came to the airbag issue, hiding the problem for over a decade, changing airbag test data before and after the recall, and estimating the scale of the recall using erroneous information.
At least 23 deaths (15 in the United States) and more than 290 injuries have been connected to defective Takata airbags throughout the globe, with millions of cars still on the road with potentially dangerous airbags. (To see whether your car is affected by the Takata recall, visit the NHTSA's VIN lookup tool.)
As part of the biggest and most complicated car safety recall in American history, about 65-70 million vehicles with Takata airbags need repairs. By 2019, 125 million cars worldwide are projected to be recalled due to the Takata airbag problem.
The National Highway Traffic Safety Administration (NHTSA) has taken unprecedented action against Takata, levying the highest civil penalty in the agency's history—$200 million—for breaking federal regulations intended to safeguard drivers.
Takata pleaded guilty to criminal misbehavior in January 2017 and agreed to a $1 billion settlement with the US Department of Justice. While $850 million will be used to compensate manufacturers affected by faulty Takata airbags, and $25 million will be used as a fine, $125 million will be used to compensate victims.
Takata declared bankruptcy in June 2017. Key Safety Systems, a Chinese company, agreed to buy it for $1.6 billion.
However, people and even states continue to bring lawsuits demanding compensation for injuries and fatalities caused by airbags. If you or someone you know was wounded or killed in a car accident as a result of a Takata airbag that exploded, you may be entitled to compensation. For a free, no-obligation legal consultation, contact ClassAction.com immediately.
Is the Recall Affecting a Large Number of Airbags?
Takata Corporation, situated in Tokyo, Japan, is a specialist provider of vehicle safety systems. Takata also manufactures seat belts, child restraint systems, steering wheel systems, electronics, and interior items such as headrests, armrests, and visors in addition to airbags.
The Takata airbag recall has so far affected 40 million vehicles.
Takata was founded in 1933 and started producing airbags in 1988, capitalizing on new U.S. standards and swiftly expanding via acquisitions. Takata controls over 20% of the worldwide airbag business and supplies several of the world's top automakers.
Takata is also the only airbag manufacturer that employs ammonium nitrate to inflate its airbags.
This chemical is blamed for the airbag issues that led a huge recall that started in April 2013 with 3.6 million cars from six manufacturers and has now grown to over 40 million vehicles, making it one of the biggest recalls in history.
Takata's airbag recall isn't the company's first run-in with safety issues. The NHTSA issued the second-largest recall in its history in the 1990s, when it ordered the recall of almost 8.5 million cars with Takata seat belts that failed to lock and release correctly.
Takata declared bankruptcy in June 2017. Key Safety Systems, a Chinese company, agreed to buy it for $1.6 billion.
The Takata Recall Affects Which Vehicles?
The Takata recall affects the following car brands:
Acura is a Japanese automobile manufacturer.

Audi is a German automobile manufacturer.

BMW is a German automobile manufacturer.

Buick is a manufacturer of automobiles.

Cadillac is a brand of luxury automobile.

Chevrolet is a manufacturer of automobiles.

Chrysler is a manufacturer of automobiles.

Daimler is a German automobile manufacturer.

Dodge / Ram / Dodge / Ram / Dodge / Ram / Dodge

Ferrari is a sports car manufacturer.

Fisker, Fisker, Fisker (Karma)

Ford is an American automobile manufacturer.

Honda is a Japanese automobile manufacturer.

GMC is an acronym for General Motors Corporation.

Infiniti, infiniti, infiniti, infiniti

Jaguar is a kind of Jaguar.

Jeep is a kind of vehicle (Chrysler)

Land Rover is a British automobile manufacturer.

Lexus is a Japanese automobile manufacturer.

Lincoln is a famous American politician (Ford)

Mazda is a Japanese automaker.

McLaren is a British sports car manufacturer.

Mercedes-Benz is a German automobile manufacturer.

Mercury is a planet that orbits the sun (Ford)

Mitsubishi is a Japanese company.

Nissan is a Japanese automobile manufacturer.

Pontiac is a brand of automobile manufactured by Pontiac.

Saab is a Swedish automobile manufacturer.

Saturn is a planet in the solar system.

Scion is a brand of car manufactured by Scion (Toyota)

Subaru is a Japanese automobile manufacturer.

Tesla is a company that produces electric vehicles.

Toyota is a Japanese automobile manufacturer.

Volkswagen is a German automobile manufacturer.
Visit safercar.gov for a complete list of impacted makes and models. You may also check whether your car is part of the Takata recall using the NHTSA's VIN look-up tool.
Why Are Older Honda Models Particularly Risky?
On June 30, 2016, Transportation Secretary Anthony Foxx issued an advisory warning that "as high as a 50% possibility of a deadly airbag inflater rupture in an accident" for a handful of particularly at-risk vehicles. The following are the models:
Honda Civic (2001-2001)
Honda Accord (2001-2002)
Acura TL 2002-2003
Honda CR-V 2002
Honda Odyssey (2002 model)
Acura CL 2003
Honda Pilot (2003 model)
Takata Airbags Are Being Recalled For What Reason?
The problem isn't with the airbags themselves, but with the mechanisms that inflate them.
Airbags are a critical component of automobile safety, with the Department of Transportation estimating that they have saved over 37,000 lives. Collision sensors, an ignitor, an inflator, and the airbag cushion are the four key components of airbag restraint systems, according to Takata. In the event of a collision, sensors transmit a signal to the ignitor, which then activates the inflator, causing the airbag cushion to deploy and inflate. The whole procedure takes milliseconds.
To inflate the airbag, Takata inflators employ the volatile chemical ammonium nitrate as a propellant.
To inflate the airbag, Takata inflators employ the volatile chemical ammonium nitrate as a propellant. In the event of a collision, the airbag might detonate, spraying metal shrapnel that can injure drivers and passengers.
Ammonium nitrate may be degraded by moisture, humidity, and other conditions, rendering it unstable. When this occurs, the propellant burns too quickly in the inflator cartridge, potentially resulting in an explosion that sends metal particles flying into the driver or passenger.
Three factors, working together, are to blame for exploding Takata airbags, according to an independent testing lab: ammonium nitrate propellant without a moisture-absorbing substance (Takata does not use this type of substance), long-term exposure to heat and moisture, and an inflator assembly that can allow moisture to seep in during very humid conditions.
Despite this, manufacturers continue to sell cars with Takata airbags that are defective. Recalls will be required for these automobiles.
What Should I Do If My Vehicle Has a Takata Airbag That Has Been Recalled?
Your airbags will need to be replaced if you own one of the impacted automobiles. If your car has been recalled, you should get a letter from the manufacturer with instructions on what to do next. Owners who want loaner automobiles for safety reasons may be able to get them, however it is not suggested that you deactivate your airbags.
Here is where you may sign up for e-mail updates on the Takata recall.
When did Takata realize its airbags were faulty?
When five automakers announced national recalls of Takata airbags in 2013, it became a significant news event. In 2014, a large extension of these recalls drew more media attention and raised worries, but gave little answers, as Takata altered its narrative and suppressed important facts.
Takata airbag ruptures have been the subject of recalls since 2008, and investigations have found that Takata was aware of the issues as early as 2004.
Takata falsified test data to conceal airbag problems, according to a 2016 Senate report, and company emails and documents reveal "a broken safety culture" that "at a minimum, did not prioritize the safety of its products—and perhaps operated with an utter disregard for safety," according to the report.
The timeline below shows how this pattern of deception developed over the course of more than a decade:
In Alabama, the first known Takata airbag rupture happens in 2004. Takata claims the occurrence is an aberration, but it covertly tests 50 airbags collected from scrapyards and discovers that two of the airbags' inflators had cracked, a condition that may lead to a rupture. Engineers begin working on remedies in anticipation of a recall. However, management chose not to notify federal authorities, and the test data and airbags were destroyed.
Four Takata airbag ruptures occur in Arizona, South Carolina, Puerto Rico, and California in 2007-2008, all involving Hondas equipped with Takata airbags produced in the fall of 2000. Honda issued a modest recall (3,940 cars) in November 2008 to fix the ruptures. The ruptures, according to Takata, are due to incorrect handling of airbag propellant at a single site.
In 2009, two additional Takata airbags in Honda automobiles explode, one of which kills an Oklahoma motorist. In June and again in July, Honda widens its recall. The National Highway Traffic Safety Administration is looking into whether the first Honda recall was handled appropriately. Takata now claims that the ruptures were caused by a manufacturing fault in a Washington factory, rather than improper propellant handling. Honda expanded its recall in December after another motorist was killed by an inflator explosion.
Honda recalls all Takata inflators manufactured at the Washington factory in 2010.
2011: Honda extends their recall for the sixth time, this time to include airbag components used as replacement parts during repairs that may have also been constructed incorrectly. A sixth recall expansion was made in December when an inflator ruptured on a vehicle not included in the recall group. More than 1 million Honda and Acura vehicles have been recalled at this time.
Honda began investigating the source of airbag inflator ruptures in 2012.
Honda alerts the National Highway Traffic Safety Administration (NHTSA) in 2013 about concerns about poorly made propellant being placed in automobiles. Takata claims that its quality control methods may have failed, and that propellant manufactured at a Mexico site may have been harmed by moisture before being installed. Takata notifies the National Highway Traffic Safety Administration (NHTSA) of the possible flaws and initiates a recall. BMW, Honda, Mazda, Nissan, and Toyota have all issued recalls.
BMW, Honda, Mazda, Nissan, and Toyota all increased their recalls in 2014. The National Highway Traffic Safety Administration (NHTSA) will meet with Takata and car makers in June to examine the airbag issue. The gathering will concentrate on the apparent relationship between inflator ruptures and excessive heat and humidity. The National Highway Traffic Safety Administration (NHTSA) has launched an official inquiry into the matter. The National Highway Traffic Safety Administration (NHTSA) has urged Takata to initiate a countrywide recall, but Takata has refused.
The National Highway Traffic Safety Administration (NHTSA) increases its Takata probe in 2015. Takata has finally issued a worldwide recall, admitting that almost 34 million airbag deflators are faulty and pose a safety hazard. According to Reuters, at least 400,000 inflators that have been changed need to be recalled and replaced again. Vehicle recalls are becoming more widespread. Takata faces a record civil penalty of up to $200 million from the National Highway Traffic Safety Administration, which claims the company "built and sold defective products, refused to acknowledge the defect, and failed to provide full information to the NHTSA, its customers, or the general public."
2016: The National Highway Traffic Safety Administration (NHTSA) publishes a list of all manufacturers and models affected by the Takata recall. A report describing the Senate's inquiry into Takata is released. Takata falsified airbag inflator test data before and after recalls started, according to investigators, and used faulty data to estimate the extent of one of the recalls. "Auto makers are inserting new live grenades into people's automobiles as a substitute for the previous live grenades," one Senator said of NHTSA permitting Takata to utilize ammonium nitrate in certain replacement airbags.
Have There Been Any Lawsuits Filed Against Takata Because of Airbag Defects?
When Takata developed, produced, and marketed defective airbag inflators, it did not prioritize public safety. Takata concealed information about airbag flaws from the public for over a decade, when quicker action would have undoubtedly saved lives and averted injuries.
Takata is responsible for an airbag that sprays shrapnel into the driver, regardless of how the collision occurred.
Those who have been injured by blowing Takata airbags, as well as family members of those who have died as a result of airbag shrapnel, are suing Takata and manufacturers.
Takata is responsible for any burns, bruising, or lacerations caused by airbag shrapnel, regardless of how the accident occurred.
The state of Hawaii and the Virgin Islands (a US territory) have sued Takata and Honda for failing to notify citizens about catastrophically faulty Takata airbags, lending even more credence to these claims.
I'm not sure how I'm going to hold Takata accountable.
Our lawyers have handled several mass-litigation cases involving automobiles, including those involving Continental airbags, GM ignition switches, and Volkswagen emissions fraud. We have previously obtained jury judgments and settlements against automakers, and our experience in this field qualifies us to handle big and complicated class action cases.
For a no-cost, no-obligation consultation, contact us now. Because these cases are time-sensitive, you must contact us as soon as possible to find out whether you are entitled money.
Watch This Video-
The "takata airbag recall uk" is the UK's number one source for information about Takata Airbags. The site provides information on what the recalls are, exploding shrapnel and lawsuits that have been filed against Takata.
Frequently Asked Questions
How many Takata airbags have exploded?
A: In 2018, there was a total of 31 explosions from Takata airbags.
What was causing the canisters in the airbags made by Takata to explode?
A: The canisters in the airbags were made by Takata to explode when they are deployed, as opposed to deploying them at a certain velocity. However, these canisters have been found to be defective and would not deploy if there was too much pressure on them.
What happens when a Takata airbag explodes?
Related Tags
takata airbag recall ford
takata airbag recall vin check
takata airbag deaths
takata airbag scandal
toyota airbag recall list