Onglyza is the second-highest selling drug in Europe and has been used to treat heart failure. It was approved by the FDA nine years ago, but now a group of patients are suing the company because they believe that it caused their deaths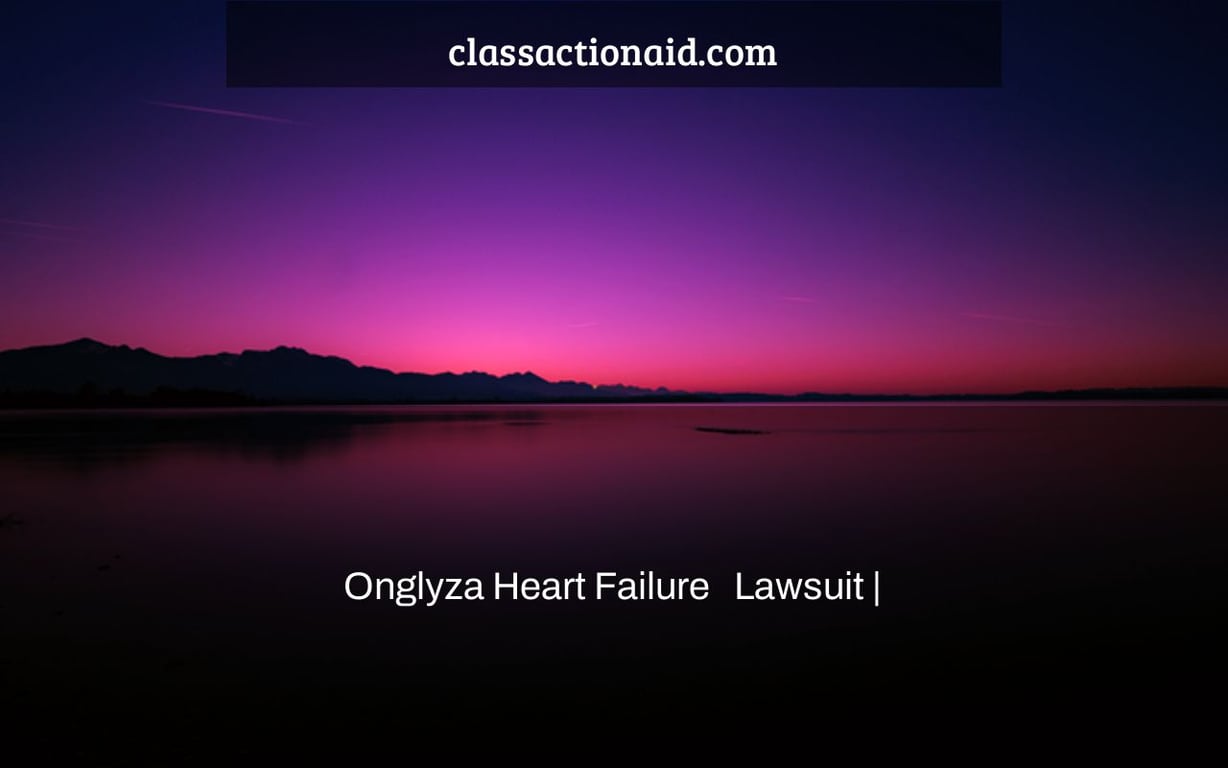 AstraZeneca's diabetic drug, Onglyza, has been associated to an elevated risk of heart failure and mortality.
Onglyza (saxagliptin) and Kombiglyze XR (saxagliptin plus metformin) are DPP-4 inhibitors, a novel family of diabetic medicines. Despite early worries about the drug's cardiovascular safety, Onglyza was approved by the FDA.
These concerns were mirrored in a post-marketing safety study, which discovered Onglyza may be linked to an increased risk of heart failure and mortality.
In order to pursue prospective cases against AstraZeneca, our lawyers are now meeting with Onglyza/Kombiglyze XR patients and their families.
Free Case Evaluation
What are the Onglyza Side Effects?
Heart failure and death are the most significant adverse effects of Onglyza and Kombiglyze XR.
Patients with type 2 diabetes are at a greater risk of cardiovascular problems, and the majority of diabetics die as a result of these complications. In 2008, the FDA advised that manufacturers of new type 2 diabetes medications produce proof that the treatments do not raise the risk of cardiovascular events such as heart attacks, in response to rising concerns about the safety of several diabetic drugs.
National Diabetes Education Initiative (NDEI)
Onglyza was found to be safe for those with heart disease by the FDA. Although the FDA authorized the new diabetes medicine, it expressed concerns about the clinical studies for Onglyza and asked AstraZeneca to do a post-marketing study. As a consequence, AstraZeneca completed the SAVOR cardiovascular outcomes study, which included 16,000 patients. The findings of the experiment were reported in the New England Journal of Medicine, and they raised serious concerns about Onglyza's safety.
Patients using Onglyza were 27 percent more likely to be admitted to the hospital for heart failure, according to SAVOR. In addition, the risk of "all-cause death" among Onglyza patients increased significantly, according to the research.
The following are some of the warning symptoms of heart failure:
Breathing problems
Coughing or wheeze that persists
Swelling of the lower limbs or the abdomen
Fatigue
Nausea
Appetite decreases
Ability to think clearly
Heart rate has increased.
On our Onglyza Product Information Page, you can learn more about Onglyza side effects, scientific studies, FDA warnings, and more.
FDA Issues Onglyza Warnings
Following the publication of SAVOR, the FDA issued an Onglyza medication safety notification and called a meeting of the advisory committee to review the findings and make recommendations. The committee decided 14 to 1 to add information concerning heart failure risks to Onglyza's label. The other member voted to remove Onglyza off the market in the United States.
The committee, on the other hand, did not propose changing the warning label to reflect the observed rise in all-cause mortality among Onglyza patients, nor did it advocate prescription limitations.
The FDA notified in an April 2016 medication safety notification that Onglyza and Kombiglyze XR must now include warnings concerning the risk of heart failure. Other saxagliptin warnings from the FDA include:
A word of caution concerning acute joint discomfort.
A pancreatitis and pancreatic cancer warning
Other Side Effects of Onglyza
Onglyza and Kombiglyze XR have been associated to the following negative side effects in addition to heart failure:
Joint discomfort that is severe
Pancreatitis
Pancreatic carcinoma is a kind of cancer that affects the pan
Thyroid carcinoma is a kind of cancer that affects the
Allergic responses that are severe
Hypoglycemia
Infection of the upper respiratory tract
Infection of the urinary tract
Liability for Onglyza
If it is shown that AstraZeneca was negligent in the production or marketing of Onglyza/Kombiglyze XR, the company might be held accountable for injuries and fatalities caused by the medicine.
Onglyza heart failure patients, for example, may contend that AstraZeneca failed to adequately warn about the risk of heart issues. The negative effects of Onglyza heart failure were not made public until 2014, and a warning label was not added until 2016.
Lawsuits Against Onglyza
Several lawsuits have been brought against AstraZeneca over Onglyza. Rochelle Gibson filed a complaint alleging that AstraZeneca was responsible for the death of Lillie Ree Gibson, who died of heart failure after taking Onglyza. As more victims come forward with accusations that Onglyza caused harm or death, additional lawsuits are inevitable.
There are two sorts of Onglyza lawsuits that may be filed:
Lawsuits alleging Onglyza harm losses such as medical costs, lost earnings, and pain and suffering are being filed.
A wrongful death lawsuit brought by a family member of someone who died after taking Onglyza.
If a significant number of Onglyza claims with comparable factual accusations are filed against AstraZeneca, the cases are likely to be merged into a multi-district litigation (mass tort) for faster resolution.
Who Can File a Lawsuit Against Onglyza?
Onglyza users, as well as family members acting on their behalf, who have suffered significant cardiovascular damage such as congestive heart failure, heart attack, or death, may be eligible for a lawsuit.
What Can a Lawsuit Do for You?
Not only may injuries and deaths cause financial burdens (medical costs, missed salaries, and lost household contributions), but they can also cause physical and emotional anguish and suffering. Depending on the degree of the damage, these losses might linger for years and cause major impairments.
In order to make victims whole again, a lawsuit may pay them for a broad variety of economic and non-economic damages.
What to Do If You're Afraid You've Been Affected
If you or a loved one took Onglyza and had heart failure, death, or another significant cardiovascular harm, you should contact our experts as soon as possible. One of our lawyers can tell you whether you qualify for a lawsuit and assist you with the following stages in the process. Contact us to learn more about your legal options and see whether you qualify for compensation.
Please contact us.
Have you found what you're looking for?
YES NO
Frequently Asked Questions
Can Onglyza cause heart failure?
A: Onglyza can cause a variety of side effects, the most common being drowsiness. However there is no evidence linking this drug to heart failure in humans and only one case report in which it was linked to an increased risk of atrial fibrillation.
What happens if you stop taking Onglyza?
A: If you stop taking the medication, your blood sugars will not be as stable. This can lead to serious health problems, including vision loss and kidney failure.
Is Onglyza a good medicine?
A: In my opinion, no. While Onglyza is a good drug to treat high blood pressure and heart failure, it should not be used as an anti-inflammatory treatment in the short term due to its side effects that include kidney problems and changes in mental state.