LG Electronics has released a statement on its website about the fridge recall. The company says that it is not able to determine what caused this problem, but there are some similarities with the new LG refrigerator models and an earlier incident where one model of LG's air conditioners exploded during use. Experts say these incidents were likely related to manufacturing quality issues at their Korean factories.,
LG has issued a recall list of refrigerators that have been affected by a defect. The company says the defect causes the refrigerator to stop working.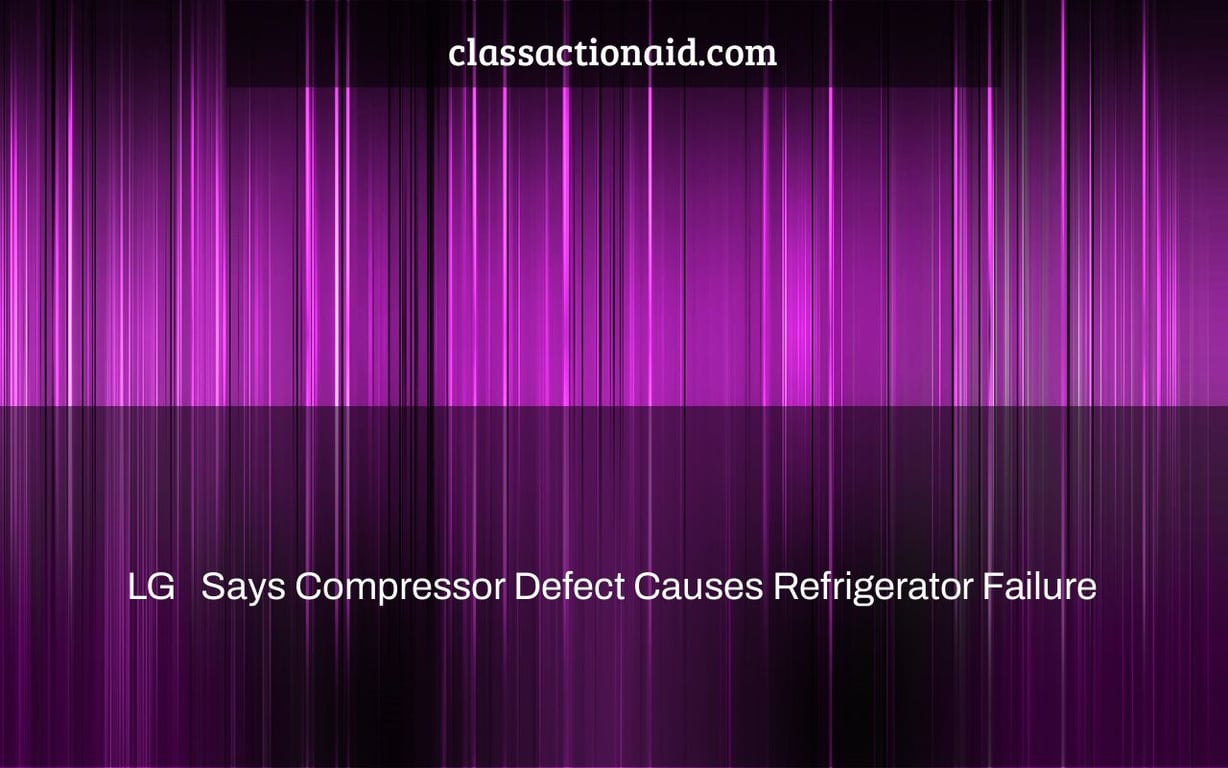 A class action complaint was filed against LG Electronics USA Inc. last week, claiming that certain of its refrigerators have a flaw that causes widespread compressor failure.
LG refrigerators are said to have a compressor fault that causes them to lose their ability to keep food cold. According to the LG refrigerator class action complaint, a malfunction in the ice maker and/or fan may cause the compressor to fail.
In their LG refrigerator class action complaint, plaintiffs Robert Montanye, Jason Saber, Jim and Jeni Oney, and Kelley Haggard claim that LG promised customers that their refrigerators would offer them "peace of mind" and be long-lasting.
They allege, however, that a flaw in the refrigerator compressors causes the refrigerators to fail prematurely, resulting in ruined food and kitchen damage from water seeping from the refrigerator.
The LG refrigerator class action complaint claims that food losses may cost customers hundreds of dollars or more. "Incidental damages, such as damage to wood floorboard trim and hardwood floors due to seeping water, are much more expensive."
The LG class action complaint claims that when customers contact LG for repairs, the fixes reportedly fail frequently, and customers are forced to pay labor expenses each time a repair is tried. The high number of compressor failures linked to the LG refrigerator issue has reportedly resulted in a backlog of new compressors, requiring customers to wait months for repairs.
The compressor problem usually appears during the first two to four years of the refrigerator's life, according to the LG refrigerator compressor defect class action complaint. Despite the fact that the problem appears early in the refrigerator's useful life, LG's limited warranty allegedly does not cover labor expenses for compressor repairs beyond the first year. As a result, customers are often responsible for all expenses.
According to the plaintiffs in the LG class action complaint, labor expenses for compressor repairs and replacements often exceed $500. Thousands of customer complaints regarding the LG refrigerator issue have been filed online, according to them, with many of them available on LG's website.
LG allegedly knew of the compressor issue in the refrigerators but neglected to disclose it to customers in order to boost refrigerator sales, according to the plaintiffs.
According to the LG class action complaint, "LG had a responsibility to disclose the Compressor Defect based on its sole knowledge of the Compressor Defect — a significant fact that, if revealed to customers (including Plaintiffs), would have resulted in consumers not buying their Class Refrigerators."
The LG class action complaint aims to certify a worldwide class of customers who bought an LG refrigerator with the claimed compressor fault, as well as a New Jersey, New York, Texas, and Utah class. The plaintiffs allege that the Magnuson-Moss Warranty Act was violated, as well as claims for breach of express guarantee, breach of the implied warranty of merchantability, unjust enrichment, and other consumer protection laws.
A California woman filed a class action complaint last month, claiming that LG refrigerators have faulty temperature control systems, causing food to deteriorate and ice to melt.
Chimicles & Tikellis LLP's Benjamin F. Johns, Alison G. Gushue, and Andrew W. Ferich are representing the plaintiffs.
Robert Montanye, et al. v. LG Electronics USA Inc., Case No. 2:17-cv-05882, is a class action lawsuit filed in the United States District Court for the District of New Jersey.
On March 29, 2018, the LG Refrigerator Compressor Defect Class Action Lawsuit was dismissed. If any additional cases involving this complaint are filed, Top Class Actions will notify our readers.
EVERY WEEK, WE TELL YOU ABOUT CASH YOU CAN GET! Subscribe to our free e-newsletter.
ADVERTISING FOR ATTORNEYS
The American Bar Association is a proud member of Top Class Actions.
GETTING LEGAL INFORMATION IS NOT THE SAME AS GETTING LEGAL ADVICE.
Legal Statement for Top Class Actions
During the years 2008 to 2021, Top Class Actions® LLC is a law firm that specializes in class actions.
Several trademarks are owned by their respective owners.
This website is not intended for people of the European Union to read or use.
Watch This Video-
LG has said that their compressor defect causes refrigerator failures. LG has released a statement saying that their issue is fixed and they are working on replacing defective compressors. Reference: has lg fixed their compressor issues 2021.
Frequently Asked Questions
What causes fridge compressor failure?
A: Usually it is due to a clogged air pipe which prevents refrigerant from moving through. This can be caused by food buildup, debris in the system or other obstructions that prevent the proper flow of cold air into and out of your fridge. In order for this issue to be resolved, youll have to take apart your refrigerator and clean out the pipes with a vacuum cleaner or some kind of wire brush tool.
Is it worth replacing compressor on LG refrigerator?
A: Yes. It is advised that you replace it because the compressor on your refrigerator might stop working in the near future which means that if this happens, then not only will your kitchen be cold but it could also create other serious problems for you and your family members.
How do I know if my LG refrigerator compressor is bad?
A: Your LG refrigerator compressor is bad if the air coming out of it feels cool and not hot or cold. If you have a window nearby, then turning on your freezer side might show that the vents are blowing cool air.
Related Tags
has lg fixed their compressor issues 2020
lg linear compressor failure symptoms
lg refrigerator class action lawsuit 2021
lg refrigerator compressor lawsuit
lg linear compressor update