A recent study found that more than half of the doctors in their database are enrolled as speakers or advisers for big drug companies. This means they're paid to speak, write things articles and give advice when it comes to these products on behalf of a company. While this is not illegal by law, there's still cause for concern about whether your doctor should be advocating one product over another.
In order to find out if your doctor is on the payroll of Big Pharma, you can search for their name in open payments data. To do so, go to https://www.opendata.arcgis.com/home and enter the doctor's last name and hospital name in the search bar.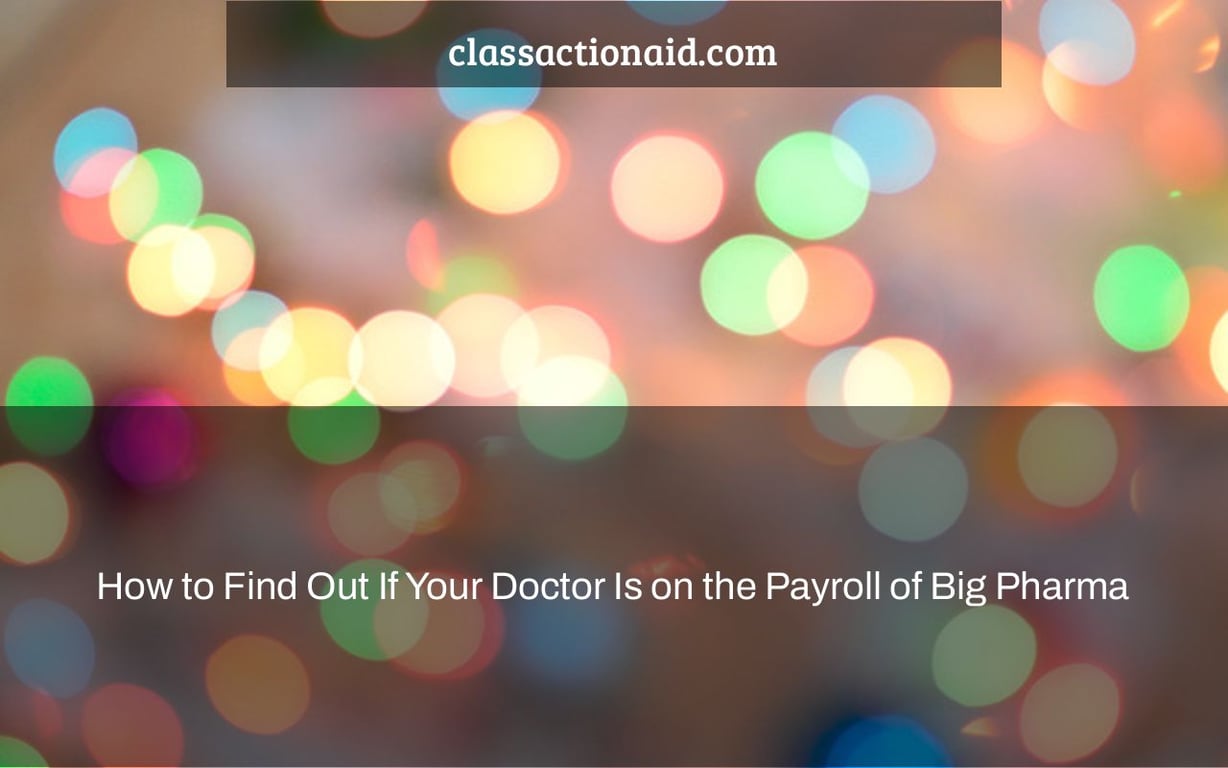 The Physician Payments Sunshine Act is tucked away within the 20,000+ pages of the Affordable Care Act (often known as "Obamacare").
The Sunshine Act requires drug and medical device firms to report payments to doctors of more than $10. It also mandates that payment data from medication and device manufacturers be made publicly available on a website run by the Centers for Medicare and Medicaid Services (CMS). These measures are designed to assist people in making more informed healthcare choices and to prohibit financial relationships that might lead to higher health-care expenses.
Patients who learn that their doctor is associated with industry may lose faith in them and be less willing to accept treatment suggestions or care from them, according to the New England Journal of Medicine (NEJM). Such dynamics might cut prices, according to the NEJM, "given the evidence that more physician financial engagement with manufacturers is related with increased adoption of costlier, brand-name items."
With healthcare expenditures in the United States growing, and high brand-name medicine costs a key contributor, the cost-cutting component of transparency is critical. Patients, on the other hand, have a right to know whether or not their doctor is being paid by the medical sector. It is up to them what they do with that knowledge. Transparency, on the other hand, is impossible without proper information.
Here's how to see whether your doctor is being paid by Big Pharma:
Go to OpenPaymentsData.CMS.gov to learn more.
Enter your doctor's first and last name.
"Search" should be selected.
In the records results, look for and click your physician's name.
If you get more than one result, select "refine your search parameters," add additional information, and try again.
Patients may also search for doctors, drugs, and devices on ProPublica's "Dollars for Docs" website.
ProPublica recently released a study based on data received via the CMS Open Payments platform, which found that the more money physicians earn from the medical sector, the more brand name pharmaceuticals they prescribe.
While this may not seem to be a ground-breaking discovery, the evidence supporting it has been patchy up until now. There was no unified process for monitoring physician payments from pharmaceuticals and device corporations prior to the Sunshine Act.
According to ProPublica, pharmaceutical and medical device corporations paid more than 680,000 physicians $3.49 billion between August 2013 and December 2014.
Doctors often deny that financial considerations impact their recommendations to patients. According to ProPublica, industry incentives do not encourage doctors to prescribe certain treatments or a specific company's products, but they do improve pharma firms' bottom line overall.
This is reason enough to oppose financial relationships between the medical sector and physicians in a health-care system that should serve the people, not the powerful.
"There is a very good reason why drug firms spend billions of dollars on sales and promotional efforts: the plan works," says James Young, a nationally prominent attorney for pharmaceutical lawsuits at ClassAction.com.
"Ask your doctor why she picked that medicine over generics or rivals the next time she issues a prescription for a brand drug," Mr. Young says.
The "doctor kickbacks from pharmaceutical companies" is a question that many people have been asking. There are some simple steps to find out if your doctor is on the payroll of Big Pharma.
Frequently Asked Questions
Are doctors paid by pharmaceutical companies?
A: Generally speaking, doctors have no conflict of interest with pharmaceutical companies.
Do doctors receive kickbacks from pharmaceutical companies?
A: I am not qualified to answer this question because doctors are an occupation, and their decisions are based on the knowledge they have. Pharmaceutical companies do fund research for various diseases that is publicly available.
How much do doctors take from pharmaceutical companies?
A: Doctors do not take anything from pharmaceutical companies. They charge insurance companies for their services, and that is what pharmaceutical companies are paid by.
Related Tags
medicare payments to doctors 2020
dollars for docs 2021
doctors receiving gifts from pharmaceutical companies
is it illegal for pharmaceutical companies to pay doctors
the facts about open payments data