DoorDash is a popular food delivery service that has been sued for underpaying its drivers. The lawsuit alleges the company pays "substandard wages" and systematic overtime violations in violation of California labor law. This case will set precedent for other companies facing similar lawsuits with their workers on how to defend themselves against such claims.
The "doordash lawsuit payout" is a recent lawsuit that alleges that drivers are paid "substandard wages." The company has been hit with a class-action lawsuit.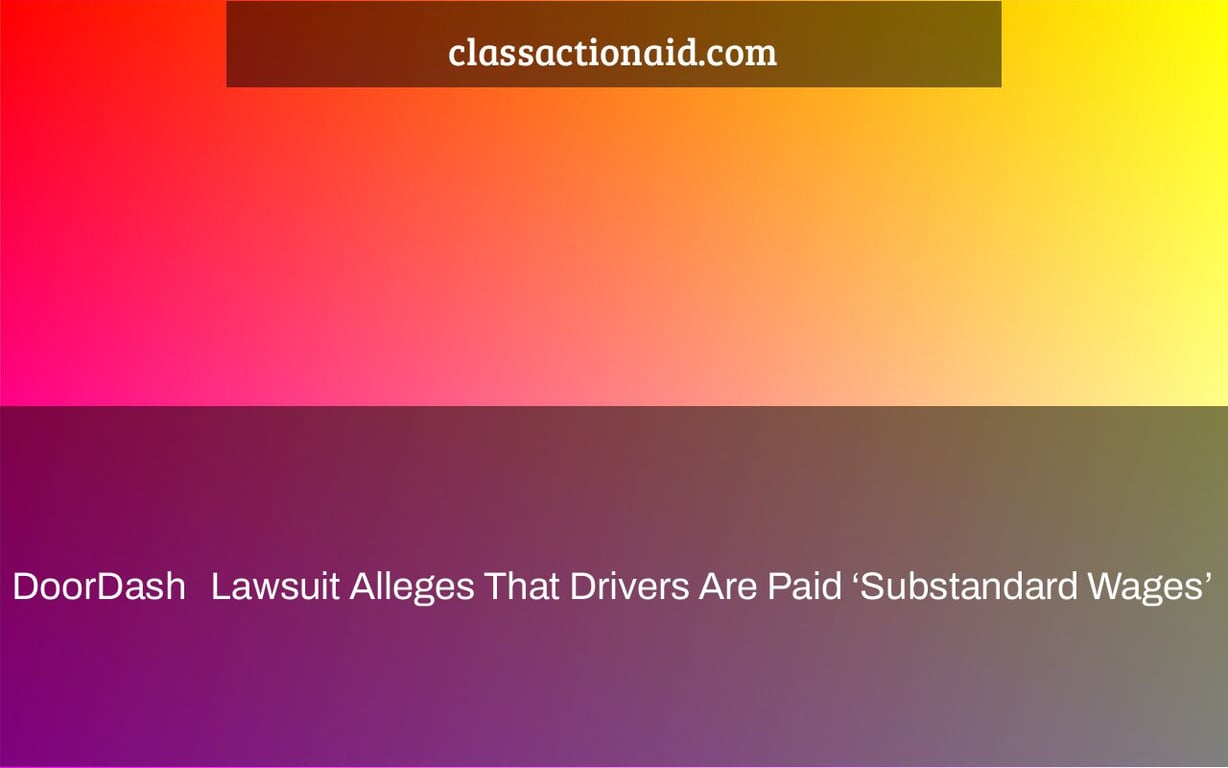 (Piter2121/DepositPhotos.com)
According to a class action complaint, DoorDash continues to violate state labor laws by misclassifying its drivers, known as "dashers," and subjecting them to poor pay and a lack of benefits.
The business is accused of benefiting itself at the expense of its drivers, who work as independent contractors and get little salary and no benefits. According to reports, 97.5 percent of DoorDash's workforce is made up of independent contractors who are not covered by federal or state labor laws.
The complaint claims that "companies like DoorDash were never intended to be able to operate an entire company on the backs of independent contractors." "Employees" are those who work in the company's main line of business.
According to the plaintiffs, DoorDash continues to misclassify its drivers as independent contractors in order to avoid paying benefits or a minimum salary, but treats them like employees.
"Even though federal, California, Illinois, and Massachusetts law require DoorDash drivers to be classified as 'employees,' giving them the same rights and protections as employees, DoorDash continues to misclassify them as independent contractors, allowing it to profit from their labor," the class action lawsuit claims.
The main claimants all worked as dashers and had comparable experiences with the business, according to the lead plaintiffs. They claim that despite the business failing to pay them the federal minimum wage, they have been liable for all expenses involved with completing DoorDash deliveries, including petrol, insurance, and mileage.
Dashers must follow specific instructions before they begin their DoorDash shift, despite the low salary and contractor status. Failure to obey "exact directions" may result in their employment being terminated.
According to the complaint, a typical shift starts when the dasher taps a button on the DoorDash app to be allocated orders for delivery. Driving to the designated restaurant, informing DoorDash of their arrival, and picking up or waiting for the meal order are all part of Dasher's responsibilities.
The plaintiffs claim that the meal must be paid for using an allocated credit card, the Red Card. Dashers must then drive to the customer's address, park, follow precise delivery instructions, and contact DoorDash when the delivery is complete.
Dashers are assessed based on a number of criteria, including "On Time" delivery, customer ratings, completion rates, and acceptance rates, according to the class action complaint. According to the plaintiffs, delivery timings are short and do not account for delays at the restaurant or even with the DoorDash app.
Furthermore, dashers are reportedly punished for attempting to take just high-paying or short-distance orders, with their accounts possibly being deactivated if they do not accept additional jobs.
According to the complaint, "Dashers with poor metrics are terminated." "For example, if a driver's Average Customer Rating goes below 4.2 stars, DoorDash will remove them from the Dasher App."
Furthermore, a dasher's metrics are said to have an impact on the quality of deliveries they are given as well as their compensation.
The plaintiffs allege that the company's tip policy deceives both Dashers and DoorDash consumers. Customers may believe they are tipping their dasher in addition to the charge paid by DoorDash; however, dashers got either the guaranteed amount DoorDash would pay for the order or the customer tip prior to 2019, not both.
The plaintiffs want to represent DoorDash customers in California, Illinois, and Massachusetts who haven't signed the company's arbitration agreement.
Have you ever worked for DoorDash? We're interested in hearing about your experience. Tell us what you think in the comments area below!
Outten & Golden LLP's Jahan Sagafi, Relic Sun, and Molly Frandsen, as well as Gibbs Law Group LLP's Steven M. Tindall, Aaron Blumenthal, and Nikul Shah, are representing the main plaintiffs.
Clifford L., et al. v. DoorDash Inc., Case No. 20-cv-00666, is the name of the DoorDash Dasher Class Action Lawsuit filed in the United States District Court for the Northern District of California.
The "what is marko v doordash" is a lawsuit that was filed against the company DoorDash. The lawsuit alleges that drivers are paid 'substandard wages' and also claims that they are not provided with breaks.
Frequently Asked Questions
How much money do you get from DoorDash lawsuit?
A: They are currently suing DoorDash in order to get the $18 million they spent on advertising.
Is there a class action lawsuit against DoorDash?
A: No, there is not a class action lawsuit against DoorDash.
Can you sue DoorDash as a driver?
A: This is a very complicated question. To answer it, I need to give you some background information about the laws impact on self-driving cars.
Related Tags
doordash settlement checks
doordash lawsuit 2022
doordash hidden fees class action lawsuit
when will i get my doordash settlement
schwartz et al v doordash, inc