Lyft and Uber drivers have filed a lawsuit claiming the companies failed to protect their passengers from sexual assault, among other things. However, some say it's too early for these claims to be evaluated, as there are still more details that need to come out in the case before any final verdict is made
The "Uber sexual assault" is a lawsuit that claims the company has been negligent in protecting its drivers from sexual assault. The plaintiff, however, must meet certain qualifications to be eligible for compensation. Read more in detail here: uber sexual assault.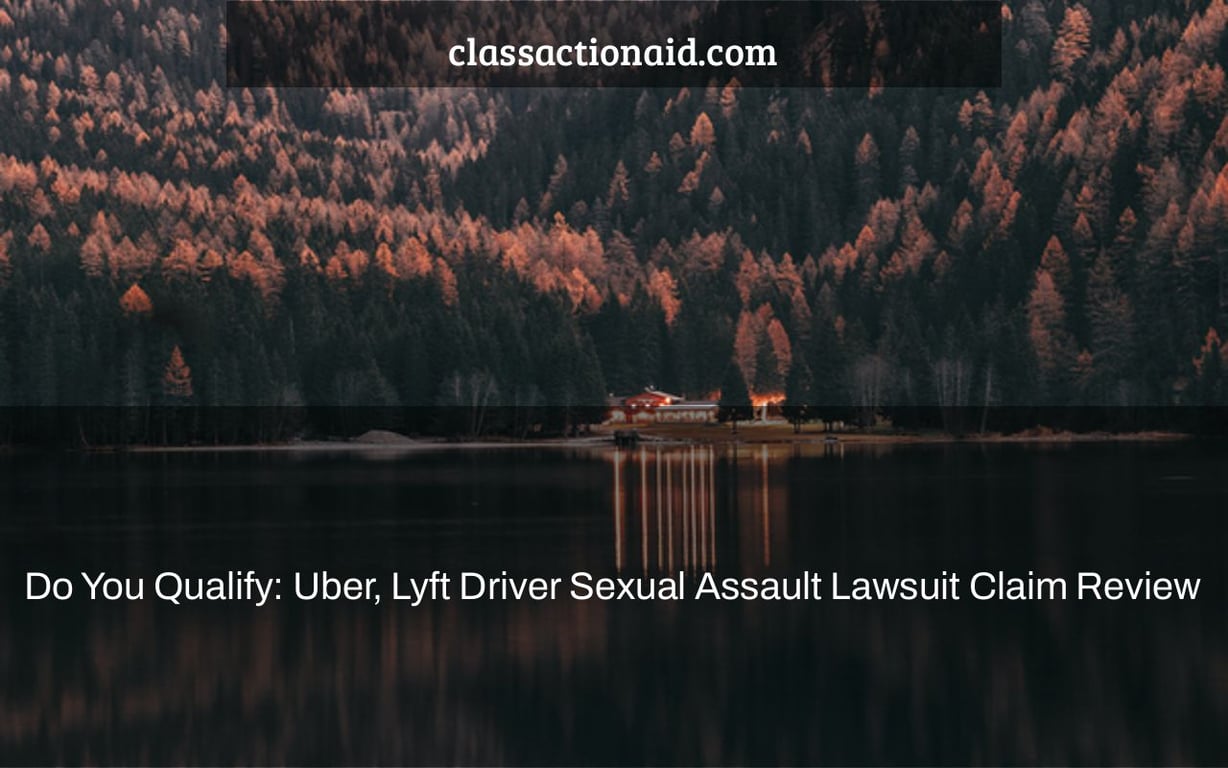 What is a Rideshare App, and how does it work?
Like a taxi service, ridesharing services—also known as "ride-hailing"—match customers with drivers in private cars to transport them short distances.
Riders and drivers are connected through phone applications by rideshare businesses.
While rideshare applications are convenient, there has been increasing worry that utilizing them may be hazardous.
It's always essential to make sure you're being as cautious as possible while utilizing ridesharing services to guarantee your safety.
Which Ridesharing Apps Are the Best?
Uber and Lyft are two of the most well-known ridesharing applications. Uber is available in dozens of countries, while Lyft is widely used in the United States.
Sidecar, Zimride, Hitch, and Carma Carpooling are some of the lesser-known ridesharing applications.
Despite the fact that Uber and Lyft do background checks on its drivers, some of them may have criminal intent. In 2018, CNN conducted an investigation into hundreds of Uber drivers who had been accused of sexually assaulting or abusing their customers.
Following the CNN investigation, Uber published its safety report, which revealed thousands of sexual assault complaints in 2017 and 2018, including almost 500 rape reports.
Read more: Uber & Lyft Face Increasing Legal Trouble Due to Sexual Assaults on Rideshare Apps
Sexual Assault Allegations & Uber Safety Report
The Uber Safety Report is the first of its type issued by the ridesharing business. In 2017 and 2018, there were 5,981 accusations of sexual assault, according to the study. Over the course of the two years, 19 people died as a result of physical attacks.
Both passengers and drivers were victims of sexual assault, according to the study, which raises concerns about workplace safety for Uber drivers, given that around 19 percent of Uber drivers are women, according to Vox.
The decision to produce and publish the report was made in May 2018 in response to a lawsuit filed by 14 women in April 2018 alleging sexual assault, but who were being pushed into mandatory arbitration. According to Vox, the women wanted their accusations to be heard in open court.
Uber also removed compulsory arbitration for passengers, drivers, and workers who wished to bring a sexual assault complaint against the business, according to Vox, along with the announcement to produce the safety report in May 2019.

Is There a History of Lyft Sexual Assault?
Uber isn't the only ride-hailing service that has been accused of sexual assault.
According to CNN, Lyft has been slammed with a slew of sexual assault claims, alleging that the company's background checks are insufficient and that it lacks appropriate safety procedures to safeguard passengers.
According to AP News, Lyft did not recognize the sexual assault occurrences, informing one customer who claimed rape by a Lyft driver that she would receive her money back but failing to address the sexual assault allegation itself.
Sexual Assault Lawsuits Against Lyft
According to The New York Times, a lawsuit was filed against Lyft in a San Francisco court in early December 2019 by 19 women who allege that they were sexually assaulted by Uber drivers.
The women claimed in their sexual assault lawsuit that Lyft did nothing to prevent the sexual assaults, which could have been avoided if the company had implemented basic safety measures, and that once the women reported the incidents to the rideshare company, Lyft either failed to follow up or did not take the allegations seriously.
This isn't the first time a sexual assault lawsuit has been brought against Lyft. According to ABC News, Lyft was slapped with a similar sexual assault complaint brought by 14 women. Others have been submitted as well.
Is Uber a Safe Option? Background Checks for Uber Drivers
What is Uber doing to guarantee customer safety and prevent Uber drivers from harassing them?
Despite the many lawsuits that Uber is continually facing, there is a screening procedure in place to attempt to filter out any applicants who may be aggressive.
Uber conducts these checks via an outside firm called Checkr, which focuses on violent crimes, sex offenses, and unsafe/dangerous driving histories over the previous seven years.
Despite how comprehensive these checks are, they are unable to tell Uber whether a prospective driver has ever been convicted of a crime.
Uber safety can never be assured since just because someone hasn't been caught doesn't mean they're not guilty.
Tips for Using a Rideshare App While Staying Safe
When using these applications, rideshare safety is paramount, and Safety.com offers the following advice to ensure a safe trip.
Making sure the vehicle that pulls up in front of you is a genuine driver from the app you're using is one of the most important things you can do to guarantee ridesharing safety.
Ask your Uber or Lyft driver for your name, since they should already know it. They aren't genuine if they don't know your name.
Your app should also have given you information like their photo, vehicle make and model, and license plate number. Before getting in the vehicle, double-check that everything is in order.
Both Lyft and Uber offer trip-sharing capabilities in their applications that allow you to share details about your journey with friends or family members so they can check in on you.
It's also crucial to inform the driver that you have people on the lookout for you, so they know they're more likely to be caught.
Making a phone call to let someone know where you are, giving them a time range for when they should hear back from you, and even saying that you've disclosed your location so the driver can hear it.
You don't have to depend on the restricted safety features of your app. Other applications with video recording and panic buttons are also available.
Instead of traveling alone, try to go with another person if at all feasible.
Stay indoors or with other people if feasible, or at the very least in a well-lit location while you wait for your transport.
For the best access to exits, sit in the backseat of the car.
A vehicle you use for ridesharing may be involved in an automobile accident, just like any other vehicle. Keep an eye on your driver to see whether he or she is driving safely, and report any problems to the ridesharing app. Remember to fasten your seatbelt at all times.
You are allowed to converse with your driver, but do not provide them sensitive information such as your workplace or a way to contact you.
In that spirit, have your driver drop you off close to your house without really disclosing your address.
Don't get in the vehicle if anything seems wrong or dangerous right away, even if you can't put your finger on it. The most essential factor is your safety.
The "uber earnings" is a lawsuit that Uber, Lyft driver has filed against the company. The claim alleges that the company has encouraged drivers to sexually assault their customers. In order to qualify for this lawsuit, you have to be an Uber or Lyft driver in California.
Frequently Asked Questions
Can you sue Uber for assault?
A: The answer to your question is no.
Is there a class action lawsuit against Uber?
A: There is no class action lawsuit against Uber.
Can Uber drivers carry protection?
A: Yes, there are some Uber drivers who will provide protection to their riders.
Related Tags
uber lawsuit
uber news
lyft earnings